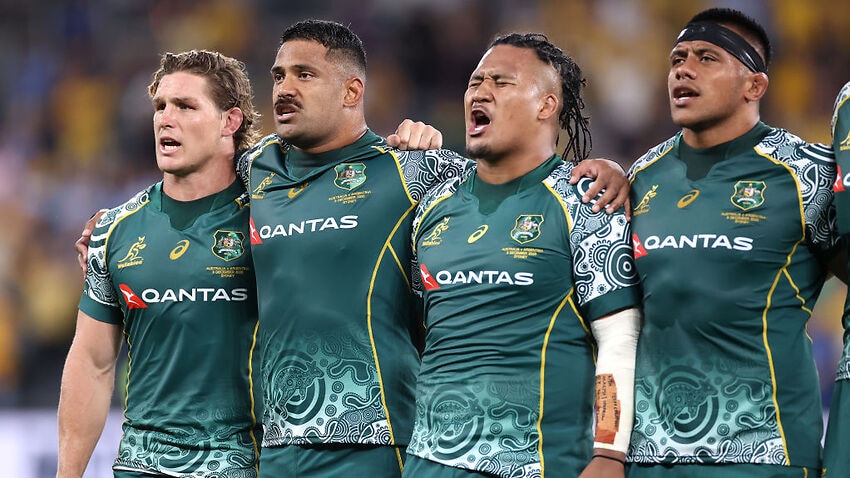 Aboriginal boxer and former NRL player Anthony Mundine has joined Indigenous league star Latrell Mitchell in criticising the singing of the Australian national anthem in two languages at a Wallabies match on the weekend.
Teenager Olivia Fox, a Wiradjuri woman, led a special rendition of Advance Australia Fair ahead of the Wallabies' Tri-Nations draw with Argentina on Saturday night, singing it in both the First Nations Eora language and in English.
The performance, during which Wallabies players sang along while wearing an Indigenous-themed jersey, was widely praised on social media.
But Mundine, a Bundjalung man, said despite the performance appearing as if players were "giving back" to Indigenous Australia, the anthem remains a "theme song for the white Australian policy".
"If they want to change things then actually change the words of the anthem. But you can't just sing the same original text in Aboriginal language and think it's going to fly with people," he told the Daily Telegraph.
"It got people talking but it still ain't the right message. It looks good and sounded good when the Wallabies sang it and it looks like they're giving back — but they're not really giving back."
Advance Australia Fair was written in 1878 by Peter Dodds McCormick and replaced God Save the Queen as the national anthem in 1984.
However, many Indigenous people say Advance Australia Fair is not inclusive of their cultures and represents Australia's colonial past.
Mundine's comments came after Mitchell, a Birrbay and Wiradjuri man, voiced a similar sentiment.
"When will people understand that changing it to language doesn't change the meaning!" he posted on Instagram.
"Be proud but understand what you're being proud of. I stand for us, our mob! Be proud of the oldest living culture. Always was, always will be."
Mitchell is among a number of Indigenous NRL players to have previously boycotted singing the anthem.
Fox told SBS News she felt "incredible" and was "overwhelmed with pride" as she sang the anthem in Eora at Saturday's match.
She said everyone would have their own thoughts and opinions, but saw the performance as "a great step in the right direction".
During NAIDOC Week last month, calls grew louder for the anthem's lyrics to be changed to better reflect the history of Indigenous Australians.
One proposed change, which Indigenous Australians Minister Ken Wyatt told NITV he would support, would see the words "we are young and free" changed to "we are one and free".