5.9k Share this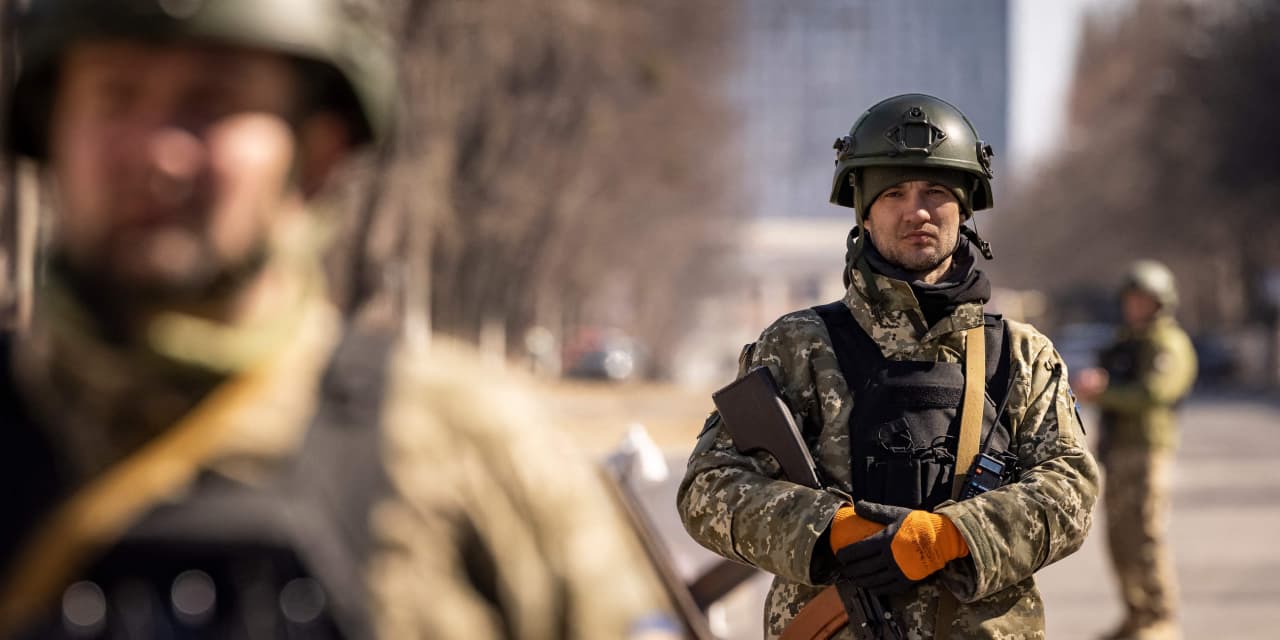 U.S. stocks ended higher Tuesday, shaking off a wobble that followed remarks a day earlier by Federal Reserve Chairman Jerome Powell signaling that the central bank could deliver bigger interest rate increases at coming policy meetings in a bid to rein in inflation currently running at a 40 year high.
How did stock indexes perform?
The Dow Jones Industrial Average DJIA, +0.74% climbed 254.47 points, or 0.7%, to close at 34,807.46.
The S&P 500 SPX, +1.13% rose 50. 43 points, or 1.1%, to finish at 4,511.61.
The Nasdaq Composite COMP, +1.95% advanced 270.36 points, or 2%, to end at 14,108.82.
Stocks stumbled Monday after Powell said the central bank could deliver hikes of 50 basis points, or half a percentage point, in future meetings, but ended the day well off session lows. The Dow fell 0.6%, snapping a five-day winning streak, while the S&P 500 finished fractionally lower and the Nasdaq Composite slipped 0.4%.
What drove markets?
U.S. stocks rose as investors digested hawkish remarks from Federal Reserve Chair Jerome Powell on Monday and St. Louis Fed President James Bullard on Tuesday, about the central bank's need to cool inflation by potentially embarking on a faster path to higher interest rates.
"The market's hanging in here pretty well," considering Russia continues to wage war on Ukraine and the Fed has begun hiking interest rates to combat high inflation, said Scott Wren, senior global market strategist at Wells Fargo Investment Institute, by phone Tuesday. He said that a "really good labor market" and "decent growth" in the U.S. are helping to support equities, while investors seem to expect inflation to decelerate over the next two years or so.
Read: Why the stock market isn't 'getting smoked' even as Federal Reserve signals it's ready to supersize interest rate hikes
Investors have been focused on monetary policy following Powell's hawkish remarks in a speech Monday to the National Association for Business Economics, and Bullard's comments in a Bloomberg Television interview Tuesday morning on his view that the central bank needs to "move aggressively to keep inflation under control."
Bullard told Bloomberg that 50 basis point hikes should definitely be "in the mix" as the Fed moves interest rates higher. He had dissented at last week's Fed meeting, favoring a 50 basis point hike instead of the 25 basis point increase that policy makers approved.
Powell, in his remarks Monday, opened the door to rate hikes of more than 25 basis points, if needed. Both Fed officials said monetary policy can be tightened and still achieve a "soft landing" for the economy.
See: Stock-market bets on 'soft landing' for the economy may be 'premature,' warns Morgan Stanley
"From my perspective," the probability of a 50 basis point rate hike in May has increased following Powell's and Bullard's comments, said Wren.
Treasury yields surged following Powell's remarks Monday and extended their climb Tuesday. The yield on the 10-year Treasury note BX:TMUBMUSD10Yrose 6 basis points Tuesday to 2.375%, the highest since May 2019 based on 3 p.m. Eastern Time levels, according to Dow Jones Market Data.
Also read: The yield curve is speeding toward inversion — here's what investors need to know
Powell's remarks showed that the Fed is now firmly in inflation-fighting mode, which is bad news for bonds but more nuanced for stocks, said Mark Haefele, chief investment officer at UBS Global Wealth Management, in a note.
"We still see a path to markets ending the year higher. Although there is widespread criticism, it's too early to take the view that the Fed won't be able to negotiate the fine line of reducing inflation without derailing growth," he said, in the note.
The S&P 500 closed Tuesday about 5.9% off its record high close of 4,796.56 on Jan. 3, according to Dow Jones Market Data. Wells Fargo Investment Institute recently lowered its forecast for the S&P 500 this year to 4,800 from 5,200, said Wren.
"If you got a view that's more than 3 or 6 months," investors might consider buying stocks in recently underperforming sectors, such as technology and communication services, he said. The S&P 500's communication services sector has slumped the most this year, down about 12%, according to FactSet data.
Information technology SP500EW.45, +1.31%, real estate and consumers discretionary are also among the worst-performing sectors so far in 2022, each down more than 9%, FactSet data show.
As the S&P 500 climbed Tuesday, the consumer discretionary SP500EW.25, +0.90%, communication services, financials SP500EW.40, +1.63% and information technology sectors logged the biggest gains.
UBS's Haefele said amid the high degree of uncertainty, UBS prefers selected overweight and underweight positions, yielding an overall neutral allocation to equities. Investors should brace for higher interest rates, considering exposure to U.S. senior loans and equity sectors that typically outperform in the current environment, including value stocks and financials.
San Francisco Fed President Mary Daly said Tuesday during a virtual conversation sponsored by The Hamilton Project that "inflation is far too high." She said the Fed needs to steadily raise rates to a neutral level and look at tightening monetary policy "a little bit" more to restrict economic growth so inflation comes back down.
Read: Fed's Daly backs 'marching' interest rates up to a 'neutral' rate and maybe higher
Meanwhile, Russia intensified air and sea attacks across Ukraine, as President Joe Biden encouraged U.S. companies to harden their cyber defenses against Russia.
"Fed policy is about to become restrictive and commodity market tightness will still remain even if there is a quick resolution to the crisis in Ukraine," said Edward Moya, senior market analyst for the Americas at Oanda.
Which companies were in focus?
How did other assets fare?
––Steve Goldstein contributed to this report.
Source: This post first appeared on http://marketwatch.com/
5.9k Share this