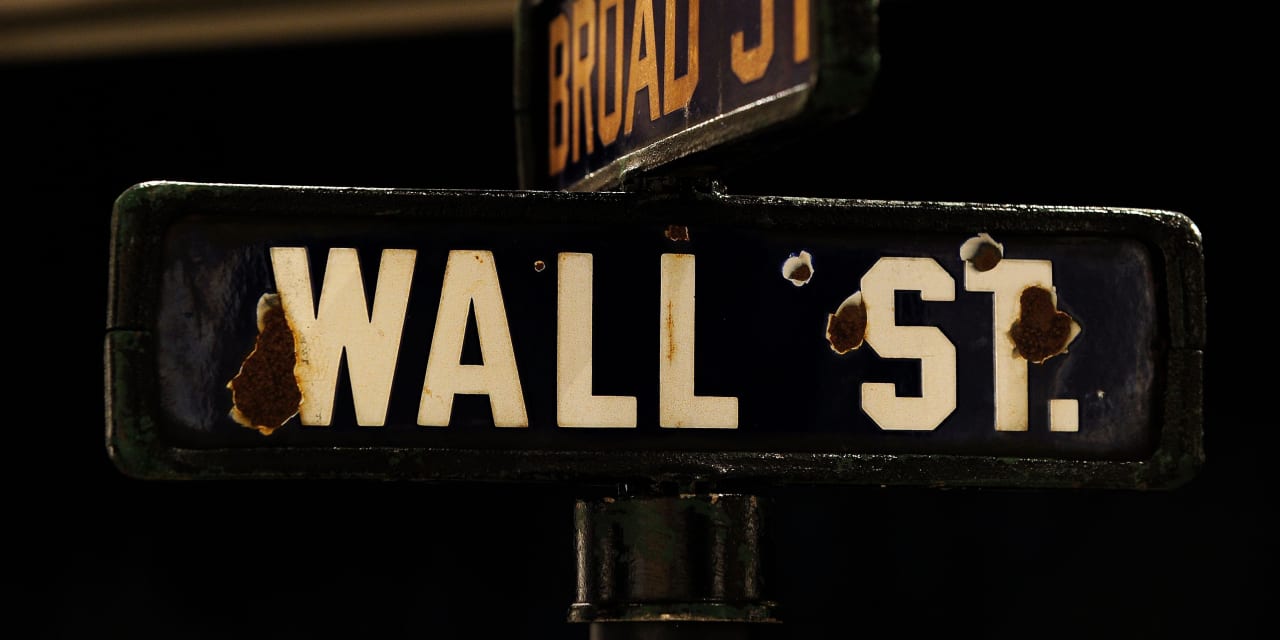 U.S. stocks were mostly lower in early afternoon trade Thursday, as a rebound in tech shares stalled out, threatening to snap a three-day winning streak for the Nasdaq Composite.
What are major indexes doing?
The Dow Jones Industrial Average DJIA, +0.11% fell 42.80 points, or 0.1%, to 36,247.52.
The S&P 500 SPX, -0.59% was down 36.84 points, or 0.8%, at 4,687.71.
The Nasdaq Composite COMP, -1.39% dropped 254.28 points, or 1.7%, to 14,934.11.
On Wednesday, major indexes gained ground after the December consumer-price index showed U.S. inflation running at a 7% year-over-year clip, a nearly 40-year high.
What's driving markets?
Tech and other growth stocks — shares of companies expected to see revenue and earnings grow faster than average — were hammered at the start of 2022 as Treasury yields rose rapidly in response to expectations the Federal Reserve will be much more aggressive than previously anticipated in fighting surging inflation.
But growth shares, which are more sensitive to interest rates, bounced back, with the tech-heavy Nasdaq rising over the past three sessions, with technical analysts pointing to oversold conditions.
Peter Garnry, head of equity strategy at Saxo Bank, said the market is expecting inflation to recede in 2022, but the dilemma facing traders is the uncertainty over how much will prices cool.
"U.S. equities are now firmly in a trading range, and we believe it will require significant surprises on earnings (either way) or a breakout in the U.S. 10-year yield TMUBMUSD10Y, 1.721% to take U.S. equities out of the trading range," he said.
The U.S. corporate earnings reporting season starts to speed up on Friday with major banks including JPMorgan Chase JPM, +0.58% due to report results.
See: JPMorgan, Goldman profit updates may shape bank stock rally
"Perhaps earnings season will bring some welcome normality to the markets after a period of fear, relief, and speculation," said Craig Erlam, senior market analyst at Oanda, in a note.
"The fourth quarter is expected to have been another strong quarter, although the emergence of Omicron will likely have had an impact during the critical holiday period for many companies. Of course, as we've seen throughout the pandemic, that will likely have been to the benefit of others," he said.
U.S. stock-index futures got a modest lift Thursday after the December producer-price index showed inflation at the wholesale level rose 9.7% year over year, down form 9.8% in November. The monthly rise of 0.2% was the lowest in 13 months. Also, first-time jobless claims rose by 23,000 to 230,000 last week.
Meanwhile Federal Reserve Gov. Lael Brainard was testifying as part of her nomination hearing to become the vice chair of the institution.
"Our monetary policy is focused on getting inflation back down to 2% while sustaining a recovery that includes everyone," Brainard said in prepared testimony delivered before the Senate Banking Committee. "This is our most important task."
Hot inflation and a very robust labor market point to "a fair amount of tightening in 2022″ when it comes to monetary policy, said Patrick Harker, the president of the Philadelphia Fed, on Thursday. Harker isn't a 2022 voting member of the Fed's rate setting committee.
Which companies are in focus?
Shares of Delta Air Lines Inc. DAL, +3.17% rose 2.8% after the air carrier reported fourth-quarter adjusted profit and revenue that beat expectations.
KB Home KBH, +15.17% shares jumped 14%, after the home builder reported fourth-quarter profit above expectations and sales that matched forecasts, saying it had to meet "healthy demand" for housing amid "extremely challenging" operating conditions.
Boeing Co. BA, +3.41% led Dow gainers, with shares up 2.8% after news reports said the company's 737 Max aircraft could be cleared to resume flights in China as early as this month.
What are other assets doing?
Source: This post first appeared on http://marketwatch.com/