A Treasury Department Disclosure May Have Just Exposed A Massive Secret Fortune
Share this @internewscast.com
Every weekday, the United States Treasury Department issues a "Daily Treasury Statement" (DTS). A typical DTS is extremely bland. For example, here's a link to the March 29 DTS. As you can see, it's a four page PDF of endless numbers and line items like "DOL – Pension Benefit Guaranty Corp" and "DOI Gas and Oil Lease Proceeds." However, not all line items and numbers in the Daily Treasury Statement are bland. From time to time, there are some very interesting financial secrets hiding in that blandness. For example, one line item in the February 28th Daily Treasury Statement may have inadvertently just exposed a recently-deceased anonymous American has having a massive hidden fortune. A fortune that would imply someone out there was secretly living as one of the 40 richest people in America… and no one had a clue.
Here is a screenshot of the top part of the Feb 28 Daily Treasury Statement:
As you can see, on the left the DTS lists "Deposits" and on the right it lists "Withdrawals."
The numbers are rounded in millions. So, for example, on February 28th the Department of Agriculture deposited $6 million to the treasury. This month, the Department of Agriculture has deposited $233 million. Fiscal year to date, the deposits total $1.5 billion.
As a withdrawal example, on Feb 28 the Treasury withdrew $1.5 billion to make "Defense Vendor Payments (EFT)." Month to date the these payments have totaled $27.79 billion and Fiscal year to date, the amount totals $160 billion.
Below is an expanded and zoomed screenshot of the Feb 28 DTS. Please bring your attention to highlighted line item listed as…
"Taxes – IRS Collected Estate, Gift, misc"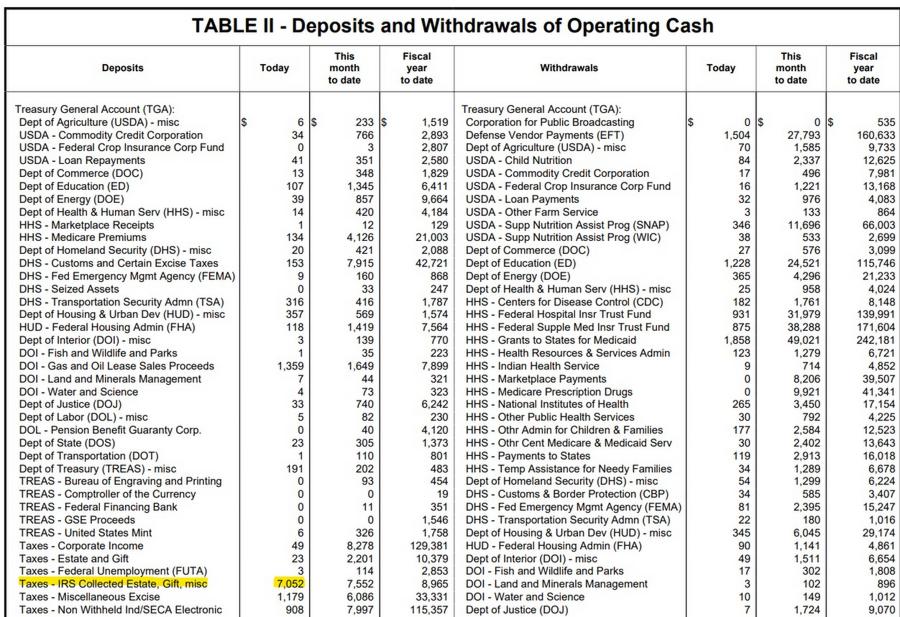 $7 Billion Mystery Deposit
As its name implies, that line item represents money received by the Treasury either from estate taxes OR individual gifts. Considering the fact that only an absolute psychopath would leave a gift to the Treasury out of the goodness of their hearts, let's assume this constitutes a negligible portion of the $7+ billion total.
That means some recently-deceased individual sent a $7 BILLION estate tax payment to the Treasury on February 28.
To give you some perspective on how big and weird that deposit is, I went through a dozen DTS reports and on many days there's no amount reported. On the days when there is an amount, it's typically the low single-digit millions. Like $1-3 million. According to the Treasury, $7 billion is the largest IRS deposit it has received since 2005.
When someone dies, their estate has nine months to pay the estate tax. Also known as the "death tax," if you die with a net worth over $12 million, very roughly you must pay a 40% tax on the value of your estate. So if you died with a net worth of $100 million, your estate would pay 40% of $88 million [$100m – $12m] = $35 million.
A $7 billion estate tax debt would imply that someone with a net worth of $17 BILLION died within the last months. In other words, at some point between May 28 and February 28, an American with a $17 billion net worth died.
A $17 billion net worth would be one of the 90 largest fortunes on the planet. It would make someone the 37th richest person in America, right behind Laurene Powell Jobs (Steve Jobs' widow).
Any billionaire death makes the news. The death of one of the 40 richest people in America would be a big deal. CelebrityNetWorth, Forbes, Fortune, the Wall Street Journal, the Financial Times… all would have lengthy obituaries. Wealth rankings would need to be adjusted. Newly-minted billion-heirs would potentially be added to the ranks of the world's richest citizens.
And yet, here we are. From the research I did today, no one can identify any American who died in the last nine months with a $17 billion fortune.
The richest (known) American who died in 2022 was Fidelity Investments billionaire Edward Johnson III. His net worth was $10 billion when he died on March 23, 2022. Not only is $10 billion not enough to make his estate the anonymous Feb 28 depositor, by the nine month rule, whatever estate tax his estate paid would have been due some time before December 23, 2022.
We appear to have a real wealth mystery on our hands!
Share this @internewscast.com