Training for the Australian Open has been delayed after another person tested positive to coronavirus, after entering Melbourne on a flight from LA.
COVID-19 Quarantine Victoria's Emma Cassar said there were now four positive cases connected to the tournament.
Three of the confirmed cases travelled into Australia on a flight from Los Angeles – a crew member, a tennis coach and a member of a broadcast team. There are 62 close contacts on the flight, who will now isolate for 14 days.
After another flight from Abu Dhabi, a coach tested positive. There were 63 close contacts who are required to stay in their hotel room for two weeks.
All four were negative when they left America.
"Over the last 48 hours, it's been really busy, and it's unfortunate for me to let you know that we have our fourth new case today," Ms Cassar said on Sunday.
"We have delayed training (on Sunday) because a number of test results are not in yet. I can confirm that all player and training partner test results are in, but now we are waiting on the rest of the cohorts. As we've said previously, we just don't take risks with player safety, our staff's safety and community safety.
"We're working with Tennis Australia to make sure we can get back on track tomorrow."
Just under 1000 players and support staff have arrived in Melbourne for the Australian Open so far.
Thank you for joining us during our coronavirus coverage. Here's a look at today's top stories:
We'll be back again early tomorrow morning to bring you the latest news. Have a wonderful evening.
Beijing: China has finished building a 1500-room hospital for COVID-19 patients to fight a surge in infections the government said are harder to contain and that it blamed on infected people or goods from abroad
The hospital is one of six with a total of 6500 rooms being built in Nangong, south of Beijing in Hebei province, the official Xinhua News Agency said on Saturday.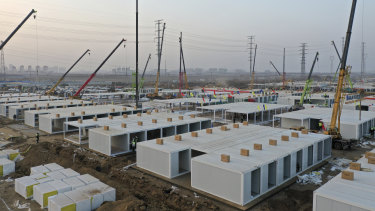 China had largely contained the coronavirus that first was detected in the central city of Wuhan in late 2019 but has suffered a surge of cases since December.
A total of 645 people are being treated in Nangong and the Hebei provincial capital, Shijiazhuang, Xinhua said. A 3000-room hospital is under construction in Shijiazhuang.
AP
We've already heard a lot from tennis players today who are dissatisfied with being placed into 14-day mandatory quarantine in Melbourne after being on the same flight as a positive coronavirus case.
But plenty of Australian Open hopefuls are making the most of time inside their hotel, including doubles tennis player Chan Hao-ching (pictured) who gave The Age's photographer Chris Hopkins a thumbs up today from her window at the View hotel.
Belarusian tennis player Aryna Sabalenka, who is currently ranked 10th in the world, challenged some of her fellow players at the Grand Hyatt to (gently) practice their volleys against the hotel's windows and post it on social media.
Ukraine's Lesia Tsurenko and Russia's Anastasia Potapova both joined in on the fun. Others, like Pablo Cuevas, are using upright mattresses as training partners for now.
Outdoor training was cancelled on Sunday due to a fourth coronavirus case being discovered in a broadcaster who flew into Melbourne from Los Angeles. It brings the number of close contacts at the Australian Open who are now in mandatory 14-day quarantine to 125 players and support staff.
Some 100 players and tournament staff are in hard lockdown because of the positive tests, with the two more cases identified on Sunday bringing the total to four positive tests from the 1000 people in the country for the grand slam.
One was a US broadcaster and the other the coach of Bianca Andreescu.
Russian world No.28 Putintseva wrote on Twitter: "What I don't understand is that, why no one ever told us, if one person on board is positive the whole plane need to be isolated. I would think twice before coming here".
Romanian world No.71 Cirstea replied to Putintseva saying "if they told us this rule before I would not play Australia. I would have stayed home. They told us we would … be a close contact only if my team or cohort [those sitting close by on a flight] tests positive".
Australia's medical watchdog is closely examining the reports from Norway of about 30 deaths in frail, elderly patients days after they received the Pfizer COVID-19 vaccination.
The Therapeutic Goods Administration is expected to approve the vaccine for use here as early as this week, and so far there are no plans to change the rollout of the vaccine program.
A TGA spokesperson said the watchdog has been working closely with Norwegian and European regulators on further investigations into the deaths.
"The deaths were recorded among very frail patients, including some who were anticipated to only have weeks or months to live," the spokesperson said.
"The deaths were associated with fever, nausea and diarrhoea, which are relatively common short-lived effects that a number of people experience after vaccination.
"It is not expected that these common adverse reactions following immunisation will be of significance in the vast majority of individuals vaccinated with the Pfizer BioNTech vaccine."
The spokesperson said the TGA's vaccine approval process was "extremely rigorous and comprehensive", and all evidence on the vaccine including from clinical trials and data gathered from international rollouts would form part of their decision making process.
"A vaccine will only be approved for use if it is demonstrated to be safe and effective in clinical trials and if the manufacturer can show it can be produced in a high quality, consistent and controlled manner," the spokesperson said.
London: Britain is in the difficult position of not only facing the world's highest per capita coronavirus death toll but also being implicated – by labelling, at least – as the source of a highly contagious version of the virus now spreading around the world: the feared "UK variant."
"WHO calls for more intensified measures to fight UK coronavirus variant," CNN announced. "Warnings of huge new spike in US COVID-19 cases as UK variant spreads," wrote the New Scientist. "UK variant found in Ohio," reported Cleveland.com.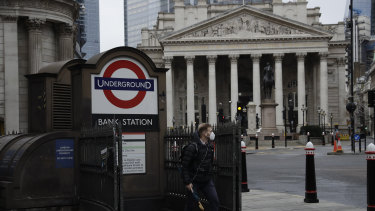 A year ago, as the coronavirus began spreading from Wuhan, China, on its way to becoming a global pandemic, there was pushback against maligning China or its hard-hit city with the labels like "China virus" or "Wuhan virus." President Donald Trump waved away those concerns – and added "Chinese virus" and "kung flu" to his descriptors.
There hasn't yet been the same pushback for the "UK variant." It's one of a number of mutations being called after the place where they were detected. The others include the "South African variant" and the "Brazilian variant." But the variant first detected in Britain is making the most news. On Friday, the US Centers for Disease Control and Prevention predicted it would become the dominant strain in the United States within two months.
Mike Ryan, the World Health Organization's top emergencies official, acknowledged that the geographical names can be a problem.
"It's really important that when people call it the 'UK variant' or 'South African variant' that we aren't assigning values to these countries, these countries aren't the cause of this problem," he said at a recent news conference. Instead, he said, "they should be commended and lauded" for investing in the systems that allow this kind of monitoring.
The WHO told The Washington Post it is planning a new naming system without reference to country names, to be announced "soon."
The technical name for the variant first identified in Britain is "B.1.1.7."
That may be a tough one to use on the nightly news. But Andrew Rambaut, an evolutionary biologist at the University of Edinburgh and one of the authors of a paper that called for the current lineage naming system, explained that a lot of information is packed in there.
"B" refers to the original variant observed in Wuhan in early 2020. "B.1" is associated with the big outbreak in Italy and central Europe last spring.
"It tells you something about the history," Rambaut said.
Asked if, when talking to colleagues, he says "B point one point one point seven," he laughed. No, he said, just "B one one seven."
He admitted that, initially, he used a geographic label.
"We called it 'the Kent one,' because that's where we first saw it," he said. "But we tried hard not to, because it becomes meaningless very, very quickly. You say 'UK variant,' when it's actually now 50 countries in the world."
Sharon Peacock, chair of COVID-19 Genomics UK Consortium, a world leader in sequencing the changing mutations of the coronavirus, said one problem with naming variants after localities is that where they first emerge and where they are discovered might be very different.
Since Britain is sequencing more virus genomes than anywhere else, many of the variants now and in the future might be "discovered" here, even if they arose somewhere else and arrived via international travellers.
"The more you sequence, the more you find," Peacock said. "First detected doesn't mean first emergent."
She agreed that the terminology can be confusing. Even she and her colleagues sometimes stumble and refer to the "South African" or "Brazilian" variant.
Jeffrey Barrett, lead COVID-19 statistical geneticist at the Sanger Institute, which is sequencing about 10,000 genomes of the coronavirus each week, said devising a naming scheme "is not a totally easy problem."
It makes sense for scientists to use a technical system at first, he said, "because you don't know how the virus is going to change and grow when you start out," and naming thousands of mutations distinct, snappy names wouldn't be helpful. But if a variant of concern does emerge, like B117, "you end up getting these kind of mouthful names, and inevitably you slip into trying to say something that is at least recognisable."
Stephen Mawdsley, a historian at the University of Bristol, said the WHO was "quite right" to come up with a new naming system, as names linked with countries are "not helpful."
"Such terms are problematic and only serve to stigmatise national groups and limit cooperation," he said. "Indeed, contagious diseases – especially ones that can cause pandemics – are an international problem and need to be framed accordingly."
The 1918 influenza was also widely known as the "Spanish flu," a label loathed by Spain. It didn't originate there. Mawdsley said some historical sources suggest American soldiers may have brought it to Europe during World War I. But Spain was the first country to report it – and has been trying to distance itself ever since.
Cate Newsom, managing director at Evviva Brands, said "COVID" has worked well as a name, as it's "neutral, it's not pointing a finger at anybody." Likewise, she said, it would be good to "have some kind of system in place to avoid this kind of scenario where it's attributed to a place . . . like storms or hurricanes, that's a much more neutral systemic approach. Nobody blames women named Katrina for a storm."
She said those devising naming systems should be mindful that if the names are too much of a mouthful, the public will shorten them. "It needs to be something short enough that people can remember, three syllables, preferably two," she said, noting that already, "corona has become 'rona for many."
B117 was detected in late autumn and began to raise flags in late November and early December, when scientists saw it spreading quickly in the southeast of England. It's up to 70 per cent more transmissible, and it is one of the reasons behind the current lockdown in England.
The naming debate isn't limited to place of origin. Should these new discoveries be referred to as variants, strains, mutants, shifts, drifts?
"I understand the confusion. Of course, they are viruses, but they are not new viruses," said Massimo Palmarini, director of the MRC Center for Virus Research at the University of Glasgow, in a webinar with science journalists on Friday.
"We were just joking earlier on that if you put 20 virologists in a room, we will all have slightly different terms, our preferred terms that we use. But the consensus term is variants."
The Washington Post
Federal Health Minister Greg Hunt says Victoria's decision-making process around holding the Australian Open has been appropriate.
Earlier on Sunday, the minister said the pre-screening and quarantine process for athletes and their teams was the same process any international arrivals experience.
"So we respect that process. We respect the steps they're taking and also the way that they responded. We think that that's appropriate," he said.
"With regards to the Australian Open, we respect not only the right, but also the processes of particular states to screen, to monitor, and to conduct events, whether it's the Melbourne Test, the Sydney Test, the Brisbane Test, the Adelaide Test, whether it is the current event which the Victorian government have been planning, and we think that they have taken appropriate steps.
"But our priority as a national government is helping to bring Australians home, which is why we've announced the extra 20 flights, and to allow Australians within our own borders to return home to reunite with their families."
Thanks so much for all the comments and tweets today. It's been great to be back on the blog although I hope these cases clear up soon enough and we can put it back into hibernation.
The brilliant Ashleigh McMillan will take over now for the run towards the end of the day.
I'll be back next weekend. Have a lovely afternoon and see you next time.
The head of Victoria's hotel quarantine has vowed the program won't be "watered down" after complaints from players.
A nervous wait lies ahead to find out if the four positive cases connected to the Australian Open are carrying the virulent UK coronavirus variant. There are now more than 120 close contacts in mandatory 14-day quarantine after three positive cases were found in people on a flight into Melbourne from Los Angeles and another case on a flight from Abu Dhabi.
Some Australian Open players have taken to social media to express their unhappiness at being stuck in a hotel room for two weeks, having been deemed close contacts.
COVID-19 Quarantine Victoria's Emma Cassar said the rules were made clear that being on a long flight with a positive case would make you a close contact, but the hotel quarantine leader said she had those discussions with Tennis Australia, not the players themselves.
"The rules of close contacts haven't changed, and there's no other way you can consider this. If you're on a plane for 16 to 24 hours in air that circulates throughout the plane, you are a close contact," she said.
"The program is set up to keep people safe. We will not be modifying the program or watering it down under any circumstances.
"We're keeping a very close eye on the research around that UK strain, and if anything, we'll be more cautious."
She said she was "really hopeful" the genomic testing would be completed promptly to determine whether any of the cases carried the mutant UK variant, which is more virulent.
The next batch of COVID-19 testing for Australian Open support staff is expected to be returned at 3.30pm on Sunday.
The head of Victoria's hotel quarantine system has warned players over "low level but dangerous acts" after one opened his quarantine hotel door to try to have a conversation with a training partner in the hallway.
COVID-19 Quarantine Victoria Commissioner Emma Cassar said officials were taking all breaches of hotel quarantine by those connected to the Australian Open very seriously, warning of $20,000 fines for players who break the rules.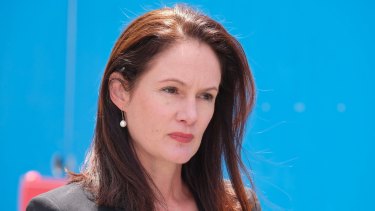 "Some of these challenging behaviours include a player who opened his door to try and have a conversation with his training mate down the hallway," she said.
"You can pick up the phone and use that instead of putting yourself and other people at risk.
"The other [breach] was another gentleman who shouted some UberEats to some other people on the floor and was praising himself for his great efforts, and opened his door to do so.
"It is very low level, but they are dangerous acts that we cannot tolerate … they have been formerly warned, and Victoria Police will continue to follow up those who haven't been spoken to yet.
"What we have also considered today is for those who are persistently breaching or not willing to remain in their rooms, our other option would be to transfer people to the complex-care hotel where there is a member Victoria Police outside the door."
Ms Cassar said while "quarantine is hard, and is a very new and difficult circumstance" for players and staff, there would be no tolerance for people trying to escape their rooms.
"A majority of cases, support crews and players are doing the right thing and I can't thank them enough for that," she said.
"There are a small few who are testing their procedures and we'd ask them to stay in their rooms. These procedures are in place to keep people safe.
"And when people come out of their rooms, it's not just about the breach of the order that they're on, it's also placing them and our staff and the community at risk.
"There is zero tolerance for breaches."