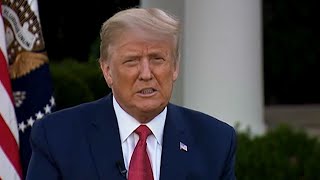 ​Donald Trump is no longer at risk of transmitting coronavirus, the White House doctor said on Saturday night.
The diagnosis comes as the US President prepares to resume campaign rallies and other activities.
Dr Sean Conley said Mr Trump meets the Centres for Disease Control and Prevention criteria for safely discontinuing isolation and that by "currently recognised standards" he is no longer considered a transmission risk.
The memo did not declare Mr Trump as testing negative for the virus. But sensitive lab tests – like the PCR test – detect the virus in swab samples taken from the nose and throat.
The memo followed Mr Trump's first public appearance since returning to the White House after being treated for coronavirus.
Mr Trump took off his mask moments after he emerged on the White House balcony to address the crowd on the lawn below.
Follow the latest updates below.
5:08AM
New Zealand PM defends pandemic response
New Zealand Prime Minister Jacinda Ardern on Sunday burnished her leadership credentials on the back of her successful response to the coronavirus pandemic at a campaign rally six days ahead of the country's election.
Polls show Ms Ardern's Labour Party is expected to win the election with a wide lead over the conservative National Party, and could form government in a coalition with the Greens and New Zealand First.
"While there was no playbook for Covid-19, we went hard and early and committed to a strategy of elimination which has meant that when we've had new cases, we've circled and stamped them out and opened up our economy faster than others," she told a campaign rally.
"I will always maintain that it has been, and will continue to be, the right thing to do."
New Zealand, with 1,514 cases and 25 deaths in a population of five million, has been hailed along with South Korea and Taiwan for its success in combating coronavirus partly due to swift lockdown measures.