The Queensland government has pushed back the next sitting of Parliament to April 28, using new powers granted to Speaker Curtis Pitt.
MPs will no longer sit as scheduled on March 31.
In response to a request from Attorney-General Yvette D'Ath today, Mr Pitt said his view had always been that MPs should be recalled in a "reduced format if and when urgent and unavoidable bills need to be debated before the House", such as those regarding supply or a response to matters around the COVID-19 pandemic.
"I understand that such circumstances do not currently arise," he said.
Ms D'Ath said the government did not make the request "lightly" but in line with other jurisdictions, made the request so it could focus on the delivery of frontline services and enable regional MPs to stay in their communities as residents across the state had also been urged to do.
The Sunshine Coast will close its shut its six holiday parks to all travellers not deemed "essential" until the end of May, along with more than 350 playgrounds and 28 skate parks in response to the coronavirus pandemic.
Those travelling domestically either without a fixed address or the ability to return to their home and those who need to be on the Sunshine Coast for medical, family or temporary work reasons will be deemed essential.
The move will shut the Dicky Beach, Maroochydore, Cotton Tree, Mudjimba and Coolum Beach holiday parks to everyone else over the coming Easter school break.
With no travellers deemed essential, the Mooloolaba Beach site will close in the coming days.
Permanent holiday park residents will be able to stay. Future bookings and deposits will be refunded, with guests to be contacted regarding the cancellations.
Five pools – in addition to the council aquatic centres closed earlier in the week – will also close.
Mayor Mark Jamieson said the closures would "help to continue our efforts to reduce the opportunities for people to come together in groups, to limit the transmission of COVID-19″.
"I do want to emphasise that council parks remain open to the community, but playground equipment within those parks will not be able to be used," he said.
Premier Annastacia Palaszczuk has repeatedly urged Queenslanders to not treat the time off as a "holiday" and instead stay in their suburbs to help stop the virus spread.
A private school in Brisbane's south will hold a pupil-free day tomorrow after a student tested positive for COVID-19.
The secondary student from John Paul College, in Daisy Hill, had not attended the school while ill or infectious, principal Karen Spiller said in a statement.
"As a college, we have been transitioning in the past weeks to move our students to an online continuous learning platform commencing on Monday 30 March in a planned and orderly manner," she said.
"This will still proceed."
Tomorrow will now be a pupil-free day, with supervision for students who need to attend. The connected early learning centre and vacation care will remain open.
The school is one of a number around the city to see cases among students and their families in recent days, including Anglican Church Grammar and Brisbane State High School.
Prisoners could potentially serve more time on remand than a sentence for their crime because lawyers cannot get timely access to video and telephone conferencing facilities in Queensland.
Face-to-face meetings between lawyers and their clients have been banned because of COVID-19.
The ban has forced lawyers to book video and telephone conferencing facilities through the Department of Corrective Services but there's almost a three-week wait, says one of Brisbane's top criminal barristers.
Jeffrey Hunter, QC, said the situation has become problematic despite the judiciary offering to sit as many judges as possible for sentencing hearings or bail applications.
"The problem is lawyers can't talk to their clients to make bail applications because there are not enough video-link facilities," Mr Hunter said.
AAP
A man has been taken into custody at a Queensland border checkpoint after attempting to cross to the Gold Coast in an allegedly stolen ute with hand-drawn number plates.
Police say the 43-year-old man was wanted on an outstanding warrant and allegedly found drugs and "other items" in the vehicle after it was stopped on the Gold Coast Highway before 3pm.
The man was taken to Palm Beach Police Station for questioning, with charges expected.
Brisbane City Council has recorded its first staff case of COVID-19 as numbers continue to grow around the state, country and globe.
The employee is part of an operational team and had been travelling overseas. They were diagnosed in self-isolation and had not yet returned to the workplace.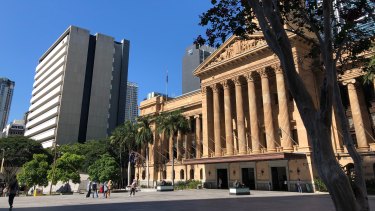 Lord mayor Adrian Schrinner said the council was working with health authorities to ensure the wellbeing of the employee and those who may have been in contact.
"We will do what we can to support this employee and their family during this time," he said in a statement.
"More than half of our office-based staff have already transitioned to work from home arrangements, to minimise [the] risk of transmission in the workplace or on public transport.
"As one of Brisbane's largest employers, we have been preparing for the imminent impacts of the virus on staff health, wellbeing and risk of transmission for almost a month."
All practical driving tests will be cancelled for three months from Saturday "to protect the health and wellbeing of the community", the Queensland Department of Transport and Main Roads has announced.
"If you already had a driving test booked, you'll receive an email or SMS to tell you the test has been cancelled," the department stated.
"We apologise for any inconvenience as Queensland responds to this unprecedented pandemic event. All booking fees will be refunded for customers who had a driving test booked."
London: Spain risks becoming the new epicentre of the global coronavirus crisis, with the country's death toll soaring to overtake China in a rapidly worsening outbreak that even threatens to eclipse the tragedy in Italy.
On Wednesday 738 deaths brought total fatalities in Spain to nearly 3500 – about 300 more than the official tally in China, where the deadly pandemic began late last year. There are so many victims in the capital Madrid that an ice skating rink has been transformed into a temporary morgue.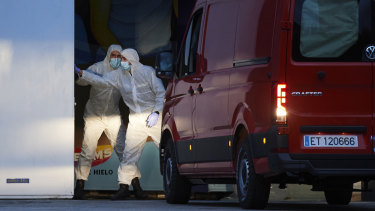 Of the 20,499 coronavirus-related deaths worldwide, more than half are now in Spain and Italy.
"People are bored and they are frustrated because they don't know what is going to happen in the weeks ahead," said Helen Stasa, an Australian living in Spain.
"But I would say they are also scared. I live with my husband and father-in-law and my father-in-law has been watching a lot of TV and he is petrified. It's horrible."
Queensland Health has warned of a hoax text message asking people to sign a petition to postpone horse racing because of COVID-19.
The SMS, headed QldHealth, was distributed around 11am on Thursday and stated: "Sign this petition to put horse racing on HOLD and stop the spread of COVID-19."
A link to the website was included.
Queensland Health told AAP the text was not endorsed or sent by them.
The department said anyone wanting to access the latest information on COVID-19 should head to their official Facebook or website pages.
"It's extremely important that Queenslanders get their information from sources they can trust," a Queensland Health representative said.
Racing Queensland has been approached for comment.
AAP
Queensland's Meals on Wheels service has seen more requests for food deliveries statewide.
The volunteer-based organisation delivers meals to about 15,000 vulnerable and elderly members of the community and relies on volunteers to deliver its meals.
Chief executive Evan Hill told Brisbane Times demand had increased "considerably" over the past two weeks, which was creating challenges with some volunteers aged over 60 deciding to opt out of volunteering for their own safety.
But, he said, it was "encouraging" that more volunteers had since put their hands up to help out, although Meals on Wheels in Chermside was still in need of volunteers.
He said the 141 Meals on Wheels branches were considering how to reduce contact but also continue their deliveries safely to feed people who couldn't otherwise access healthy meals.
Mr Hill said the key issue was that Meals on Wheels wasn't just a meal delivery business but a community support network that gave people genuine connection and positive conversation, which would continue with some creative distance management.
Source: Sydney Morning Herald