Watch it live here shortly:
A total of 25 of the 35 Greater Sydney local Government areas will move from red to orange as of 6pm on Monday night.
Victorian premier Daniel Andrews confirmed that thousands of Victorians stranded due to the traffic light permit system will be able to return home.
"You'll get an automatic permit and you can travel back and you must get tested and isolate until you get that test result, that negative result," he said.
"And then just like the Brisbane returning Victorians, you will be free and clear as well."
Ten of the LGAs will remain red, the premier said.
People who are in Bankstown, Canada Bay, Burwood, Canterbury Bankstown, Cumberland, Inner West, Liverpool, Fairfield, Parramatta and Strathfield are still not eligible to return.
"All but ten of those 35 local government areas go from red to orange," Mr Andrews said.
"Those people will be able to get a permit and automatically return home from 6pm tonight. They must isolate at home and get tested within 72 hours.
"If it's a negative test and they're free and clear.
"But we have to remain vigilant. We have to remain focused on the challenge at that we face, and it's a very real challenge."
Victoria has recorded zero new cases of community transmission in the 24 hours to midnight.
This is the 12th day in a row with no new local cases.
However, the state recorded four cases in hotel quarantine.
There are currently 33 active cases in Victoria.
Nearly 14,000 tests were conducted yesterday.
NSW health authorities have 10 days to find the source of nine of its unlinked COVID-19 cases before Queensland will consider opening its border to Greater Sydney.
Chief Health Officer Dr Jeannette Young will review Sydney's hotspot declaration on January 28.
Queensland requires declared hotspots to record 28 consecutive days without any unlinked cases before it will remove quarantine requirements for travellers.
Dr Young will also weigh up testing rates and sewage testing when making her decision.
NSW reported seven new cases over the weekend.
Genome testing is underway to determine whether they are linked to the Berala cluster.
A spokesman for COVID-19 Quarantine Victoria said the head of the organisation, Emma Cassar, will not be considering allowing players any of the requests made by Novak Djokovic, on behalf of those stuck in 14-days hard hotel lockdown.
Spanish tennis website Punto de Break reported late last night that Djokovic had written a letter to Australian Open tournament director Craig Tiley requesting things like "decent food" for players, less days in isolation and moving players in hard lockdown to "private houses with a court to train".
When asked on Melbourne radio station 3AW if Victoria would allow players to see their coaches face-to-face or let them train at private properties with tennis courts, Ms Cassar said "absolutely not".
"We're not modifying the program," she said. "We understand the 14 days is really tough … but we're not taking risks on community safety."That's a definite no from me," she said when asked if the players could leave quarantine early.
"They've got phones, they've got technology where they can do that now, because again that's the safest way for them to do those coaching sessions and we've all learnt to live with this pandemic in a virtual sense. It's about keeping them safe and their coaches safe."
Queensland has reported zero new community acquired cases of COVID-19 on Monday.
Premier Annastacia Palaszczuk said one case was detected in hotel quarantine, a woman who recently travelled from Brazil.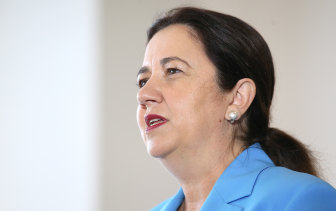 There are 25 cases still active in Queensland and 5173 tests were conducted on Sunday.
"So those test numbers are coming down, but can I say to everyone – please remember if you have any symptoms, please go and get tested," Ms Palaszczuk said.
"Of course, we're waiting until Friday morning, 1am, if we keep this track happening now, it's more than likely that all of those restrictions will be removed by Friday.
So a few more days to go, but thank you to everyone who's been doing the right thing especially with the mask-wearing and listening to what you can do and you can't do."
Queensland Premier Annastacia Palaszczuk will provide a COVID-19 update shortly. Watch it live here:
NSW Premier Gladys Berejiklian says she is considering an "incentive system" to encourage people to get the COVID-19 vaccine when it becomes available in Australia.
It comes as Ms Berejiklian said the government was considering whether venues should allow entry to unvaccinated patrons.
Ms Berejiklian encouraged people to "start thinking about the vaccine and how they feel about it".
"For my part I'll be rushing to the queue as soon as I'm told I can have it," she told 2GB this morning.
"The more people that are vaccinated the greater the likelihood that we can have a return to normality as we know it."
Ms Berejiklian said airlines have already indicated people may not be able to travel if they have not been vaccinated and that other businesses would also be able to implement their own rules.
"All workplaces and state governments will have a role in encouraging people to take [the vaccination]," she said.
"I don't ever like to force anybody to do anything but there should be incentives in place for people to do certain things if it's for their own safety and the safety of others and their conversations that will be had."
She also told people Australia has "the strictest regulations on the planet when it comes to approving a vaccine".
"Please know nothing would get approved unless it was safe."
Ms Berejiklian also said people "will be very pleased" with the number of new cases recorded last night, which are expected to be announced later this morning, but urged people to keep coming forward for testing.
Health Department boss and former federal chief medical officer Brendan Murphy predicts Australia will spend most of this year with overseas border restrictions still in place despite a vaccine rollout
"I think that we'll go most of this year with still substantial border restrictions – even if we have a lot of the population vaccinated, we don't know whether that will prevent transmission of the virus," Professor Murphy said on ABC TV's News Breakfast this morning.
"And it's likely that quarantine will continue for some time. One of the things about this virus is that the rule book has been made up as we go.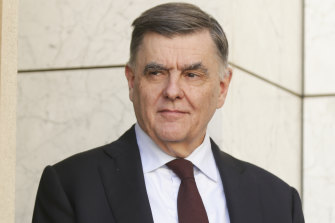 "I was very careful early on and I remember saying this to the Prime Minister I don't want to predict more than two or three months ahead. The world is changing.
"So I think at the moment, we've got this light at the end of the tunnel – the vaccine. So we're going to go as safely and as fast as we can to get our population vaccinated and then we'll look at what happens."
We have a major update on the news we brought you earlier and it's good news: A nurse and a police officer working at a Melbourne quarantine hotel have tested negative to coronavirus after initially returning positive preliminary COVID-19 tests.
The positive preliminary saliva swabs led to 41 other workers at the Holiday Inn on Flinders being stood down while they awaited their own test results.
The Department of Health and Human Service's outbreak squad visited the hotel on Sunday and areas where the nurse and police officer worked have been cleaned.
Health authorities confirmed a short time ago that subsequent tests have come back negative.