Sydneysiders could remain locked out of Queensland until March as contact tracers race against the clock to link six mystery infections before the border restrictions are reviewed on Thursday.
The Palaszczuk government is sticking to its policy of keeping Queensland's border closed to declared hotspots until they can go 28 days without a mystery case of COVID-19.
NSW contact tracers must pinpoint the source of each infection or Queensland's border will not open at the end of the month.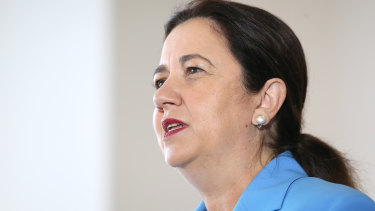 The six cases under investigation were found in Canterbury-Bankstown, Cumberland, Northern Beaches and Blacktown and reported on January 1, 5, 7, 10 and 15.
There are 35 local government areas across greater Sydney which Queensland has defined as a hotspot, meaning a place "where health officials have found a lot of people with COVID-19, or places that are at risk of a lot of COVID-19 infections".
Queensland Chief Health Officer Jeannette Young will decide whether to remove any local government areas from the hotspot list when she reviews the situation in NSW on Thursday.
Victoria has recorded its 20th consecutive day of no new locally acquired coronavirus cases.
The state's health department just tweeted out today's numbers, which shows one new case among a returned traveller in hotel quarantine.
The tweet does not specify whether the new overseas case is connected with the Australian Open, although that detail will likely be clarified later this morning.
There are currently 31 active cases in Victoria, and 11,656 tests were carried out yesterday.
Corporate governance experts are urging more of Australia's big companies to repay funds received through the federal government's JobKeeper wage subsidy scheme, warning taxpayers will bear the brunt of the $90 billion cost for decades.
Major Australian companies that have posted strong profits including Super Retail Group, the local arm of Toyota and Coca-Cola Amatil have said they will repay millions in wage subsidies received over the course of COVID-19 thanks to a surge in consumer spending prompting better-than-expected sales and profits.
However, these acts of corporate goodwill may be few and far between, with fund managers and governance experts not confident that boards will be inclined to return the beneficial stipend.
Dean Paatsch, director of corporate governance firm Ownership Matters, told The Age and The Sydney Morning Herald the likelihood of widespread JobKeeper paybacks was slim, partially due to the lack of transparency and accountability around the scheme.
"JobKeeper was extraordinarily generous but accompanied by very little transparency, and the fact of the matter is that the Australian taxpayer will be paying for employers who've been unjustly enriched by JobKeeper for the next 30 years," Mr Paatsch said.
I've just had a quick look through the Australia Day Honours List to find people who were acknowledged for their work combatting the coronavirus pandemic.
These are three names I was able to find who have received Public Service Medals in this year's honours:
Dr Armand Casolin, Chief Health Officer for Sydney Trains and NSW TrainLink
For outstanding public service to rail transport in New South Wales, particularly to the development of safe working protocols during COVID-19.
Ms Caroline Ann Edwards
For outstanding public service to the development and implementation of health and social policy, and leading the Government's health response to COVID-19.
Ms Jennifer Elizabeth Wilkinson
The principal architect of Job-Keeper, for outstanding public service in the development of fiscal policy, particularly in the formulation of the Australian Government's economic response to COVID-19.
(There may be others who were also recognised for COVID response efforts that I missed in my quick search of the honours list.)
Prime Minister Scott Morrison said the process of rolling out COVID-19 vaccinations is well under way after the Pfizer vaccine was approved by the Therapeutic Goods Administration yesterday.
"We now go through the process of receiving that delivery and rolling it out, we anticipate that will start before the end of February and that over the next month and months that follow it will continue to ramp up," Mr Morrison told 2GB on Tuesday morning.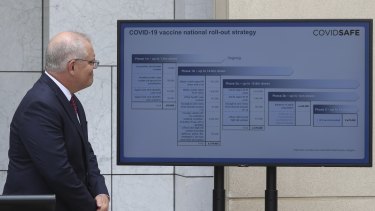 He said the TGA will now work on approving the AstraZeneca vaccine, which Australia is aiming to produce onshore.
"There will be bumps with production overseas… and that's the reason we've chosen to produce the AstraZeneca vaccine here," Mr Morrison said.
"That sovereign capability to produce the vaccine here is one we made a high priority."
COVID-19 vaccine hubs with ultra-cold freezers to store the Pfizer vaccine will be set up in some of Melbourne's major hospitals, in a large-scale inoculation operation led by the Austin, Western and Monash health services.
The Therapeutic Goods Administration approved Pfizer's vaccine for use in Australia on Monday, and from the middle of next month it will be distributed to high-risk groups including aged care residents, healthcare workers and people working in hotel quarantine and border control.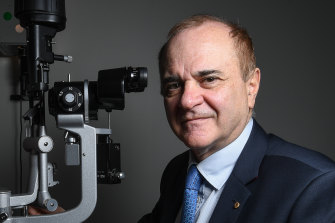 Australian Medical Association Victorian president Julian Rait said he had been advised that Austin Health, Western Health and Monash Health, which oversee multiple hospitals in the city's heavily populated northern, western and south-eastern suburbs, will run the Pfizer metropolitan vaccine hubs and are set to be responsible for storing the doses in special freezers as well as running their own vaccination clinics.
The Pfizer vaccine must be stored at minus 70 degrees in ultra-low-temperature freezers.
Hospitals already have the freezers, which cost anywhere between about $5000 and $20,000 each, but smaller medical centres and GP clinics typically do not.
Professor Rait said if the vaccine was taken out of an ultra-cold freezer it could be stored for up to five days at ordinary fridge temperature, meaning authorities will have to move quickly in administering all available doses among priority groups.
"It is going to be a huge logistical exercise," he said.
There's some good news out of New Zealand this morning – more than a dozen close contacts of a 56-year-old woman who contracted the virus during her stay in hotel quarantine have themselves tested negative for COVID-19.
The woman became New Zealand's first locally acquired coronavirus case in months, and health authorities believe she was infected after coming into contact with a fellow returned traveller also quarantined at the Pullman Hotel in Auckland.
Yesterday, the woman's two closest contacts – her husband and her hairdresser – tested negative for the virus, and today a further 14 close contacts also produced negative test results.
New Zealand's COVID Response minister Chris Hipkins tweeted out the encouraging news a short time ago:
Australia has suspended its quarantine-free travel arrangement with New Zealand for 72 hours after a new case of the South African variant of the coronavirus was detected in the community in Auckland.
A woman is thought to have acquired the highly contagious strain of COVID-19 while in hotel quarantine but didn't test positive until she was released.
Federal Health Minister Greg Hunt said on Monday Australia would shut down the green zone travel corridor with New Zealand effective immediately for at least three days "out of an abundance of caution".
Any travellers who have arrived in Australia on a flight from New Zealand on or since January 14 are being asked to isolate and get tested. Two green zone flights from New Zealand were due to travel to Australia late on Monday.
Prime Minister Scott Morrison discussed the temporary measure with New Zealand counterpart Jacinda Ardern on Monday afternoon following the recommendation from the the Australian Health Protection Principal Committee.
Mr Hunt said the drastic measure was simply because of the length of period between the infection and the confirmation.
The source of the virus is believed to be another arrival who was isolating in a nearby room before they tested positive on day three of their quarantine and were transferred to a separate facility. The overlap happened on the woman's second to last day in isolation.
Spain reported a record 93,822 new coronavirus infections over the weekend, with the country's 14-day case rate reaching a new high on Monday as regional authorities scrambled to ramp up restrictions.
Total case numbers in Spain have reached 2,593,382, while the death toll increased by 767 to 56,208, health ministry data showed.
"Spain is not doing well and we have to be aware of it," Health Emergency Coordinator Fernando Simon told a news briefing.
He said the highly contagious variant of the virus first detected in Britain was not responsible for the surge and only accounted for around 5% of current infections, although it could become the dominant variant by March.
With Spain's 14-day incidence of the virus more than tripling from a month ago, regions have raced to curb infections – although national law bars them from imposing the harshest restrictions like home confinement.
Reuters
The Therapeutic Goods Administration says Australia's first COVID-19 vaccine will prevent symptomatic COVID-19 in 95 per cent of recipients, but more than half will experience side effects such as headaches and fatigue.
On Monday – exactly a year after Australia confirmed its first case of the virus – the TGA gave provisional approval for the Pfizer COVID-19 vaccine for use in Australia.
The first Australians will be vaccinated against COVID-19 late next month or by early March after the TGA today gave provisional approval for the Pfizer jab.
According to the TGA, more than 60 per cent of people who get the Pfizer jab will experience fatigue, more than half will get a headache, more than 30 per cent will suffer muscle pain or chills and more than one in five will experience joint pain.
The side effects dissipate after a few days and set against them is the authority's finding that the Pfizer vaccine prevents symptomatic COVID-19 in 95 per cent of patients.
Prime Minister Scott Morrison said on Monday morning that the green light was a formal approval under the normal processes of the TGA and not an emergency measure, but warned that the coronavirus crisis was far from over.
"I have a simple message to Australia, thank you Australia," he said. "Thank you that you have put us in a situation that is the envy of most countries in the world today. We intend to keep it that way. We intend to remain vigilant.
"Once the vaccines start, that doesn't mean you can jump on a plane to Bali the next day, that the masks or the quarantine arrangements disappear … this will build, it will start at a small scale but it is not a silver bullet."