The Queensland man thought to be Australia's youngest COVID-19 victim has tested negative to the virus after his death.
Nathan Turner's death last week had baffled authorities and placed residents in his central Queensland town of Blackwater on notice after an initial coronavirus test following his death returned a positive result.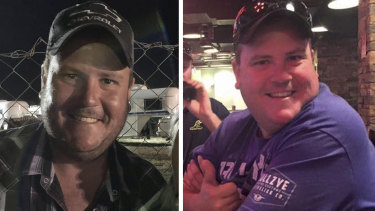 On Monday night, Queensland Health confirmed that further tests had returned a negative result.
"The Coroner tonight advised that further tests have returned negative for COVID-19. He is yet to determine the man's cause of death," the state's chief health office Jeannette Young said in a statement.
A workmate of Mr Turner's fiancee also said a second test came back negative.
"We have just got word from our staff member Nathan's partner that his autopsy report has come in and Nathan has been CLEARED as COVID 19 NEGATIVE.," Kelly Bunyoung posted on Facebook.
"Blackwater can now rest easy."
Mr Turner, 30, had serious underlying health issues before experiencing coronavirus symptoms in the weeks before he died. He was not tested for the virus while alive.
As Mr Turner had not worked for six months or left the mining town since February, authorities were unsure how he had contracted the virus.
For some, the easing of restrictions is cause for heightened concern.
Here's what some readers said about their plans for the coming weeks when we asked about Australian's newly returned freedoms:
"I will stay working from home until the end of winter and inch back to the office a few days a week. I'm keeping away from crowds and indoor dining out for now. I'm seeing friends one on one for a chat in parks. Just waiting to see what happens I guess. Enjoying the quiet life." – Elle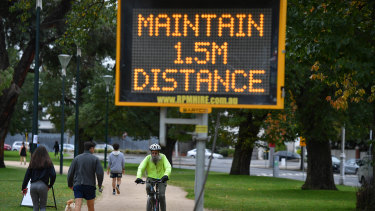 "I am going to my holiday house on the south coast for the long weekend with my wife. No friends or family. We will not be going to pubs or restaurants and will continue to be careful shopping and maintaining social distancing. I am worried that a lot of people seem to have given up on the basic hand washing and the distancing. I'm expecting a second wave." – Matthew
"Not looking to socialise big anytime soon. The new normal is the new way of life and we are very much accustomed to it, so we will continue only our essential shopping and essential visits for a foreseeable future." – Bala
"I will avoid going out for a while. There are lots of people out there coughing and sneezing (Gold Coast, Qld) and it is unclear to me whether they have COVID or not. I think that the restrictions are easing too early." – Anne
"I will take it slow. We are definitely not going out for meals or to the beauty salons for the next month or two unless we are at a stage where the daily cases reduce to zero. It's too soon. Ideally we should not have opened up before June end. If I can endure it for two months, one more month is OK. Fingers crossed that we do not see a second wave." – Gauri
"My family won't be changing much. No dining-in, movies, bricks-and-mortar clothes shopping etc. I see too many people around me not taking the virus seriously i.e. not social distancing anymore. So returning to a 'normal' life is too risky." – Anonymous
"I'll be locking down harder as the risks escalate exponentially as the masses go out and behave as if nothing's changed." – Alex
Yesterday, we asked how the easing restrictions will affect you. Will you book a weekend away, or dinner at a restaurant? Does it mean you have your job back?
We were inundated with responses revealing that readers are firmly in two camps. On one side there are those who can't wait to enjoy our new (old) freedoms, while on the other, people are exercising even more caution as restrictions ease.
Here's what those in the first camp said:
"Genuinely excited. Not one bit nervous, unlike all the inexplicably terrified people around – such as Damian and Mandy above. There're simply not enough cases for me to be worried, and I've missed my social life desperately." – Steve
"I'm travelling to regional NSW this long weekend to get away. I've also enjoyed meals with friends this weekend just gone, and have a few booked in this week. Great to be getting back to something resembling normal and learning to live with, rather than be controlled by a virus, the impact of which was grossly over-estimated in Australia." – Ashley
"I need to get back to some sort of normalcy for my mental health. Each day I'm on the lookout for restrictions to ease to enable gyms to open as well." – Adelaide
"Going camping. Life's too short. Cases are so few in NSW, the chance is slim to none." – Natasha
"Keen to get out to Korean BBQ places. I miss meeting friends in the city, going to pubs. Getting back into the groove of meeting new people! I want to find someone to get married." – Phillipa
Australians are enjoying draught beers and fresh manicures as coronavirus restrictions ease around the nation.
Here's a taste of today's editorial in The Age after Victoria took its biggest step towards a new COVID-19 normal.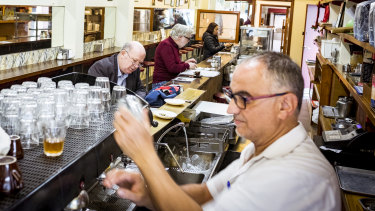 It was January 25, at 2.15am, that the first case of coronavirus in Victoria, and Australia, was confirmed: a man in his 50s who had arrived six days earlier from Wuhan, China. Almost two months later, Victorians were hit with the first round of social-distancing restrictions. The lockdown rapidly escalated. While the easing of restrictions started three weeks ago, Monday marked the biggest step towards a new COVID-19 normal. It will take some getting used to.
For many it will offer a chance to return to activities that were once routine: borrowing a book from a library; swimming at a pool, catching up with friends at a local cafe or restaurant; visiting a zoo or gallery.
For those in the food industry, the changes will inject some much-needed cash into the tills after they have survived for more than two months with government assistance and the proceeds of take-aways. Not all will make it through, but they deserve and need our support. Melbourne's reputation as a foodie destination is much reliant on hundreds of small family-run businesses from an enormously diverse range of nationalities. They have been doing it tough.
But for some this will be a time of heightened concern. For the elderly and those with underlying medical conditions, every easing of restrictions opens up more opportunities to be exposed. It heightens the need for those who are in contact with those vulnerable to COVID-19 to be cautious in their own daily lives.
And that goes for all of us.
From the Great Ocean Road to the Murray River, tourism associations and businesses say they have been inundated with inquiries and bookings from Victorians desperate to break free from home isolation and take advantage of easing travel restrictions.
Queensland and Western Australia, which both have closed borders to outsiders, are starting advertising campaigns to encourage residents to holiday within their own state.
And in NSW, residents are also now allowed to travel anywhere within their state.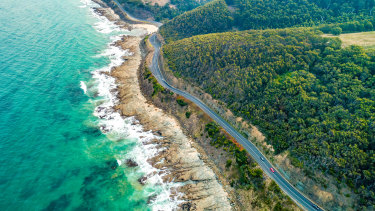 But regional communities may not be that excited by influxes of people coming from cities.
Alpine Valley Getaways manages 90 individual cottages, houses and holiday homes in Bright, Harrietville, Porepunkah and Wandiligong in Victoria's north-east.
Director Emma Hinchliffe said the business has already taken 300 bookings, with inquiries flowing as soon as the state government announced accommodation operators could open again.
She said businesses in the local tourism industry were keen to welcome back guests but warned new measures, such as increased cleaning time, had to be taken to keep customers and staff safe.
"We're happy to be opening for business again. We just want to get it right," she said.
She said holidaymakers should plan ahead in advance and book in reservations at restaurants ahead of time. Ms Hinchliffe also called for visitors to respect local communities and observe appropriate hygiene measures to keep everyone safe.
Where have you booked your next getaway? Let us know in the comments.
Dominating the Herald's front page this morning is news of the public sector wage fight escalating in NSW.
Paramedics were the first public sector workers to launch industrial action over the Berejiklian government's wage freeze, refusing from Monday night to bill patients.
Nurses will also protest in front of NSW Parliament this morning and outside the offices of as many as 15 MPs across the state.
The NSW government announced a public sector wage freeze last week, saying it will save $3 billion which it will reinvest in job creation and infrastructure.
But from 9pm on Monday, paramedics refused to fill out billing paperwork for patients, action that will see the state forgo between $400 and $900 for each ambulance trip.
The Australian Paramedics Association (APA) NSW president Chris Kastelan said the billing bans were designed to "send the Premier a message".
"While countries across the world are looking after their healthcare workers, the NSW Premier is giving us a gut punch," he said.
NSW Treasurer Dominic Perrottet offered a peace deal to union leaders on Sunday night, proposing a one-off $1000 payment and no forced redundancies to non-executive frontline workers.
But that only served to further enrage workers on the front line of the coronavirus pandemic.
The Victorian state Labor government has rejected a NSW-style public sector wage freeze as it prepares to sign a new pay deal with 40,000 of its public servants within weeks.
Let's turn our attention back home, where the Reserve Bank is due to meet today.
On the front pages of today's Sydney Morning Herald and The Age, senior economics correspondent Shane Wright reports that one of the nation's most senior economists is calling on the RBA to consider negative interest rates.
Westpac chief economist Bill Evans says the RBA board should use its Tuesday meeting to consider taking the official cost of money into negative territory to drive down the Australian dollar and encourage local businesses to invest their savings in money-making investments.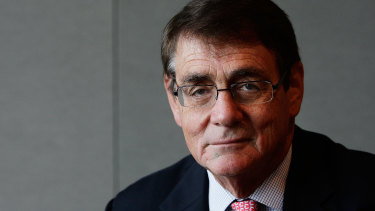 As recently as last week, RBA governor Philip Lowe said it was highly unlikely the bank would follow the lead of countries such as Sweden, Denmark and Japan in taking official rates below zero. New Zealand's central bank is also increasingly likely to consider negative rates.
The RBA, which is expected to hold official rates at a record-low 0.25 per cent this month, is predicting the economy to contract by up to 10 per cent in the June quarter, unemployment to remain elevated for the next two years and inflation to stay subdued even longer.
Mr Evans says negative rates would enable the nation's major banks to cut their lending rates, helping the economy by enabling businesses and mortgage holders to borrow at extremely low cost. They would also take the pressure off the Australian dollar, which on Monday reached its highest level since March at US67¢.
As sacred as the pub is to Britons and the church to Americans, Japan's karaoke boxes are once again throwing open their doors to anyone – regardless of ability – who has the urge to sing.
While the Japanese government still recommends that karaoke boxes remain closed, the vast majority of cities across the country have given operators the green light for the crooning to resume.
Like many other aspects of daily life in Japan, which has reported 16,804 infections and 886 deaths, things have changed.
Front-desk staff at the Big Echo karaoke venue are behind a thick sheet of clear plastic hanging from the ceiling, and food and drinks are delivered to individual booths by employees in face masks and rubber gloves.
Microphones are sanitised after every session and then encased in a plastic cover, the maximum number of people in a 12-person "party room" has been halved, while taped markers on the floor in the lobby indicate how far people should stay away from each other.
"It felt a little different at first, but once you start singing you very quickly do not notice it any more," said Moe Hatakayama.
The Telegraph, London
The Greek government has listed 29 countries from where it will accept visitors as of June 15, and Australia has made the cut.
The Tourism Ministry said travellers from the permitted countries will be able to enter Greece on direct flights to Athens and to the northern city of Thessaloniki. The list will be expanded on July 1.
Arrivals from low-infection countries will be subjected only to random coronavirus testing.
On Monday, Greece lifted lockdown measures for hotels, open-air cinemas, golf courses, and public swimming pools as the country ramped up preparations for the tourism season starting in two weeks.
Greece imposed a lockdown early in its coronavirus outbreak, a move credited with limiting infections. The country so far has a total of 175 deaths and just over 2900 confirmed cases. No cases have been detected on the vast majority of the Greek islands, which are popular vacation spots.
Tourism and related industries make up around 20 per cent of the Greek economy, and the government has been anxious to ensure the tourist season is not lost this year.
AP
People across Britain plan to invite friends and family to barbecues in their gardens with the latest easing of social distancing measures on Monday, but a list of rules will make them a little more awkward than before.
Guests will have to bring their own cutlery and plates to any meals unless hosts have managed not to touch them and while food can be shared, dishes cannot passed between households without being wiped down first, government guidelines said.
"If you are in someone else's garden, you must not go inside to help the host carry the food out or to help with the washing up," said the new rules.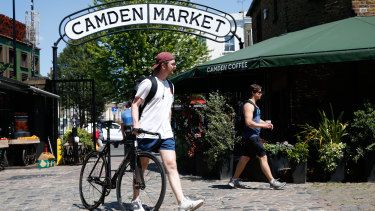 They are part of a relaxation of stringent measures put in place to stop the spread of the coronavirus 10 weeks ago. Schools welcomed back some younger pupils on Monday, more shops opened and outside gatherings of up six people from different households were allowed for the first time.
The country has been basking in unusually sunny weather for the past few weeks but when the inevitable British rain returns, the guidance says guests will have to brave it, or leave.
"You should not go indoors unless you need the toilet or are passing through to access the garden," the rules say.
"If you no longer want to remain outdoors, you should go home. Don't go into garages, sheds or cabins – these are all indoor areas and where the risk of transmission is higher."
Britain has recorded more than 38,000 deaths from confirmed COVID-19 cases. But the Office of National Statistics put the figure of fatalities from suspected and confirmed cases at 48,000.
Reuters
South African shoppers filled trolleys with cases of beer and cider and bottles of whiskey and wine on Monday as the government eased the coronavirus lockdown to allow the sale of alcohol to resume after a nine-week ban.
South Africa, which has one of the highest rates of alcohol consumption per capita in the world, banned the sale of liquor in late March to ease hospital workloads and prevent a rise in domestic violence related to alcohol abuse during lockdown.
Under looser restrictions, alcohol will be sold for home consumption from Mondays to Thursdays, a welcome relief for an industry on its knees due to the ban.
More than 100 people snaked around the parking lot of Makro Liquor, with bottle store owners loading cases of beer and cider onto pick-up trucks.
Software developer Teboho Mofokeng waited in the queue for more than two hours for his six bottles of whiskey, saying his alcohol stock ran out during lockdown.
"I've been without liquor for some time now," he said. "I'm over-excited and relieved."
Reuters
Source: Sydney Morning Herald