The Victorian government has advised anyone who has returned from Greater Brisbane since January 2 to get tested and remain isolated at home or in accommodation until Monday, "when a further assessment will be made".
The National Cabinet declared Greater Brisbane (including the Brisbane city, Moreton Bay, Redland, Ipswich and Logan council areas) a national hotspot, with residents to enter a three-day lockdown from 6pm tonight.
It follows the discovery of a UK variant of COVID-19 in a cleaner at a Brisbane quarantine hotel.
The Victorian Department of Health has just issued a statement asking any Victorians who are currently in these areas to also stay put "until at least Monday".
"We are working with our counterparts in other jurisdictions to address this matter which is obviously of national concern," the statement reads.
"The department is working through the implications for our current permit system and will provide more information on this shortly."
A Jetstar flight from Brisbane turned around immediately after landing in the Northern Territory, as the government announced mandatory quarantine for anyone travelling from Queensland's COVID-19 hotspots.
As authorities ordered Brisbane residents into a three-day lockdown from tonight to prevent transmission of a UK mutant strain of coronavirus, Northern Territory acting Chief Minister Nicole Manison on Thursday said: "Anyone arriving from these newly-declared hotspot areas of the Greater Brisbane area from 9.15am this morning will have to go into mandatory quarantine.
"Unfortunately what we have seen again is we have had two flights that will be impacted by this declaration and one that already has been. We have had two flights that are due to land very soon from Brisbane.
"For those people who are on those returning flights, in this instance, they will not have to pay the $2500 quarantine fee, or they will be given the option to return to Brisbane immediately and we will also fund those flights to return."
Ms Manison said a Jetstar flight from Brisbane that landed in the town of Yulara, in the territory's south, about 9.30am had immediately turned around and returned the passengers to Queensland.
"I know this is very difficult for those people who are impacted, and will be impacted. I thank them for their patience and their understanding.
"But I've got to stress, this is about keeping Territorians safe."
Tokyo: Athletes should be prioritised for the novel coronavirus vaccine so the beleaguered Tokyo Games can go ahead later this year, according to senior Olympics official Dick Pound.
Canadian Pound, the longest-serving member of the International Olympics Committee (IOC), told Sky News in the UK that the Games could still go ahead with mass athlete participation, but only if they were vaccinated.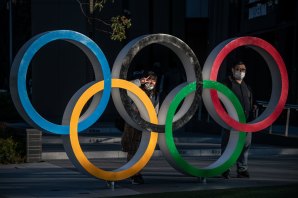 "In Canada where we might have 300 or 400 athletes – to take 300 or 400 vaccines out of several million in order to have Canada represented at an international event of this stature, character and level – I don't think there would be any kind of a public outcry about that," Pound told Sky News.
"It's a decision for each country to make and there will be people saying they are jumping the queue but I think that is the most realistic way of it going ahead."
Read the full story here.
If you're just joining us, Prime Minister Scott Morrison has announced new restrictions on international arrivals as health authorities race to curb the spread of more infectious strains of COVID-19 in the community.
You can read our run-down of the new travel measures here. The main changes are:
Caps on international arrivals in NSW, Western Australia and Queensland will be reduced by 50 per cent until February 15
Overseas travellers must now return a negative COVID-19 test result prior to their departure to Australia, with some exemptions for "extenuating circumstances".
Masks will also be mandatory in airports and on all international and domestic flights.
Flight crews will be subject to stricter conditions and testing, while quarantine workers across Australia will be subject to stricter testing requirements.
In other news, Brisbane residents will go into a three-day lockdown and masks will be mandatory from 6pm Friday, as Queensland in response to the UK virus variant discovered in a hotel quarantine cleaner on Thursday.
A major highway out of Brisbane has been turned into a parking lot in the wake of the lockdown announcement on Friday morning, with delays stretching for kilometres out of the city.
Traffic cameras have captured the gridlock northbound on the Gateway Motorway and Bruce Highway toward the Sunshine Coast, with authorities urging motorists to take care.
Google Maps data showed delays stretching from the northern suburbs to the Glass House Mountains about 50 kilometres north. Southbound delays were also being experienced on the northern Gold Coast and around the NSW border.
The RACQ said it had received reports of speeds dropping to 40 km/h at some points northbound to the Sunshine Coast. The Transport and Main Roads Department advised roads around the Brisbane metropolitan area were also abnormally busy.
While the Sunshine Coast and Gold Coast remain outside the five greater Brisbane council areas making up the declared hotspot to be locked down from 6pm, anyone who has been within it since January 2 will also need to isolate themselves for three days.
Residents from Greater Sydney and surrounding areas will be banned from entering the Australian Capital Territory for at least another week, as health authorities monitor the most recent COVID-19 outbreaks.
ACT Chief Health Officer Dr Kerryn Coleman said the travel restrictions already in place for Canberra would remain until at least Wednesday, January 13. They will be reviewed on Tuesday, January 12.
"To reiterate what this means, anyone who has been in Greater Sydney, including the northern beaches, and Central Coast and Wollongong local government areas in the last 14 days and is not an ACT resident will legally not be permitted to enter the ACT without a legal exemption.
"If you need to travel to the ACT from this area for extraordinary circumstances you will need to apply for an exemption at least three days prior to your travel."
ACT residents will be able to return home but will need to notify ACT Health via an online form and quarantine for 14 days.
ACT Chief Minister Andrew Barr said: "If you are here from Sydney or any of the other hotspots, you should not be here and you risk an $8000 fine."
Looking ahead to the rest of the year, Mr Barr said there would be ongoing public health orders and "compliance activity", which would include monitoring of major highways into the ACT and regional roads.
"If you travel outside the ACT, there is a risk the rules of another state or territory will apply to you. There is a risk the compliance activity of another state or territory will apply to you.
"We regret that, but it is a fact of life, not just for the next couple if weeks, not just for the next couple of months, but potential for years to come. We need to accept that.
"Pandemics last for years. Not weeks, not months, they last for years. So we are in this for the long haul. 2021 will be no different from 2020, even as vaccines roll out."
The head of Australia's therapeutic goods regulatory body says it is "highly likely" the Pfizer COVID-19 vaccine will be approved in the next few weeks.
Deputy Secretary for Health Products Regulation at the Department of Health John Skerritt said the extra time the Therapeutic Goods Administration (TGA) was taking on approvals would allow them to have a better understanding of adverse reactions than countries like the US and UK, which pushed through emergency approvals.
Australia is expected to have an expert panel consider the Pfizer vaccine next week, assessing the TGA's report and "providing advice on any gaps", he said, with it "highly likely" the vaccine would get approval by the end of January.
"The most critical thing is people have confidence this vaccine has been looked at with the scrutiny we would give to any other vaccine," Professor Skerritt told the ABC.
He said it was "remarkable" for the country to get a vaccine which had already been injected into several million people worldwide. Some involved in clinical trials have had the vaccine since the second quarter of 2020.
Professor Skerritt said in order for Australia to get a COVID-19 vaccine approved, teams within the TGA had worked simultaneously through the process, rather than sequentially.
"We're not cutting any corners at all. We're being exactly as thorough as we would for any other vaccine going onto the market," he said.
"Our processes have been changed to enable us to get this vaccine onto the market once it is proved safe and effective."
ACT Chief Minister Andrew Barr provides an update on travel restrictions and COVID-19 measures in Canberra.
As Australia's leaders warn about the more virulent COVID-19 strain first detected in the UK, experts say it is also likely to be present in much of the United States.
Although the variant has so far been detected in a very small fraction of US infections, it shows signs of spreading and may become significantly more common in coming weeks, according to the Centres for Disease Control and Prevention and infectious-disease experts.
The cases so far have been mostly isolated: one in New York, one in Florida, one in Georgia and two in Colorado. The exception has been California, and specifically San Diego County, where a robust surveillance operation has so far found 32 cases of the variant.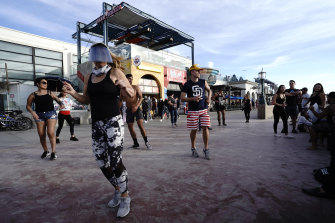 National Institutes of Health Director Francis Collins said: "I would be surprised if that doesn't grow pretty rapidly."
There is no evidence that the variant, which has recently been detected in more than 30 countries, carries a greater risk of severe disease or death. But the appearance of coronavirus variants, including another mutation-laden variant that has appeared in South Africa, presents a challenge for every country hoping to crush the pandemic.
"Here at the CDC, we're definitely taking this seriously, and we're assuming for now that this variant is more transmissible," said Greg Armstrong, the leader of the strain surveillance program at the CDC, which is still ramping up. The British variant "is probably not in every state at this point, but I think in a lot of states."
The Washington Post
Western Australia will shut its border to Queensland from midnight on Friday, Premier Mark McGowan has announced.
From midnight, only Queenslanders with a valid exemption will be allowed to enter the state and will be required to isolate for 14 days.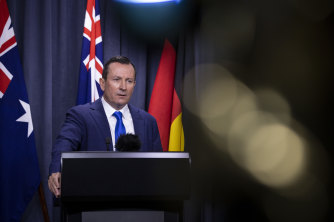 Travellers to WA who have been in Queensland since January 2 and haven't completed a two-week quarantine in a low-risk state will also be required to isolate.
Mr McGowan said exemptions would be assessed on a case-by-case basis and follow the same criteria as previous restrictions rolled out in March, which allowed for senior government officials, active military personnel, freight workers and people travelling on compassionate grounds – including West Australians who recently travelled east – to enter the state.
"We cannot hesitate, we cannot sit back and wait and watch," Mr McGowan said.
Read the full report here.