Queensland Deputy Premier and Health Minister Steven Miles says the few people still able to enter the state by road from this weekend may have to wait until Friday to access the new border pass applications as "mystery" surrounds the latest COVID-19 case.
The state has declared NSW and the ACT will also be considered hotspots from 1am Saturday, with a "hard" closure to take effect at the NSW border to all but freight carriers and border community residents.
Returning Queenslanders will be forced to fly into the state from the three states now declared no-go zones, including virus-ravaged Victoria.
"It's probable that the online application form won't be available until tomorrow – it takes a bit of time for them to get that technical side ready," Mr Miles told ABC Radio Brisbane.
"It was important that we got that message out as soon as we made that decision, but that means that the teams are now racing to make sure that all of the detail is in place for the weekend."
He also revealed the state's most recent COVID-19 case was still under investigation, with further serology test results expected to clear the air today.
The 68-year-old Ipswich woman was revealed on Wednesday to have returned an initial positive test for the virus, though a subsequent test came back negative.
"There's some mystery around it, there's no obvious links," he said.
"While at this stage it would appear to be very low risk, if it is an unsourced case — well the stakes of that could be very high."
Meanwhile, NSW Health Minister Brad Hazzard has been clarifying details about the latest tightening of the border between NSW and Victoria tomorrow.
People travelling to NSW from Victoria will be required to complete 14 days hotel quarantine from Friday, with access to the state only allowed through border communities and Sydney Airport.
Mr Hazzard told ABC News Breakfast arrangements in border communities would remain as they are, although there is concern about spread of the virus in regional Victoria.
"Our advice was always from our health authorities there was a concern that it may have seeded throughout the regional areas," he said.
"I think we're seeing more of that. As a result we have to be really careful for the people of NSW."
He was unable to provide a timeline for when the arrangements might be able to end. However, he remained confident a solution would be found to any issues with food supply caused by the new rules and Victoria's latest restrictions.
"In regard to our food supply … we'll find ways around it, the governments around the country will find ways around it," he said.
"We'll work together to make sure food supplies still get through."
Earlier this morning NSW Health Minister Brad Hazzard was on 2GB explaining why he was not going to make masks compulsory in the state.
In response, NSW Opposition Leader Jodi McKay has started a push for compulsory masks where the state's health department is currently "strongly recommending" they are worn: on public transport, at supermarkets, shopping centres and in places of worship.
A detailed list of permitted work premises under Melbourne's stage 4 lockdown was posted to the Victorian Department of Health website late last night around 11pm, just before the measures came into place.
Health Minister Jenny Mikakos then tweeted out a link to the list just before 1am on Thursday, after the midnight deadline for businesses.
Employers for Permitted Work Premises are only permitted to have employees on-site if it is not reasonably practicable for the employee to work from home and the employer and employee comply with the directions currently in force.
The categories of permitted work premises detailed on the list are:
Agriculture, forestry and fishing
Mining
Manufacturing
Electricity, gas, water and waste services
Construction
Wholesale trade
Retail trade (goods)
Retail trade (services)
Accommodation and food services
Transport, postal and warehousing
Information media and telecommunications
Financial and insurance services
Rental hiring and real estate services
Professional, scientific and technical services
Administrative and support services
Public administration and safety
Education and training
Health care and social assistance
Arts and recreation services
ACTU Secretary Sally McManus has said national food supply lines may need to rely more heavily on distribution centres in Tasmania, South Australia and NSW amid border closures and Melbourne's stage four shutdown.
Ms McManus said unions want to work with employers and the government to keep food supply chains operating, but there were issues emerging, as Victorian warehouses drop staff numbers to comply with social distancing.
"If we have the virus spreading in tightly packed workplaces, everyone else is making the sacrifice and the virus will still spread," she said.
"So, [social distancing rules are] necessary, but there's things still to be ironed out to make sure that it's going to be a workable solution and people still get fed."
Ms McManus said there could be a "bit of a different supply line" in operation as production is ramped up in Tasmania and South Australia, as well as in NSW.
Asked about the childcare industry, Ms McManus expressed concern that the industry was unable to access JobKeeper payments, despite evidence of some Melbourne centres closing during the stage four restrictions.
"They deserve the same as everyone else. Why should we have second-class citizens – that are childcare workers, for God's sake – that are not getting that amount of money?"
Associate Professor Jason Trubiano, director of the COVID-19 unit at Melbourne's Austin Hospital, spoke to Nine's Today a short time ago.
He said the hospital had tested nearly 30,000 people since the pandemic began, and described it as a "a really hard time" for all the staff.
"Our nurses, our doctors, personal care assistants – everybody is working a tremendous amount of hours," he said.
"This second wave is making the first look like a ripple and we're really under the pump with the presentations at the moment."
"It's hard to see [these record numbers] because we know when those numbers present and those numbers come up each day, generally for us they're going to present to hospital five to 10 days later," he said.
When asked about reports that Melbourne is still some weeks away from the peak, and that it may peak at 1000 cases a day, Professor Trubiano said "it's the numbers we don't want to see".
"We hope the modelling is wrong to be perfectly honest but certainly as a hospital we're prepared for that," he said.
"We've got a system where we can … scale up our services. Our ICU, our wards and our staff are ready to deal with the wave when it comes. We're just hoping the modelling is wrong."
Professor Trubiano also stressed that the virus can affect people of all ages.
"We can see a range of illnesses and I think the vast majority are pretty well," he said.
"The ones we see in hospital are the tip of the iceberg and we see people from 30 years old to 100 present differently, mild cough and fever to very unwell in intensive care.
"I think it's important people recognise this can affect anybody. You don't have to be the elderly to be sick and come to hospital. It is across the whole range unfortunately."
NSW Health Minister Brad Hazzard has defended the state government's decision to introduce hotel quarantine for returning Victorians yesterday, explaining the two factors which resulted in the call being made yesterday.
"In the morning we were advised – before it was made public – that Victoria would be announcing 725 new cases and 15 deaths," Mr Hazzard told 2GB on Thursday morning, noting that NSW Health had been expecting the Victorian numbers to drop.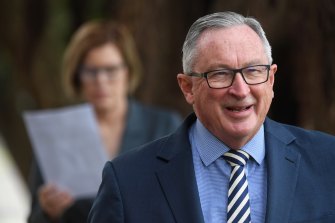 "There was a second issue … I had done a press conference the day before where I was speaking to (NSW) health staff, and some of the health staff expressed to me that … some of the people arriving from Victoria had been starting to challenge self-isolation," he added.
Mr Hazzard said the decision was made on the basis of health advice, which changed yesterday on the basis of those two factors.
He said it was "unfortunate" that NSW residents returning from Victoria would need to pay for hotel quarantine, but this was the only solution.
Asked about why the state government has stopped short of making masks compulsory – instead recommending them for situations in which you can't guarantee social distancing – Mr Hazzard said "there is a range of reasons why the health officials don't believe" this step is necessary.
"One is that if you make in a mandatory requirement there will be massive demand," he said.
Mr Hazzard said there were also numerous situations in which masks were "clearly not necessary", and asking people to wear a mask at those times did not make sense.
There have been a couple of major developments in the vaccine race overnight, after Novavax announced promising results from its phase one and two trials. The US and Canada have both moved to secure doses of current vaccine candidates. Here's the latest from Reuters:
Canada signs deals with Pfizer, Moderna
Canada has signed separate deals with Pfizer Inc and Moderna Inc to supply millions of doses of their experimental coronavirus vaccines, a top official said on Wednesday.
Procurement Minister Anita Anand said Ottawa was "very, very intensely negotiating" multiple deals with a number of other potential domestic and international vaccine suppliers, but did not give details.
Moderna will provide its mRNA-1273 vaccine candidate. Pfizer – working with German biotech firm BioNTech SE – said separately it planned deliveries of the BNT162 mRNA-based vaccine candidate over the course of 2021.
The deals open a new front in Canada's vaccine push. The federal government has funded several local projects, including one by Quebec's Medicago that is in an early stage trial. It has also approved a local trial for a leading Chinese candidate, from CanSino Biologics.
Separately, Moderna said smaller volume agreements had been priced in the range of $US32 to $US37 ($44 to $51) per dose while larger volume agreements would be priced lower.
US government to pay $1.39 billion for Johnson & Johnson doses
The United States government will also pay Johnson & Johnson over $1 billion ($1.39 billion) for 100 million doses of its potential coronavirus vaccine, as it stocks up on vaccine and drugs in an attempt to tame the pandemic.
The latest contract is priced at roughly $US10 per vaccine dose produced by J&J, or around $US14.50 per dose, including a previous $456 million the US government promised to J&J for vaccine development in March. That compares with the $US19.50 per dose that the US is paying for the vaccine being developed by Pfizer Inc and German biotech BioNTech SE.
J&J is studying both one and two-dose regimens of its vaccine. Pfizer and BioNTech's candidate would require two doses per person treated.
The drugmaker said on Wednesday it would deliver the vaccine to the Biomedical Advanced Research and Development Authority (BARDA) on a not-for-profit basis to be used after approval or emergency use authorisation by the US Food and Drug Administration (FDA).
As the race for vaccines and treatments for COVID-19 intensifies, the U.S. government has been signing deals to buy them through its Operation Warp Speed program. Other drugmakers who have signed deals include Sanofi SA and Regeneron Inc.
J&J's investigational vaccine is currently being tested on healthy volunteers in the United States and Belgium in an early-stage study.
There are currently no approved vaccines for COVID-19. More than 20 are in clinical trials.
Reporter Sherryn Groch has updated her article explaining exactly what the public health rules are in Melbourne and regional Victoria with information about the permit system for workers and childcare access. Here is an important addition for families from after yesterday's press conference:
Is babysitting OK?
When the new lockdown rules came into force, the government initially said babysitting should continue only as a last resort in accordance with the no visitors rule. A spokesperson clarified on August 5 that it is still allowed, paid or unpaid, "so long as it [is] a continuum of an existing arrangement".
Hang in there, Melbourne, in these – to use the overused term – "unprecedented times". This tweet from The Age's Ben Schneiders does a good job of summing up the oddity for Melbourne families right now.
Here's what is making news on the front pages of The Sydney Morning Herald and The Age today.