Victoria is set to record 725 new cases of COVID-19 today, according to a source with knowledge of the health statistics.
It comes nearly one week after 723 infections were recorded last Thursday, July 30, and 627 cases were reported last Friday, July 31.
Today's number, which could mark the worst day of the pandemic for Victoria, is not officially confirmed. We will bring you the confirmed figures as soon as they are available.
An Australian reporter's interview with US President Donald Trump, which has been shared widely online, had all the withering satire of an ABC sketch featuring comedic duo John Clarke and Bryan Dawe.
The musings of an American president struggling with the facts. The baffled expressions of an Australian journalist refusing to accept the spin. And all the subject matter you'd expect to find in a game of 2020 Nightmare Bingo: Global Pandemic! Sex Trafficking! Civil Uprisings!
Except this wasn't satire at all, but a serious political interview with Trump merely 91 days from one of the most consequential elections in US history.
To the credit of Axios reporter Jonathan Swan – a former Sydney Morning Herald scribe and the son of our own coronavirus guru Dr Norman Swan – the 37-minute interview was an eye-opener from the start, with Swan asking about Trump's adherence to "positive thinking", and his tendency to believe something so much in the hope it will become true.
In the absence of a clear strategy for COVID-19, which has so far killed more than 156,000 Americans, positive thinking alone simply hasn't cut it.
Victoria is tipped to record 725 new coronavirus cases today – the highest daily total of the pandemic – and that figure is probably making some of us feel a bit worried.
So, I figure it is important to revisit what the Deputy Chief Medical Officer Michael Kidd was saying in his breakfast television appearances this morning. Here's his take from ABC News Breakfast earlier:
"We have to remember that the figures we're seeing today reflect infections that occurred a week or two ago. So it may be a week or two before we start to see the number of infections start to fall.
"We have already had the masks [as] a requirement in Victoria, in Melbourne, and that's starting to have an impact as well. But I'm very sure that we're going to see significant reductions in numbers as a result of the restrictions of movement around Melbourne that we're seeing right now."
So, have faith that all of that staying at home and solo supermarket shopping is not in vain, Melbourne – the test for the effectiveness of stage four will be in the numbers we see later this month.
Victoria is set to record 725 new cases of COVID-19 today, according to a source with knowledge of the health statistics.
It comes nearly one week after 723 infections were recorded last Thursday, July 30, and 627 cases were reported last Friday, July 31.
Today's number, which could mark the worst day of the pandemic for Victoria, is not officially confirmed. We will bring you the confirmed figures as soon as they are available.
Ten Woolworths stores in Victoria will today introduce QR codes which customers can scan on entry to enhance the supermarket giant's contact tracing efforts.
Woolworths Victorian general manager Andrew Hall said the QR codes will be voluntary and not a condition of entry, but will help them to contact customers if they are alerted to a positive case within a store.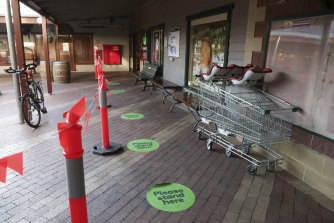 He told radio station 3AW the company will only use the information provided to them by customers to pass onto DHHS if there is an incident, but after that the information will be discarded.
"It will be there for customer use if they want to it," he said.
"I just think whatever we can do to make people feel safe is the right thing for us to do."
The supermarket giant plans to have the QR codes rolled out to all 70 metro Melbourne stores by the end of the week.
He also rejected the description "panic buying" but said people were "shopping strongly" to get what they needed for the lockdown period.
"Supply of goods is very strong," he said. "We are just in a bit of catch-up mode."
He said they were in a good place with their meat supply and expect it to recover to normal levels in coming days.
The Queensland-NSW border closure will mean residents returning will have to fly in, with a "hard" road border to take effect.
Deputy Premier and Health Minister Steven Miles said all but a few vehicles such as freight and border residents would be allowed to enter.
The road border to the Northern Territory will remain open, and photo ID will to be required as part of updated border passes.
"This is a hard closure," he said. "This is all about keeping Queenslanders safe and catching anyone who tries to lie to get into our state."
"If you're a Queenslander in NSW, please come home. If you're a Queenslander who has any travel plans to travel to NSW, please change those plans now."
Virgin Australia will sack 3000 employees, or about a third of its workforce, retire its budget Tigerair brand and offload its long-haul international jets as part of a re-launch under its new owner Bain Capital.
Australia's number two airline, which went into voluntary administration at the height of the first wave of the pandemic in April owing $6.8 billion, released its relaunch plan on Wednesday morning. The moves were designed to make it a "stronger, more profitable and competitive" carrier, it said in a statement.
Virgin said it will strip its fleet of 132 aircraft back to just its Boeing 737s, of which it has 79, and its regional and charter Fokker 100s and Airbus A320s. It will offload its long-haul Boeing 777s and Airbus A330s, Tigerair A320 and ATR turboprops.
Virgin's budget Tigerair brand will be retired but Virgin will maintain its air operating certificate to give it the option of relaunching a new ultra-low cost arm in the future.
A state department website crashed on Wednesday morning due to high demand from Victorians trying to access a document to apply for a worker permit.
From midnight tonight, workplaces in Melbourne must be closed unless they are part of a permitted activity, or all staff are working from home. Anyone travelling to or from a work site must have a permit.
The Department of Justice website crashed temporarily, but the forms are now available at the Department of Health and Human Services and Business Victoria as well as the Department of Justice.
There'll be on-the-spot fines of up to $1,652 (for individuals) and up to $9,913 (for businesses) for anyone who breaches the scheme. This includes people travelling to or from work without their permit.
Penalties of almost $20,000 (for individuals) and about $99,000 (for businesses) will apply to employers who issue worker permits to employees who do not meet the requirements of the worker permit scheme.
Queensland Chief Health Officer Dr Jeannette Young says she was "confident" the documents provided to allow an exemption for a returned overseas security contractor were authentic and referred them to police to double check.
Police have now examined the items, including a letter from the Australian Embassy in Kabul, Afghanistan, and have "no concerns".
"I'm not an expert at determining fraud," Dr Young said.
She added the decision to scrap diplomatic quarantine exemptions was made unilaterally yesterday after she was made aware that was a course of action that could be taken.
Dr Young said similar decisions now rested with other states and territories, with the matter also raised with the AHPPC.
The only concern she had with the case was that arrangements that meant consular officials travelling on domestically after returning to the country needed to have empty seats around them did not happen.
"That unfortunately didn't occur because the plane was packed," she said
Queensland has added three new cases to its tally, for a total of 1088 with 11 active.
Premier Annastacia Palaszczuk said one new case in a 68-year-old Ipswich woman was still "under investigation", with two further historic cases also added to the total.
Queensland authorities say the decision to close the border to the ACT as well was based on evidence that some were flying from the smaller state to bypass Sydney hotspot declarations.
State disaster co-ordinator Steve Gollschewski pointed to one example where one man drove from Sydney and then flew to Cairns via Brisbane.
"Whilst our system is working quite well, we recognise that we cannot keep that up with the types of numbers that are coming," he said.
Deputy Premier Steven Miles said border restrictions had been some of the most "effective tools" at stopping COVID-19 coming into the state and urged Clive Palmer to drop his "dangerous and reckless" case against closures.
Queensland has declared all of NSW and the Australian Capital Territory a hotspot in light of the unfolding situation in the southern states, Premier Annastacia Palaszczuk has confirmed.
She said the decision had come as a result of health advice from Chief Health Officer Dr Jeannette Young, and would take effect from 1am on Saturday.
"We've seen that Victoria is not getting better and we're not going to wait for NSW to get worse," she told reporters. "We cannot risk a second wave, we have to act decisively."
The ACT has had no active cases since July 31. NSW recorded 12 new coronavirus cases yesterday.
The decision will mean all visitors from NSW and the ACT, barring limited exempt categories such as freight and border residents, will be denied entry.
Returning residents will be forced to undergo 14 days in hotel quarantine at their own expense.