Share this @internewscast.com
A man has allegedly stolen a car, complete with an adult passenger in the back seat, before crashing it into a light pole in Adelaide's northern suburbs and running off.
Police say the Toyota sedan was stolen from Nhu Lan Vietnamese takeaway shop on Hanson Road, in Woodville Gardens after the driver popped inside to pick up his food at 5am on Thursday.
The thief, wearing a black hoodie and mask, jumped into the front seat of the car and sped off.
The 20-year-old male passenger – the driver's son – who remained in the car began fighting the man, trying to get him to stop.
The driver, meanwhile, was left confused and panicked when he realised his car, and his son, were gone.
The car crashed into a street light on Liberty Grove, ending the scuffle.
The thief fled the scene, abandoning the car with damage to the bonnet and wheels.
"The (driver) is a regular customer of our restaurant," Yeh Phan, the restaurant owner's son, told 9News.
Liberty Grove was closed until 6.30am and has since been reopened.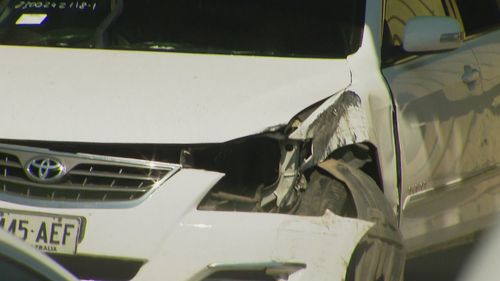 The passenger sustained minor injuries but did not need medical treatment.
The car has been deemed a write-off.
The suspect has been described as Caucasian in appearance and aged in his 20s.
He was last seen running north towards Ridley Grove this morning. 
Share this @internewscast.com