3.9k Share this
An anime filled with the intensity of Battle royale!
Fans of the Kingdom can exhale a sigh of relief. Following the third season finale of this action drama, fans are looking forward to new episodes of Kingdom Season 4.
The kingdom is a Japanese anime television series about military action. It's based on the critically renowned manga series of the same name by Yasuhisa Hara. The anime was created by Studio Pierrot. The Kingdom is a historical military anime about a young orphan named Xin. Xin's family was killed in the conflict, and it is now his ambition to become the Great General of China's seven warring states.
His purpose is to promote peace and unity in these countries. Through this anime, we shall be able to learn about Xin's journey to realize his aspirations.
Kingdom: When Did the Anime Got Premiered?
Kingdom Season 4 is currently airing in Japan. Season 4 premiered on April 10, 2022, with the first episode.
Also Read:
Death Note Short Stories: The Story With Immense God-complex Is Coming Back!
The Marked Heart Season 2: Netflix Release Date & Story Streamline!
There have been five episodes released so far. More episodes are on standby at the same moment. Kingdom Episode 6 will premiere on May 15, 2022. The fourth season of Kingdom is now showing on NHK General TV.
Kingdom: What Is the Storyline of the Anime?
There could be some spoilers ahead, regarding the content of  Kingdom season 4.
Our heroes had just saved Qin from annihilation by the coalition army the last time we watched the Kingdom anime. Shin was promoted to the position of 3,000-man commander in recognition of his accomplishments. The Hi Shin force was sent to deal with plunderers who were plundering Qin's frontier towns.
The tale then moved to Zhao, where Kyou Kai sought vengeance on Yuu Ren, the Yuu clan member responsible for the killing of Kyou Kai's sister. Kyou Kai met Kyou Mei, a spy in Zhao, there. Mei had already been keeping watch on the enemy's movements and had been able to send Kai in the appropriate direction.
After Kyou Kai eventually tracked down her foe, she was attacked and surrounded by Yuu clan warriors. Kyou Kai is capable of defeating the other warriors, but Yuu Ren is a different story. In order to defeat the other lady, Kyou Kai finds herself breaking taboos.
After defeating Yuu Ren, Kyou Kai requests that Mei hide Ren's body and then inform everyone that Kai has been slain. Kai believed that spreading the notion that Ren was alive and hidden might prevent the next ritualistic killing of young girls.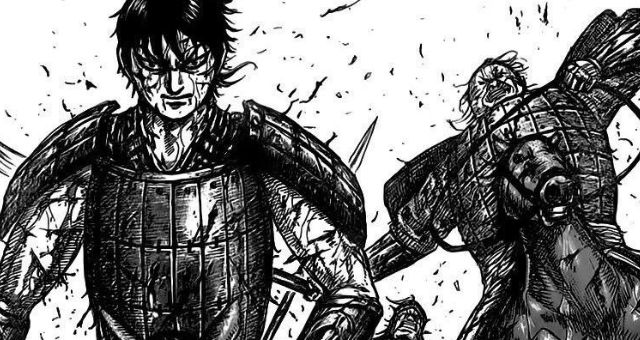 Although Ei Sei (Yin Zheng) was proclaimed king when he was only 13 years old, he would not become the King of Qin until a coming of age ritual when he is 22. Chancellor Ryo Fui (Lu Buwei) plots to trap Ei Sei in a new war by preparing for a small-scale attack by Zhao as the ceremony approaches.
Ryo Fui suggests that the defending army be led into combat by the monarch, but Prince Sei Kyou (Cheng Jiao) volunteers to take command. The prince handily repels the Zhao invaders at Tonyruu city, but he is captured and imprisoned by conspirators working with Ryo Fui.
Kyou Kai later returns to the Hi Shin squad, revealing her ambition to become a renowned general in Qin. Shin, Ryo, and the rest of the Hishin Corps headed off in pursuit of Chengjiao and Rui, believing they were being held captive. Though Chengjiao and Kamo are nowhere to be located, Tunliu Castle's inside is in shambles, and neither can be found. Chengjiao, for his role in the rebel battle, requests the rescued Rui to send more men and remains behind to face Kamo and his followers.
Kingdom: Who Are the Warriors in Kingdom?
The Signpost Studio is producing the Kingdom season 4 anime. There are several excellent voice performers in this anime. Adam Fedyk portrays Muta, and Masakazu Morita portrays Li Xin. Jun Fukuyama portrays Yin Zheng, Rie Kugimiya portrays He Liao Diao, and Rikiya Koyama portrays Wang Qi. Kôji Yusa plays Bi, Kôki Miyata plays Cheng Jiao, and Yang Duan plays Yang Duan. Mie Sonozaki provides his voice.
Some of the characters include Teng, who is performed by Akio Kato, and Qiang Lei, who is voiced by Yôko Hikasa.
Who Are Involved in the Production?
Season 4 of The Kingdom is resuming the plot from Volume 33 of the manga. Kingdom manga creator Yasuhisa Hara has previously worked as a supervisor on the anime production team. After all, Pierrot, the studio behind Naruto/Baruto, the upcoming Black Clover Season 5 anime, and the original Bleach anime series, also it's probable that Pierrot will make Bleach Season 17: Thousand-Year Blood War; produced the three seasons.
Also Read:
High School DxD Season 5: Official Release Date Revealed? [2022 Updates]
Engage Kiss: Everything You Need to Know About the New Rom-com Anime!
Studio Signpost is in charge of the Kingdom anime's fourth season. The Kingdom's current directors are Kazuya Monma and Kenichi Imaizumi, with Noboru Takagi writing the screenplay.
Is the Show Worth Watching?
The Kingdom is historical military anime. The new season's tale is more about Qin than any other country, and the way it has unfolded so far is really remarkable. It's an unpredictable story that gives you shivers every time something unexpected happens. Of course, it's still a war drama, but the script and animation have already given many side characters a lot of growth. The storyline is also a lot of fun to read and keeps you interested every time.
The Kingdom's character building is another reason to watch this series. All characters are immensely human, and we can all see a piece of ourselves in each of them. Kingdom's major characters are all quite likable. Character interactions and relationships are frequently skilfully managed due to the nature of the anime and the characters that have been formed during its run.
Trailer!
On March 17, 2022, a second major Kingdom Season 4 trailer was launched. So, enjoy this trailer and wait for the sixth episode to release on 15 May 2022.
The post Kingdom: What New Adventures Are Coming to the Season 4 of Historical-fiction Anime? appeared first on Honk News.
3.9k Share this