Share this @internewscast.com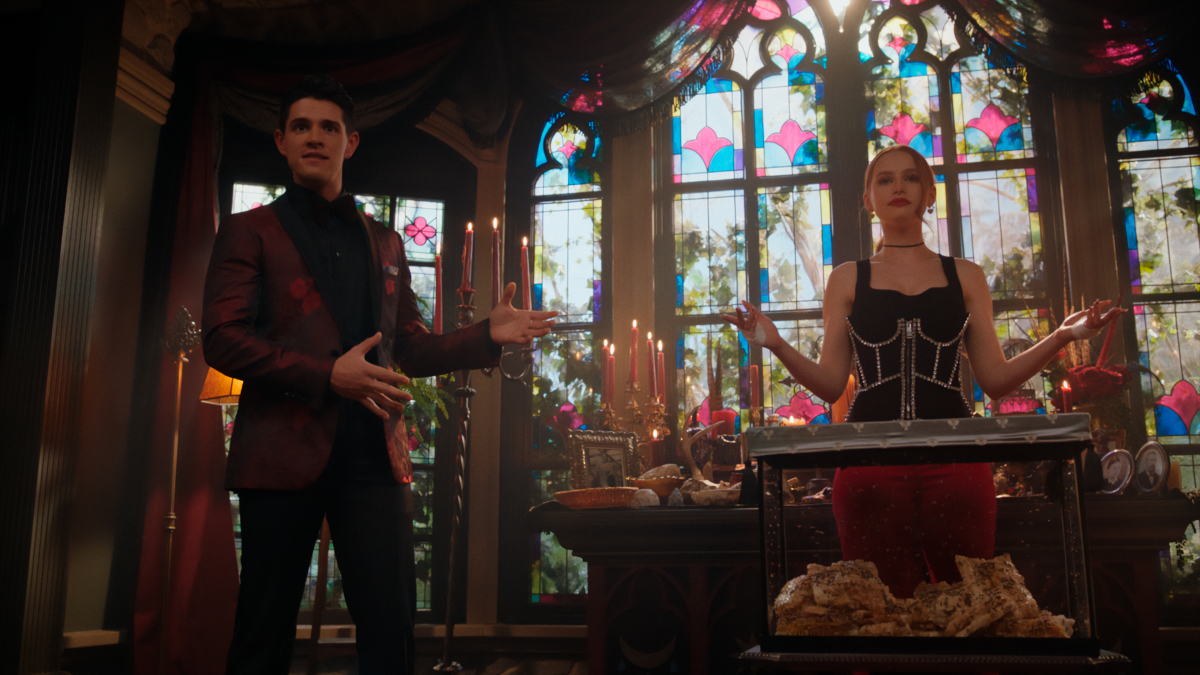 In what is either very subtle marketing for The Eyes of Tammy Faye or just the best direction this show has taken since everyone was hopped up on Jingle Jangle, the Blossom family's "Church of Jason" antics came into sharp focus this week. Although relegated to a B or C plot, this plotline — which works equally well as a satire on hip religions that popped up out of nowhere (see also: last week's The Other Two) or as Cheryl's latest brush with divine darkness.
The focal point of this episode was clearly supposed to be Archie getting justice for his fallen comrades, but how can one be expected to pay attention to military intrigue when a line like "for I am Cheryl Blossom, Queen of the Bees" is delivered by Madelaine Petsch without a hint of insincerity? Disjointed as this season is, there's been a clear effort on the part of the writing to staff to give the show's secondary characters more to do. (Due to Petsch's constant scene-stealing it's easy to forget that she was previously a supporting character before the series' producers made the wise decision to become an ensemble piece instead of focusing primarily on Archie, Veronica, Betty and Jughead). As a result, Cheryl has shone brighter than ever.
While Penelope clearly sees the Church of Jason as another shady enterprise, for Cheryl it has become a, well, bona fide religious experience. Since breaking up with Toni she has become, in the immortal words of The Lemonheads, "a ship without a rudder." The Church of Jason gives her a purpose, even if it is only to satisfy her carnivorous desire for validation. Although this has some unexpected side effects, namely that her false divinity unexpectedly gave rise to an actual miracle when she controlled the bees and use them to dispel Penelope from the Church. "Something inside me has shifted," she tells Kevin afterwards, "something powerful." More than just quasi-literally becoming a Queen Bee, Cheryl has undergone a true religious awakening and tapped into a power inside of herself. How will this manifest? And what ramifications will it have for her and all of Riverdale itself?
Cheryl has always been more of a persona than a character, reliably outrageous with hints of an inner depth that go undeveloped as the series' tears through its storytelling. I'd like to think that whatever is happening here is going to correct that wrong and give Cheryl the ability to be fleshed out more. Seeing how self-aware Riverdale has been of late (i.e. Josie's takedown of the entire gang last week), there is a renewed effort to strengthen sidelined characters. Let's see how Cheryl benefits from this in the few remaining episodes of the season.
Speaking of sidelined characters, there is none more so than Casey Cott's Kevin Keller. Five seasons in and Kevin can be boiled down to "loves musicals and cruising for anonymous sex," which doesn't exactly befit the character's GLAAD-award comic book counterpart. The continual lack of depth for Kevin and the show's reliance on stereotyping him remains an absolute downer. Where are his multitudes? At least by pairing him with Cheryl he isn't out in Fox Forest all the time. Again though, he remains sidelined without any clear definition. I give the series credit for not following the cliched "Bury Your Gays" trope, but by continually mishandling Keller the argument could be made that his lack of dimensions are a fate worse than death. I'm hoping that the show finally figures out what to do with him, as Cott and Keller — who was Archie's first openly gay character — deserve much better.
Source: Den of Geek
Share this @internewscast.com