The innocence of childhood—and its existence acting as a testament to the parents who could preserve it—is a worthy thing, which Branagh realizes in his most restrained directorial effort to date. Mimicking the black and white naturalism of Truffaut, and eschewing his own usual bombast, Branagh instills his reverie with the irresistible ring of truth. Plus, a superb ensemble topped off by Judi Dench and a twinkling Ciarán Hinds never hurts. – DC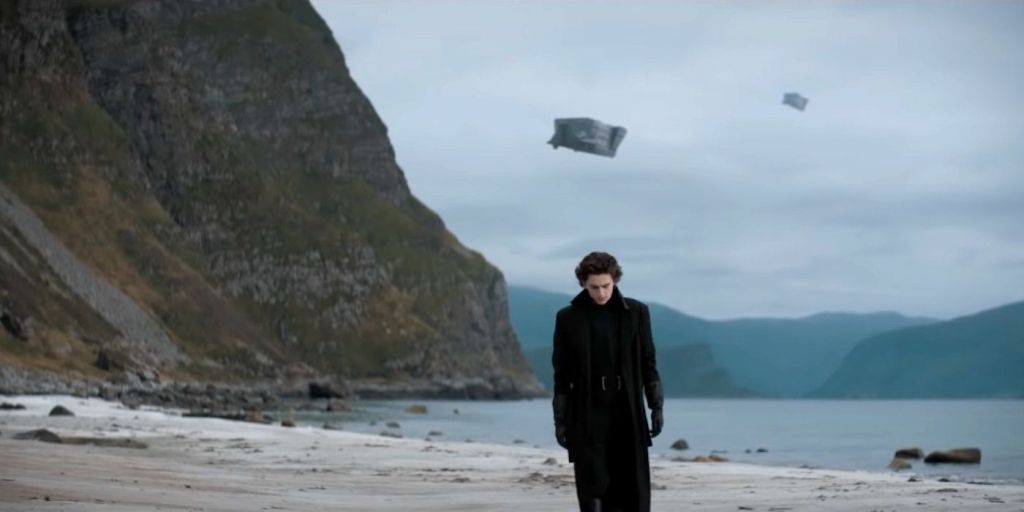 1. Dune (Readers' Choice)
For all the talk about the divide between audiences and critics, it's always nice to see a little consensus. For the first time since instituting the combined Den of Geek staff and audience vote for our end of year list, the critics' pick and the audience's for best movie of the year have aligned. And really, it's the perfect movie to do it with: Dune.
It's rare to see a director given such complete control over a franchise-starter (Denis Villeneuve is taking two movies to adapt the first book in Frank Herbert's series, and hopes to film a third based on the second book… and there's also a TV spinoff in development at HBO Max and enough books to keep this going for years). And yet, despite all that long-term fiscal planning, this film is every bit as cerebral and genuinely weird as both its source material and its director's previous work. Told with the scope of an old-school Hollywood biblical epic, and with an all-star cast (and runtime) to match, Dune is one of the most stunning pieces of sci-fi worldbuilding ever put on film–completely immersive in every visual and auditory detail. It's so good that Hans Zimmer's possibly career-best score feels like just a bonus rather than the stunning achievement it is on its own.
While Dune isn't a perfect film (the mountains of clinical and remote exposition it requires characters to deliver, the almost anticlimactic point where it chooses to divide the source material, the valid criticisms about its treatment of MENA issues), it's still the rarest of birds in the current blockbuster landscape: a bona fide work of genius so rich and beautiful in its execution that future sci-fi epics will have to measure themselves against it for years to come. – MC
Other films that received votes: The French Dispatch, The Velvet Underground, The Harder They Fall, The Power of the Dog, Spider-Man: No Way Home, Malignant, King Richard, The Sparks Brothers, Cryptozoo, Passing, Cyrano, The Matrix Resurrections, Barb and Star Go to Vista Del Mar, Cruella, The Lost Daughter, Swan Song, Lamb, Cliffwalkers, I Care a Lot, No Sudden Move, Raya and the Last Dragon, The Mitchells vs. the Machines, In the Earth, Being the Ricardos, Free Guy, Drive My Car, Don't Look Up, Eternals, House of Gucci, Godzilla vs. Kong, Stillwater, Val, Werewolf Within, Encanto, Seobok, The Djinn, Map of Tiny Perfect Pretty Things, A Quiet Place Part II, The Many Saints of Newark, Ghostbusters: Afterlife, and To All the Boys: Always and Forever.
Source: Den of Geek