Share this @internewscast.com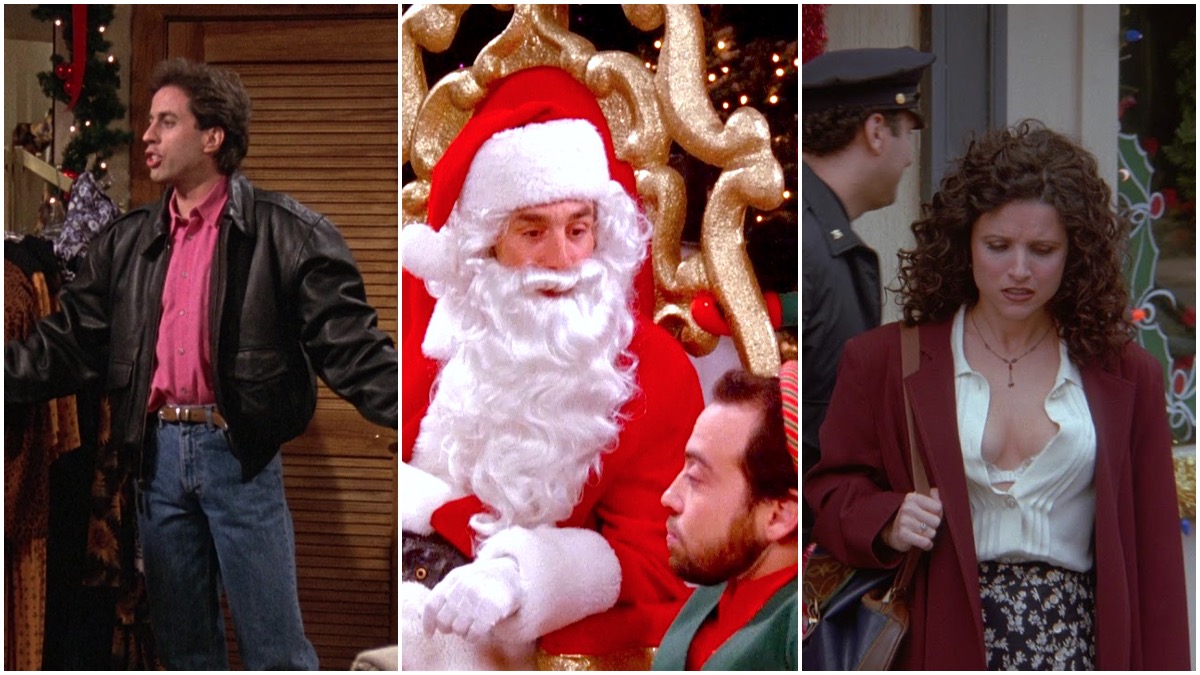 But Kramer gives the greatest gift of the episode to Jerry, who is dating a woman named Lois, not Lane, but it gives him an excuse to throw a Superman line into every conversation. Her boss, Duncan Meyer (Don McManus), a Lex Luthor-stand-in, lost a race to Jerry in high school. He threatens to fire Lois if Jerry won't agree to a redo. Because of Kramer, the long-held grudge match backfires like a toy car assembled by sweatshop kids.
Season 4 Episode 13 "The Pick"
The title of "The Pick," doesn't refer to the revealingly festive picture Elaine sends out for the holidays, but about noses, and what separates a scratch from a pick, and how far you have to dig to get rid of a date. "Oh, but look at what we have here, a Christmas card from Lainey," Jerry says before he inspects the photo, taken by amateur photographer Kramer. How hard is it to take a picture? He not only catches her best side, he catches the part of Elaine which women spend their "whole life going through painstaking efforts to hide." It is what Jerry passes off as "a little brown circular protuberance." But which Newman (Wayne Knight) pegs in what might be his deadpan best 13 seconds on the series: "Your nipple is showing."
While it turns out to be the best gift Elaine's 10-year-old nephew gets all year, it's not such a treat for most of the other recipients, which include her Nana and Papa, a nun, and her religious boyfriend. By the end of the episode, everyone at the office is calling Elaine "Nip," and the only one who never gets to see it is George. "You want a Christmas card," Elaine demands to know before shoving his face in her blouse. Kramer pays everything forward to Calvin Klein (Nicholas Hormann) in a photobomb of his own.
Season 3 Episode 12 "The Red Dot"
"The Red Dot" is a full-on Christmas episode. It is named for the tiny stain on the present George buys Elaine for getting him a job at Pendant Publishing: a beautiful cashmere sweater which she calls "one of the nicest things anyone has ever given me." Who doesn't love cashmere? The sweater has its own arc in the episode, as Elaine tracks down the clearance sale root of the seemingly selfless gift. That fine piece of fabric goes from Elaine to the publishing company's cleaning lady, who gets it from George because of an ulterior motive. He doesn't want her to tell the bosses they've been having sex on his desk after office hours.
Well, once she gets a look at that red blemish on the beautiful sweater, she gets George fired. But he does get to go to the office Christmas party, where Jerry lifts the spirits of Elaine's boyfriend, who is a recovering alcoholic who shouldn't indulge in any spirits, and ultimately gets heckled for it. "Was that wrong? Should I not have done that?" On the wagon or off, "The Red Dot" makes for a less-than-White Christmas episode with a dangerously anti-holiday finale.
Season 7 Episode 10 "The Gum"
"Now this is what the holidays are all about: three buddies, sitting around chewing gum," Kramer rejoices in "The Gum." He is giving back to the community by renovating the vacant Alex Theatre with Elaine's ex-boyfriend Lloyd Braun (Matt McCoy). He recently recovered from a nervous breakdown, and while the episode is fairly light on Christmas settings, he does bring the gum. It's not just any gum, Jerry loves the stuff, and Lloyd knows a guy in Chinatown who can get the chewy sweet stuff cheap.
Source: Den of Geek
Share this @internewscast.com