3.9k Share this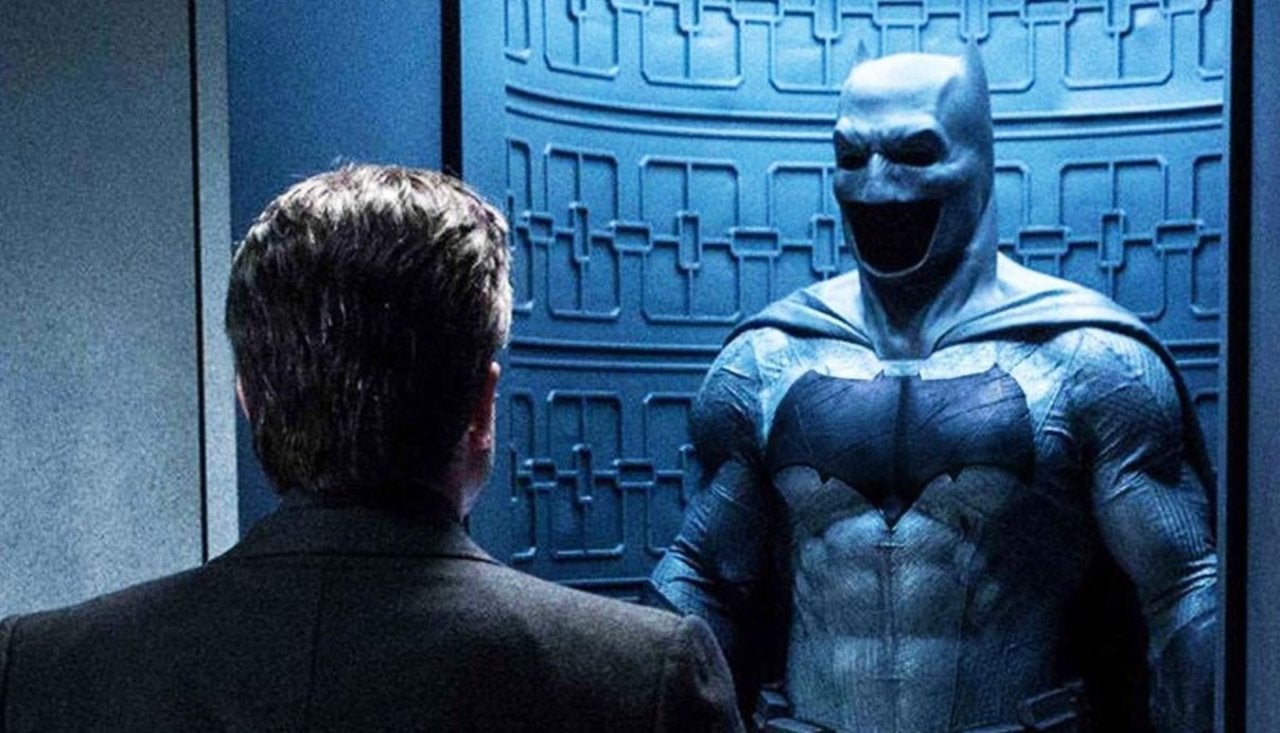 Check out the Dark Knight both on and off his new Batcycle in the set photos below:
According to The Herald Scotland, which obtained videos from the set located in Glasgow's George Square and some of the surrounding streets, this is likely a scene set in Gotham City, with a "Gotham Transit Authority" bus also spotted in the area. That said, it's unclear WHICH Gotham this is — Affleck's or Keaton's — although Glasgow Live reports this could be a chase sequence set in the Gotham of the Burtonverse, with some of the real-life city's Gothic architecture recreating the look and feel of Keaton's world.
It's very likely that the man in the new Batsuit is a stunt double and not Affleck himself, and video footage shows the stand-in zooming through the Glasgow city streets on a heavily-armored bike, a vehicle that might remind some of the Batpod from Christopher Nolan's Dark Knight trilogy but with way more armor plating. As for the Batsuit, the design of the cowl looks largely familiar, with the smaller ears that differentiate Affleck's look from all the other big-screen Batmen, including Keaton. He's also wearing similar goggles to the ones worn in Justice League. The suit also looks to keep the gray-black color palette from past DCEU installments.
Just how all these worlds collide remains a mystery, but some fans have pointed to seminal DC comic book arc Flashpoint by Geoff Johns and Andy Kubert as the most likely inspiration for the film. In the book, Barry goes back in time to stop Reverse-Flash from killing his mother, a decision that completely alters the reality of the DC universe. In this new status quo, Bruce Wayne died on that fateful night in Crime Alley, transforming Thomas Wayne in the Dark Knight and Martha in the Joker. And there are plenty of other disasters along the way, including a war between Aquaman's Atlantis and Wonder Woman's Themyscira.
Will all this come to pass in the movie? Keaton bringing back the Burtonverse, Supergirl's inclusion, and Affleck taking another stab at the DCEU's Batman complicate this being a straight adaptation of Flashpoint, especially with all the story baggage already tied to these characters from past movies. Another series of set photos also teased that there might be TWO Barry Allens running around in this movie, suggesting Miller will meet other Flashes from other universe during his solo adventure. If that's the case, we'd love to see CW Flash Grant Gustin show up for cameo!
The Flash opens in theaters on Nov. 4, 2022. In the meantime, check out the complete schedule of upcoming DC movies here.
Source: Den of Geek
3.9k Share this