3.9k Share this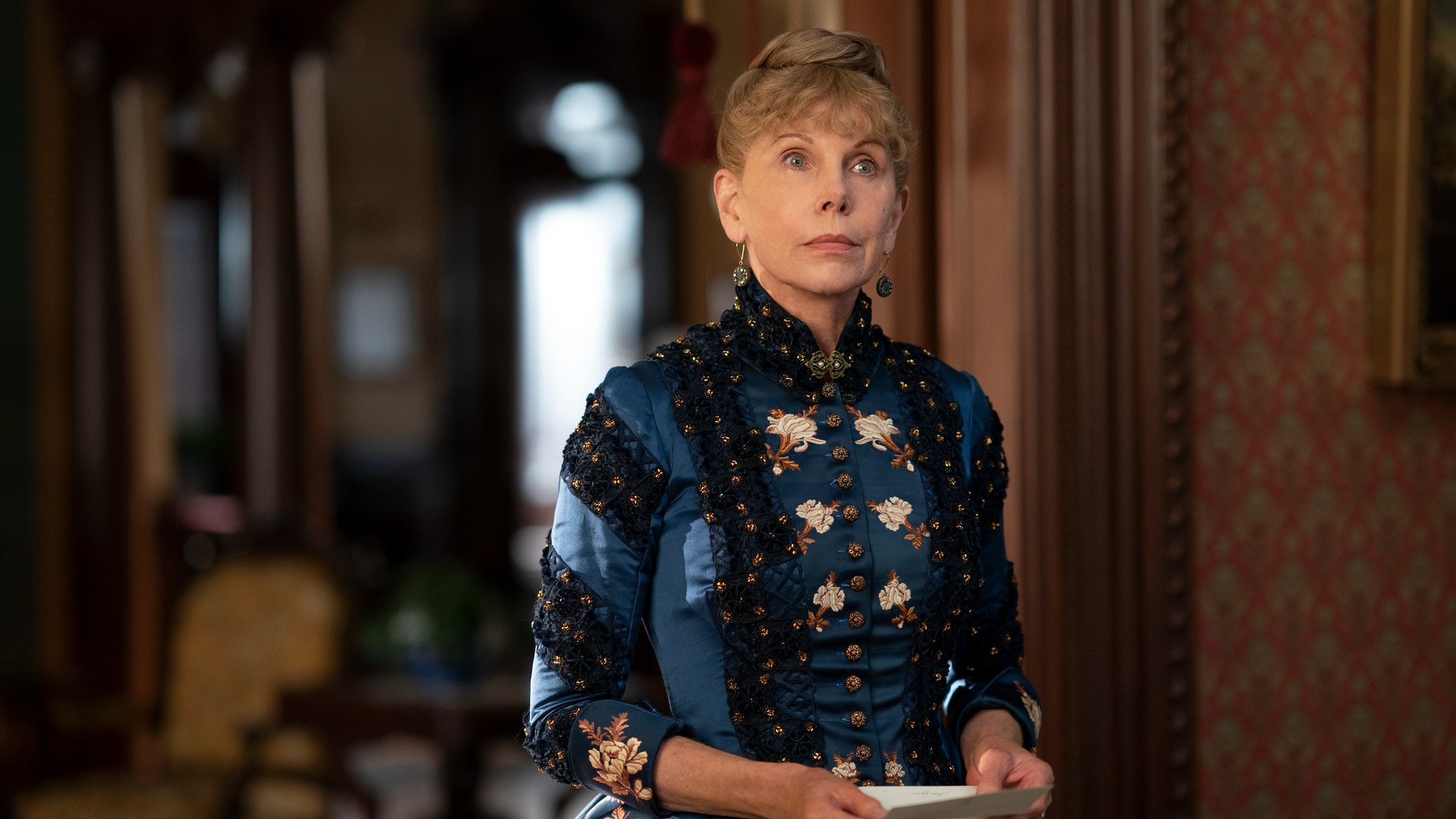 Meanwhile across the street at the Van Rhjins', it's Marian's elopement day. Ada figures out Marian's plan because Peggy has Marians' traveling bag in her hand along with the rest of her belongings. She's sad Peggy is calling it quits but wishes the best. Marian doesn't tell Agnes of her plan, instead opting for Larry to deliver her explanation letters after she's already left Grand Central Station. After Marian leaves for Mrs. Chamberlain's house, Aurora brings the bad news many fans predicted from earlier this season. She saw Raikes at the opera all lovey-dovey with Sissy the night before. Ada tells her to run to try to stop Marian from making a mistake. Thankfully Raikes never showed up. Marian confronts him at this office and breaks up with him. She then runs back to the Aunts' house to intercept Larry's delivery of the elopement news.
While Marian is having her pity party, George is launching his own scheme to make sure Gladys' guest list and dance card are full. A business contact wanted a loan from George and he stipulates that attending Gladys' ball is a condition of the deal. He claims his wife may object due to loyalty to Mrs. Astor but George tells him it's either show up or be broke. Read our interview with Morgan Spector to find out his opinions on how George would handle party planning!
Meanwhile, Bertha uses Carrie's protests as leverage against Mrs. Astor. Mr. McAllister also cautions Mrs. Astor that if she doesn't allow some of the nouveau riche to join the Four Hundred, the old money crowd will be excluded from many more social events in the future. Mrs. Astor relents and sends out missives to her friends to show up to Glady's ball or else they won't be friends anymore. One of these notes is sent to Agnes who until now has sworn up and down until now she'll never accept anything from Bertha. The tide is turning in the society wars!
Peggy finally has an ally in her fight against her dad's wrongdoings. Dorothy finds a letter in Arthur's pocket about how Peggy's son is doing well. Until now, everyone believed the baby was stillborn. Dorothy is angry she has no relationship with her grandson and she agrees to travel to Philadelphia with Peggy to find the boy. Peggy and Dorothy confront Arthur together and he still can't admit he did anything wrong. It's clear Peggy's parents are clearly going to separate or divorce over this. Although Peggy's plotline is ending on a somber note, it's clear fans will see more of Peggy's career journey and her journey to find her past in season 2.
Gladys' debutante ball is fabulously over the top aesthetically and dramatically. Her quadrille routine is a take on Marie Antoinette and 18th Century French fashions. Oscar makes sure to put his name down for Glady's first partner dance. The Aunts reluctantly show up in their finest but Agnes reserves the right to fight Bertha on a later occasion. The new chief has a severe panic attack and a footman rushes to convince Bordain/Borden to come back to save the day. Bordain/Borden agrees to come back so the guests can eat a four-course meal. Mrs. Astor and Bertha finally appear together and Bertha extends a hand of friendship as they're both more alike than they would want to admit. Marian of course runs into Raikes and has to suck up the pain. Thankfully Larry offers her a dance to distract her. A riff on the theme song plays as the guests dance to signal Bertha's victory. The episode ends the next morning with Bannister and Church bowing to each other and Marian trying to sleep off her pain.
Overall, Julian Fellowes took quite a few creative risks over the course of The Gilded Age and this finale episode sticks the landing. The series was not just "Downton Abbey with American accents". Over nine episodes, the ensemble cast successfully established the world of the Astors and their social rivals the Russells. The season explored known and equally little-known facts about America in the 1880s. Viewers found out about how the core cast all connect or conflict with each other. The supporting cast and guest stars round out the action and make the in-show universe appealing to audiences. There are also wonderful historical nerdy easter eggs throughout the season. Each episode also didn't forget to show the audience aspects of the lives of the servants and staff who are affected by their rich employers.
Source: Den of Geek
3.9k Share this