A film without a script
Three writers are officially credited on A Nightmare Before Christmas: Tim Burton for the story and characters, Michael McDowell for the adaptation, and Caroline Thompson for the screenplay. McDowell had previously written the 1988 Burton-directed Beetlejuice, Thompson had previously written the 1990 Burton-directed Edward Scissorhands, and McDowell originally got the Nightmare gig. Until that is, struggling with addiction and health problems that led to his death from an AIDS-related illness in 1999, McDowell failed to deliver. "The problem with the prior script was that there was no script. None. Not a word," Thompson explained to Script Apart's Al Horner in October 2020. Adaptation might be a generous way to describe what McDowell turned in, which according to Thompson was simply a reformatted version of Danny Elfman's song lyrics.
Elfman describes here his writing process for The Nightmare Before Christmas songs, most of which were inspired by sketches and in-person descriptions from Tim Burton. Burton would talk Elfman through a character and situation taken from a parodic version of 'The Night Before Christmas' poem that Burton had written years earlier (and which is widely cited as the film's source material though screenwriter Thompson says she never read it and calls it just another part of this cult film's mythology.) Elfman would go away and come up with a song, which he wrote largely in Thompson's Burbank home as the pair were a couple at the time.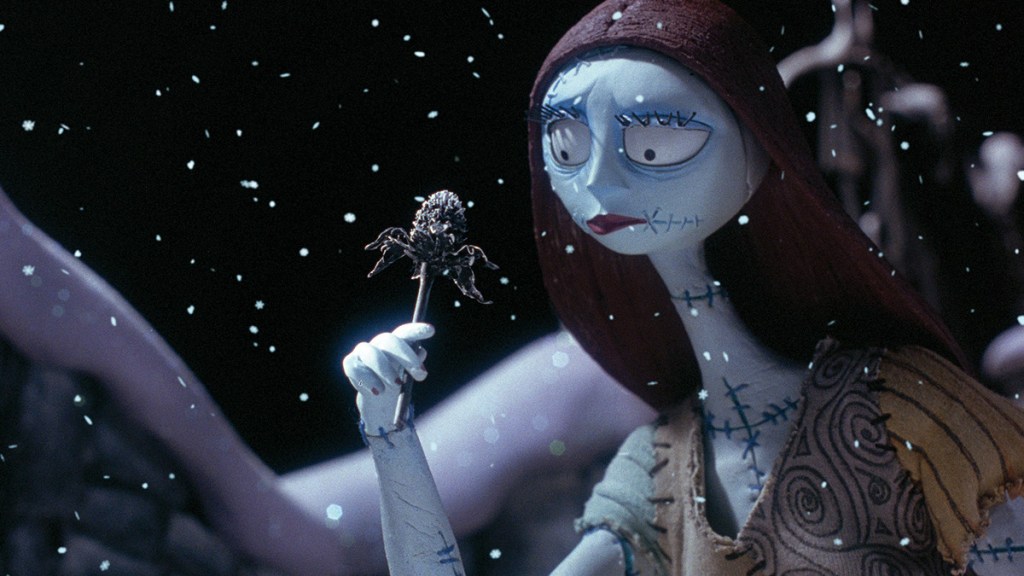 With Elfman's songs in place and characters built out from Burton's sketches, filming started without a script in place. It was an "insane" thing to do, as director Selick told The Hollywood Reporter in October 2018. "We knew the story well. The first songs came in, and we basically just blindly, but very confidently, went into production."
It was only after filming began with teams led by Selick, production designer Rich Heinrichs and storyboard artist Joe Ranft, that the script issue was addressed. Writer Caroline Thompson was asked to step in at this late stage, not by Tim Burton, but by then-Disney Motion Picture Group president David Hoberman. Thompson knew Elfman's songs, and that they more or less told the whole story as it stood. "The songs were finished but the narrative was not," she told Jog Road Productions in 2014. "Danny pretty much told the story in the songs so it's like okay, what's left? And what's left is Sally's story."
From vamp to misfit
To write Sally's story, Thompson was given two of Tim Burton's concept sketches for the character, showing a stitched-together blue woman with long red hair, wearing a low-cut, figure-hugging black and white striped dress, and red high-heeled shoes (Above, left and right). The character is smiling, vampish and buxom. In Netflix's 'The Holiday Movies That Made Us' The Nightmare Before Christmas special, Thompson describes the original Sally design as a zaftig "femme fatale", closer in look to the titular Corpse Bride from her later collaboration with Burton. Speaking to Jog Road in 2014, Thompson recalled thinking "I was like, well, I don't understand that kind of girl. I kind of get The Little Matchstick-style girl, so we redesigned her."
Anybody who saw the 2009 MoMA exhibition of Burton's artwork might draw a comparison between those initial Sally sketches and a recurring blue character, as seen in 1997's 'Blue Girl with Wine' (above, middle). The Wired profile caption for one of the 'Blue Girl' series created between 1992 and 1999 describes how "Burton had some drawings he wanted to bring to life, so he grabbed a Polaroid for the first time and convinced his office mate Leticia Rogers and his costume designer Colleen Atwood to have a little fun with him. Some of the fun inspired the Sally character from The Nightmare Before Christmas."
Source: Den of Geek