3.9k Share this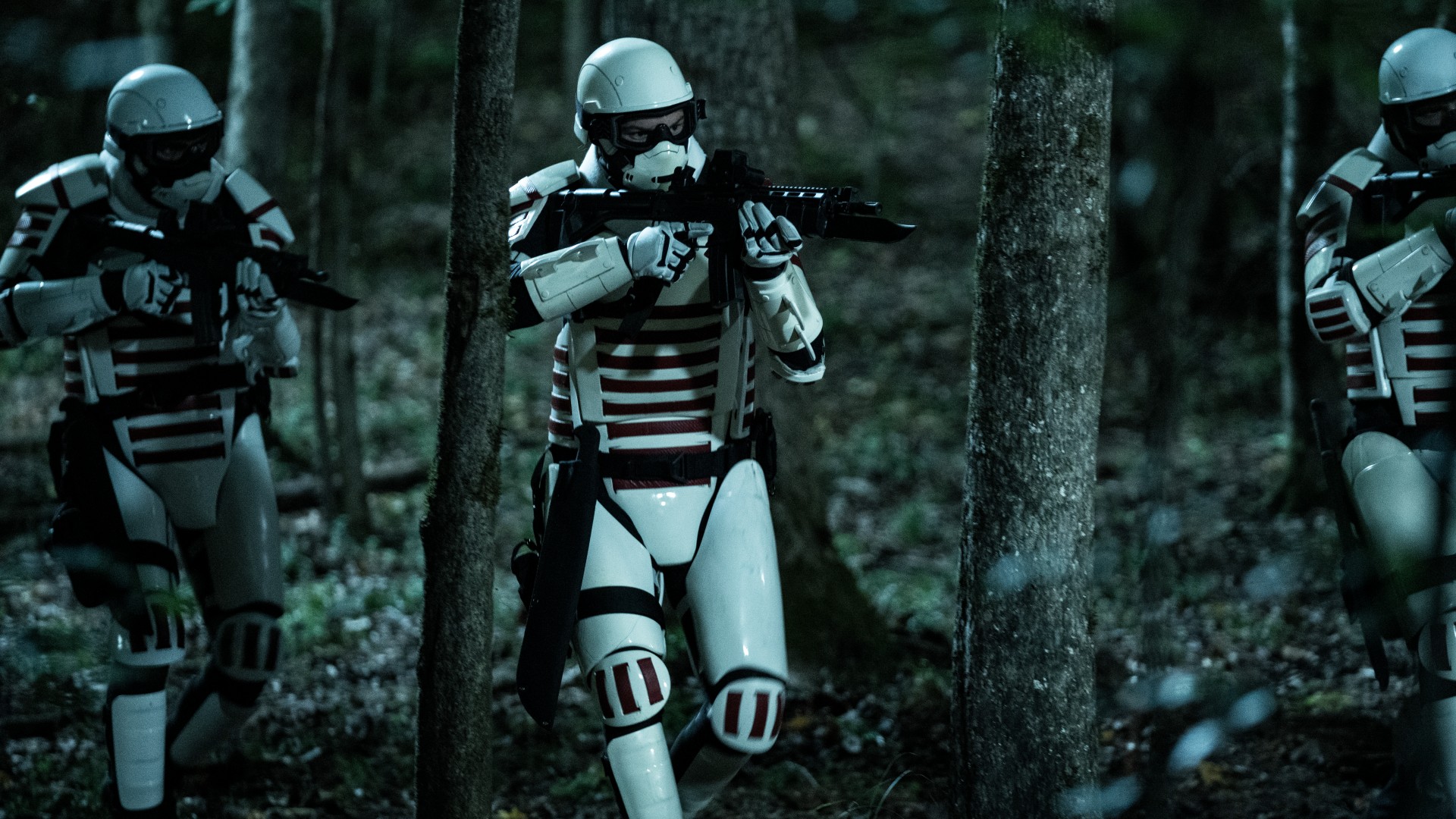 That strategy ends with Leah's death obviously. But what's notable about said death is that it comes in the form of one of Daryl's bullets. Leah and Daryl go way back. In fact, one could argue that Leah is the person that Daryl got closest to in all of the zombie apocalypse. Now, however, he has once again chosen his found family above all else.
What Happens to the Hilltop and Alexandria?
Commonwealth Governor Pamela Milton previously informed Lance that the only way they'd incorporate the Alexandrian communities (Alexandria, The Hilltop, Oceanside, and presumably what's left of The Sanctuary) would be if all communities agreed to it. Unfortunately for Lance, Maggie and the Hilltop were stubborn holdouts.
Even though Leah's mission to kill Maggie isn't successful, Lance just decides not to let his memes stay dreams anyway. He pays a visit to Hilltop, Alexandria, and Oceanside and has his stormtroopers unfurl big, fascistic Commonwealth flags outside each one of them. Simply put: everything is The Commonwealth now. What does that mean for the people left behind in those communities? Well, as evidenced by Lance having his troops round up the Oceansiders before he flips a coin, Harvey Dent-style – nothing good.
What's Next for The Commonwealth?
The entirety of The Walking Dead comic's (admittedly brief) final arc deals with The Commonwealth and the debate between whether its model of safety over equity is sustainable. While the TV series has peppered in some other storylines like the Reapers in its final season, it's now clear that the last batch of episodes will deal with the massive community almost exclusively as well.
This mid-season finale deals with corruption at The Commonwealth on two fronts. The first is via Lance Hornsby and his ravenous desire for power and expansion. The other, however, is a bit more subtle. Former Alexandrians/Kingdom-ers Eugene, Connie, Kelly, Magna, and Ezekiel have teamed with Eugene's girlfriend Max Mercer to expose the seedy underbelly of The Commonwealth via the press. That seedy underbelly includes what Daryl and Rosita experienced a couple weeks ago when the governor's son Sebastian Milton made them embark on a dangerous mission for his own personal gain.
Based on some documents uncovered by Max, Sebastian (and Lance's) exploitative policies have been going on for awhile now and perhaps even included Tyler Davis, the disillusioned ex-Commonwealth soldier who made a scene at the governor's party earlier this season. Eugene and the gang compile their findings and present it in an incendiary newspaper article that features the headline "Pamela Milton Is Lying to You."
Source: Den of Geek
3.9k Share this