5.9k Share this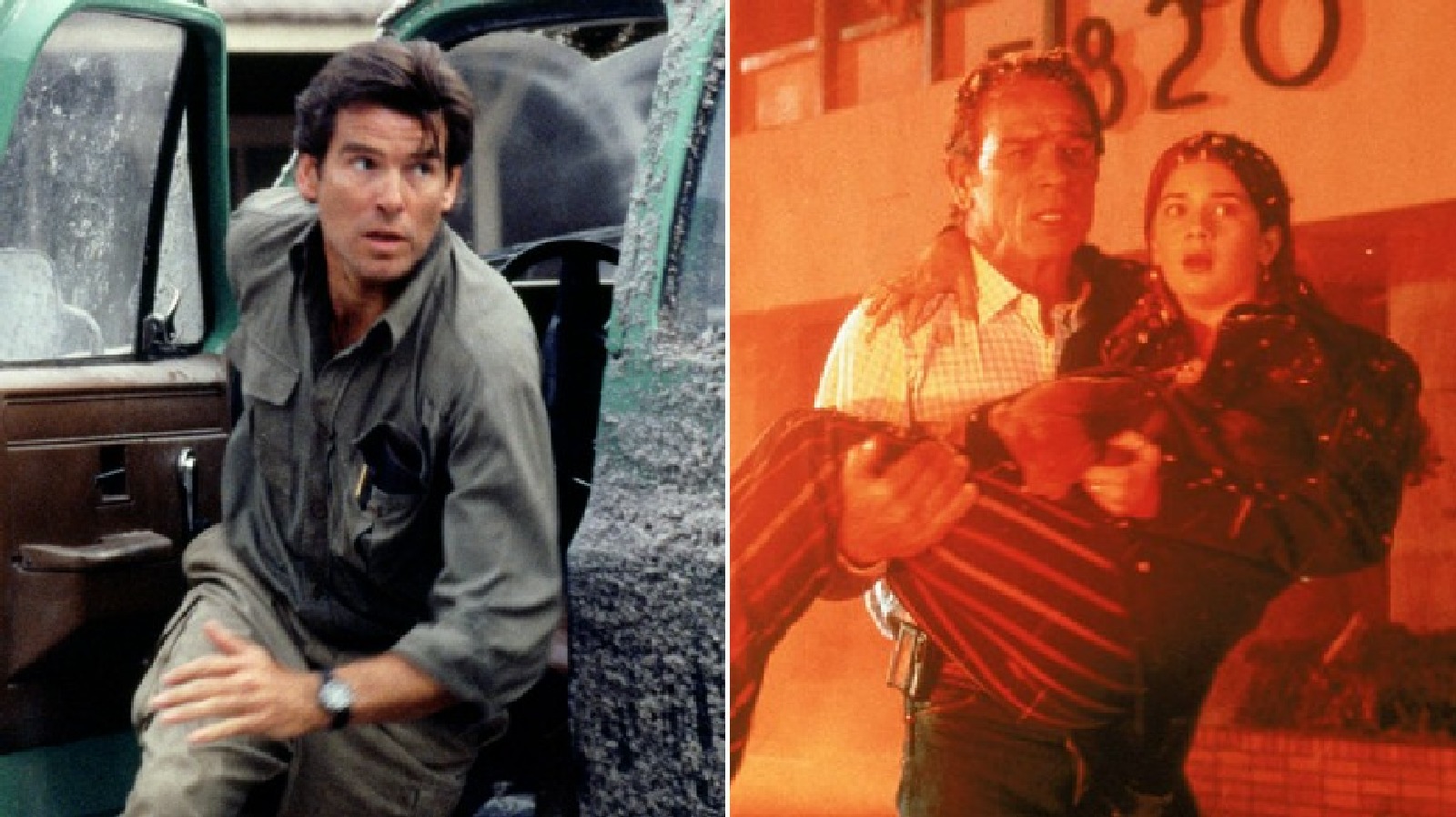 That's why Dante's Peak wins here: the volcano is massive and impressive, lending credibility to the events of the film, and its explosive eruption—while also limited by the effects of the time—appears more realistic. The destruction it brings to the town also seems more plausible in the context of the film, with lava and rubble streaming down the slopes of the mountain, as opposed to the volcano in Volcano firing off those lava bombs through manhole covers.
Both films also feature specific, similar narrative beats, starting with the rescue of a dog. The dog in Dante's Peak belongs to the Wando kids' grandmother and is left behind during her rescue. As Brosnan drives the family back down the mountain ahead of the lava flow, the pooch inexplicably shows up on a rock on the side of the road and manages a perfectly-timed leap into the back of the truck. It's meant as a real crowdpleaser moment, but comes off as cheesy.
The dog's rescue in Volcano is much more mundane: as a woman screams outside her burning house for her dog to come out, the terrified pup keeps finding himself blocked by the flames before suddenly realizing that the pet hatch in the kitchen door is readily accessible. He saunters through and runs into the arms of his waiting owner.
Both films also feature the horrific if ostensibly noble death of a key supporting character. In Dante's Peak, Brosnan, Hamilton, her kids, and Grandma must ditch their burning truck and take a motorboat across a lake that's turned into acid. It's a pretty harrowing sequence, actually, as the boat dissolves beneath their feet, the motor dies, and Grandma jumps into the acid to push the boat the last few feet to shore, fatally and agonizingly injuring herself in the process. But at least she saves the main characters.
In Volcano, on the other hand, MTA head John Carroll Lynch rescues an injured conductor from a subway car but must jump into the magma surrounding the car and throw the conductor to safety before both are consumed. Lynch's horrifying death is negated by the fact that the lava around him looks utterly fake as he sinks into it, plus the conductor, the subway, and the MTA's efforts are not really crucial to the story and Lynch's death is never mentioned again.
And The Winner Is…
Let's face it: Dante's Peak and Volcano are both pretty silly movies. But the former takes itself more seriously, while the latter—directed by Mick Jackson (who made the shocking nuclear war movie Threads in 1984 for the BBC)—almost seems more aware of just how dumb its premise and accompanying action sequences are.
Source: Den of Geek
5.9k Share this