Share this @internewscast.com
When the craving for Italian food strikes, pasta provides it all. With the perfect mix of warm comfort and decadent flavors, even the pickiest eater can name their favorite noodle dish. Restaurant pasta dishes seem extra special, and after one bite, we often wonder how we can replicate the same kind of flavors at home. However, as with many restaurant meals, some of these unhealthiest pasta dishes get packed with fats, sugar, and salt to make the meal pop in our mouths.
Trying to decide which dishes avoid these caloric pitfalls can prove challenging, as many restaurants feature a wide range of both reasonably healthy options and true diet-enders. If you love noodles and don't want to give them up when you eat out, have no fear! This list can get you started on which items to avoid at your favorite restaurants if you want to avoid the unhealthiest pasta dishes. Instead, you can always try cooking up a dish at home—choose from any of our 100 Easiest Recipes You Can Make.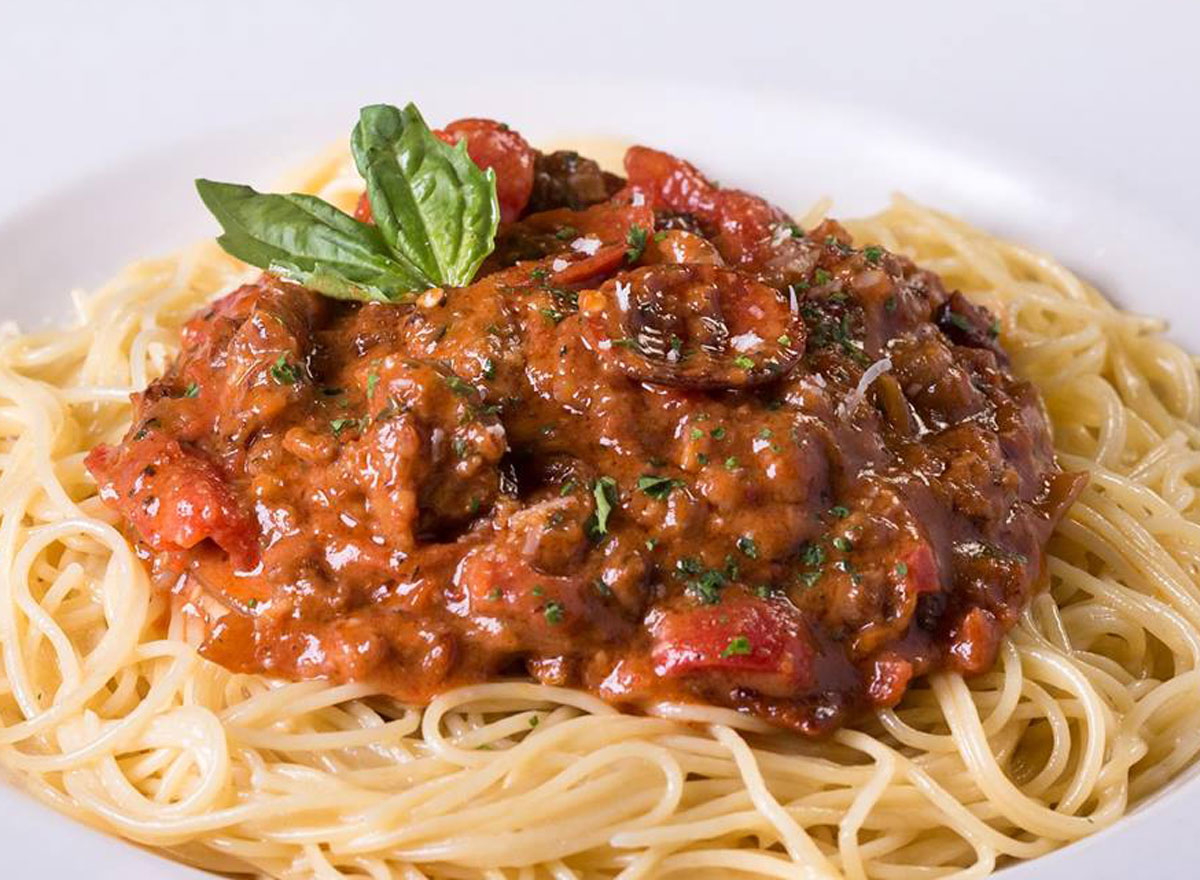 2,480 calories, 221 g fat (82 g saturated fat, 4.5 g trans fat), 5,150 mg sodium, 155 g carbs (11 g fiber, 20 g sugar), 65 g protein
The Cheesecake Factory offers up a wide mix of pasta dishes to choose from, but many of the options won't do your waistline any favors. This particular mix of Italian sausage, bacon, meatballs, and pepperoni could clog just about any artery. Clocking in at almost 2500 calories, you rake in more calories than most people need in a day in this single meal. Add to that a whopping 221 grams of fat and a sodium count of over 5,000 milligrams and you have a meal that could feed you for days. Do yourself a favor and skip this dish next time you eat out.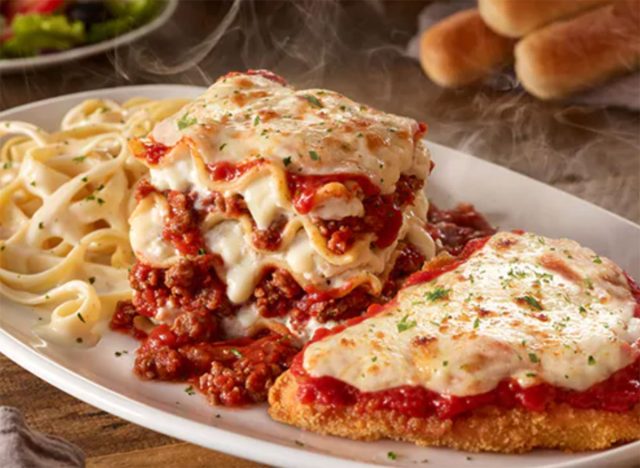 1,550 calories, 98 g fat (50 g saturated fat, 1.5 g trans fat), 3,150 mg sodium, 99 g carbs (7 g fiber, 12 g sugar), 72 g protein
Loading up a plate with chicken parmigiana, lasagna, and fettuccine Alfredo sounds delicious, but the cost to your daily eating plan is hard to swallow. With a staggering 98 grams of fat and over 3,000 milligrams of sodium, this meal is guaranteed to make you feel sluggish for days to come. When a pasta craving strikes, opt for a much simpler meal next time you visit Olive Garden.
1,500 calories, 76 g fat (45 g saturated fat, 2.5 g trans fat), 2,050 mg sodium, 144 g carbs (16 g fiber, 7 g sugar), 58 g protein
This signature take on an Alfredo pasta should be approached with caution. Anytime a pasta is served with a heavy cream sauce, the fat content of the meal shoots through the roof. The Fettuccine Carrabba predictably packs in a full day's worth of fat in one dish. After you factor in the 45 grams of saturated fat, one bite of this could make you feel overly stuffed for days. Skip this pasta if you want to stick to the nutritional straight-and-narrow.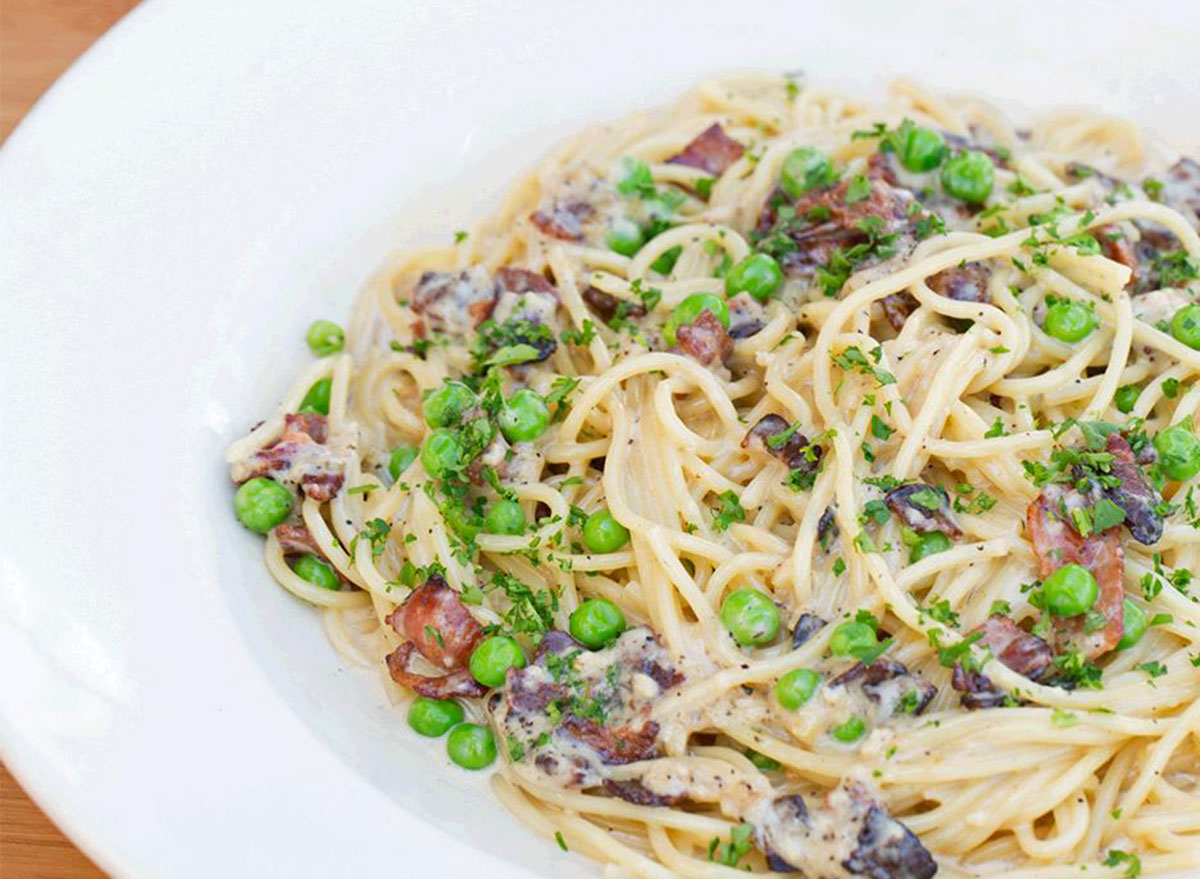 2,340 calories, 159 g fat (71 g saturated fat, 3.5 g trans fat), 4,030 mg sodium, 141 g carbs (10 g fiber, 11 g sugar), 85 g protein
Pasta carbonara can cause anyone to exceed their daily caloric intake on a good day, but this take on the classic is loaded with salt and fat, taking it to the next level. With smoked bacon and a creamy parmesan sauce, it seems tempting, but with over 2,000 calories, 71 grams of artery-hardening saturated fat, and 141 grams of carbs, this meal easily ruins anyone's waistline. When you add the extra serving of chicken into this, you add even more unnecessary calories, making it a no-go. Do your body a favor and avoid this nutritional disaster.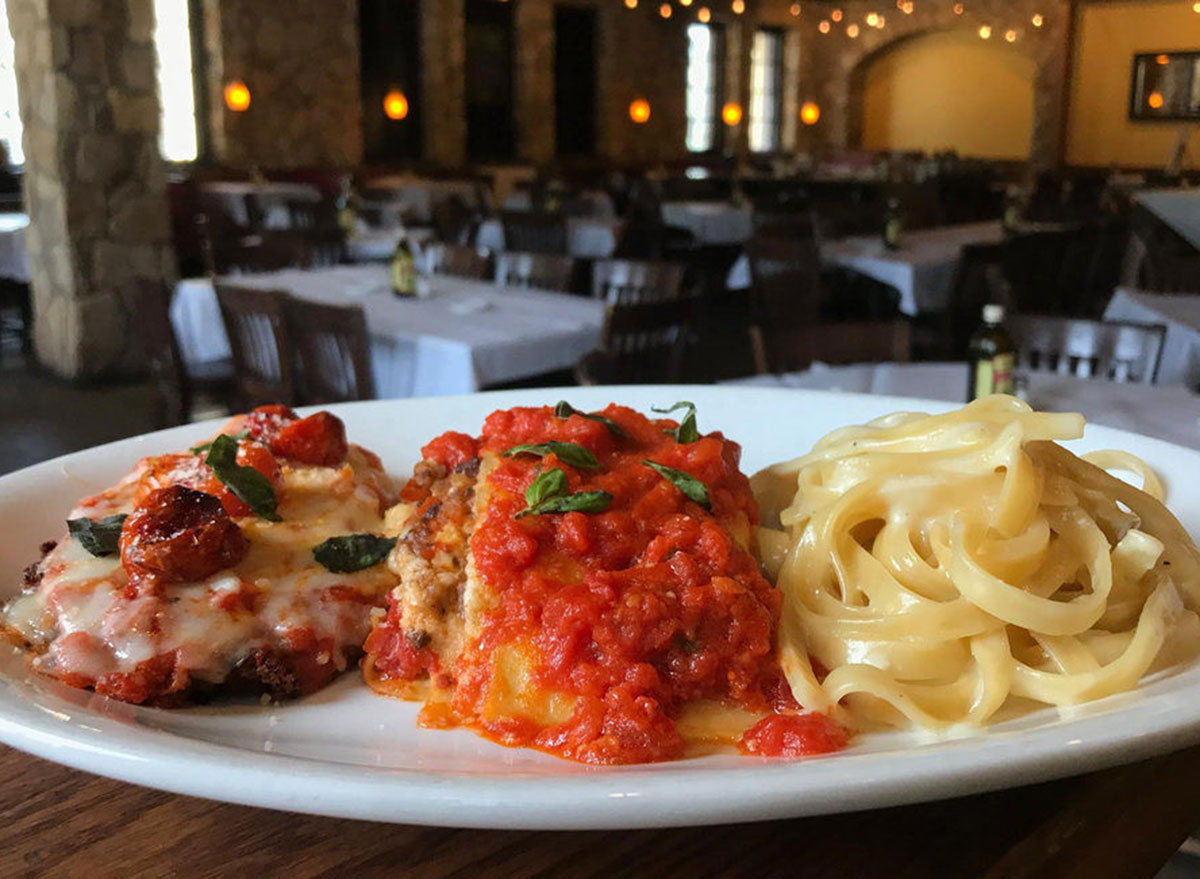 2,110 calories, 129 g fat (56 g saturated fat, 2.5 g trans fat), 3,940 mg sodium, 149 g carbs (9 g fiber, 19 g sugar), 103 g protein
When restaurants pile together their most popular menu items into one meal, chances are the dish won't do your diet any favors. The same rule applies here, as chicken parmesan, lasagna bolognese, and fettuccine alfredo come together on one plate. Alone, these items present their own minefields of calories and fats, but combined together, their cumulative 129 grams of fat and almost 4,000 milligrams of sodium will throw off your eating plan for days. Avoid the sluggishness you would get from consuming this meal and opt for a simpler pasta for a healthier experience.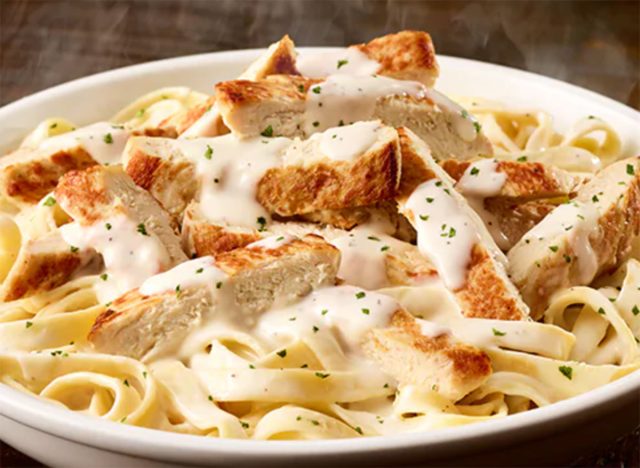 1,570 calories, 95 g fat (56 g saturated fat, 2 g trans fat), 2,290 mg sodium, 96 g carbs (5 g fiber, 6 g sugar), 81 g protein
The Amazing Alfredo menu at Olive Garden seems like the greatest thing ever if you can't get enough of rich and creamy pastas. But as with any pasta that relies on heavy cream-based sauce, your body won't feel pleased after indulging in this super-rich meal. With almost 60 grams of fat, your arteries will glue shut at the mere thought of consuming this pasta, and if you need to stick to a 2,000-calorie eating plan, this dish easily pushes you to the limits. In other words: Skip the heavy cream sauces if possible.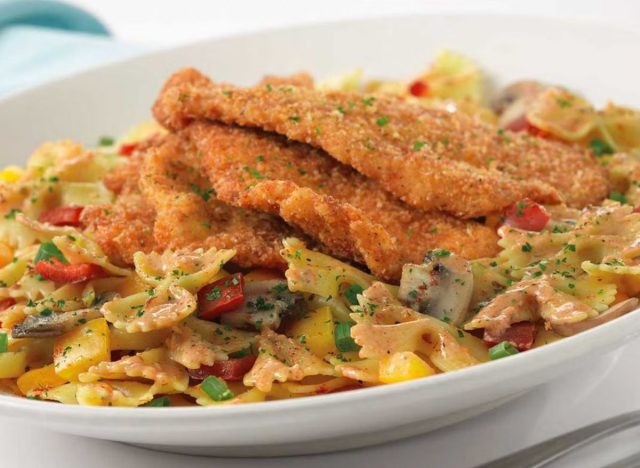 2,120 calories, 125 g fat (65 g saturated fat), 4,030 mg sodium, 168 g carbs (10 g fiber, 16 g sugar), 83 g protein
If you ever wanted to make a fat-filled pasta dish even more unhealthy, topping the meal off with spicy fried chicken might be the most extreme way to go. The Louisiana Chicken Pasta leaves you feeling stuffed in the most over-the-top ways imaginable thanks to its more than 2000 calories. With over a day's worth of sodium, fat, and calories, try to pass on this dish.6254a4d1642c605c54bf1cab17d50f1e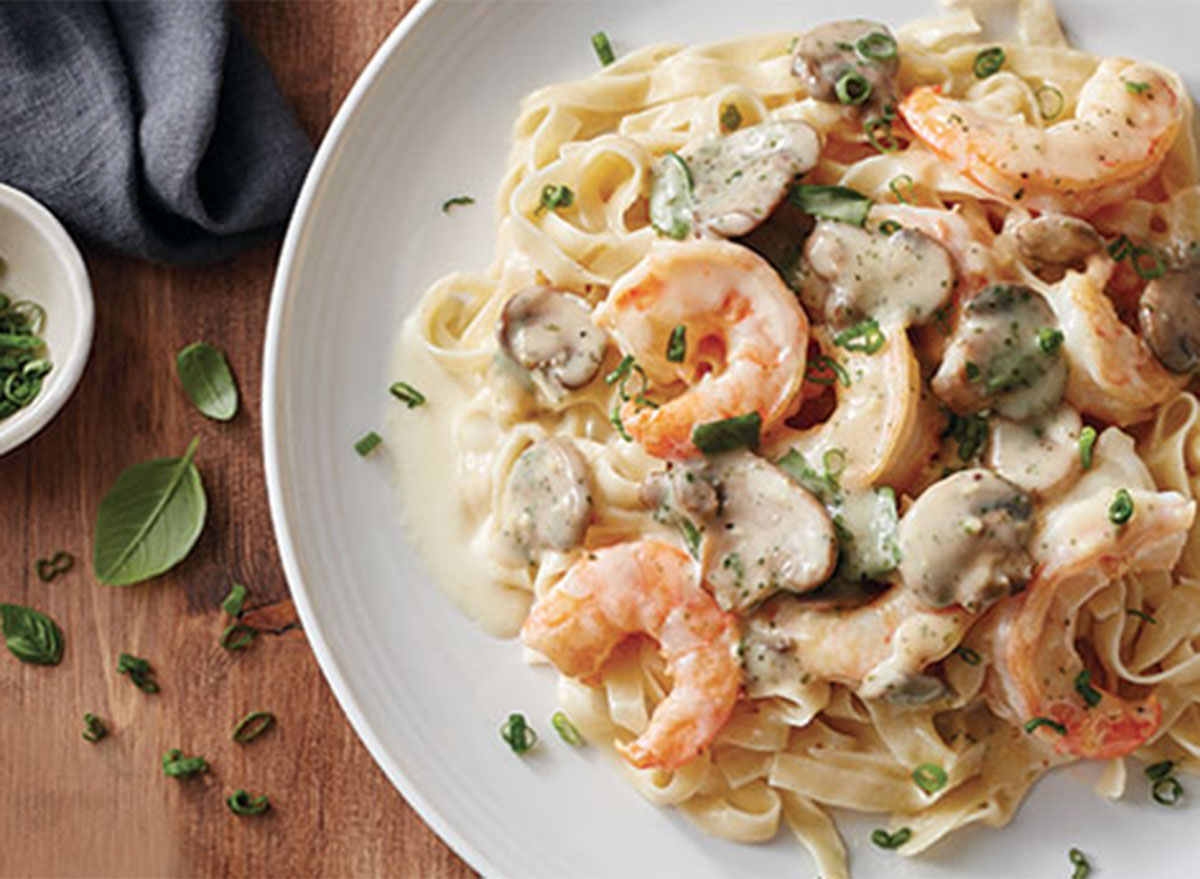 1,420 calories, 83 g fat (53 g saturated fat, 2 g trans fat), 3,240 mg sodium, 105 g carbs (8 g fiber, 8 g sugar), 57 g protein
The combination of a lemon-butter sauce and shrimp seems relatively innocuous, but don't be fooled—this meal packs in almost 1,500 calories, pushing the acceptable limits of how many calories you can jam in a single dish. The fat and sodium content take this pasta to the next unhealthy level, and when you combine that with 104 grams of carbs, you really don't have to eat another full meal in a day after consuming the Fettucine Weesie. Take it easy and order a pasta that doesn't feature a butter sauce for a healthier dining experience.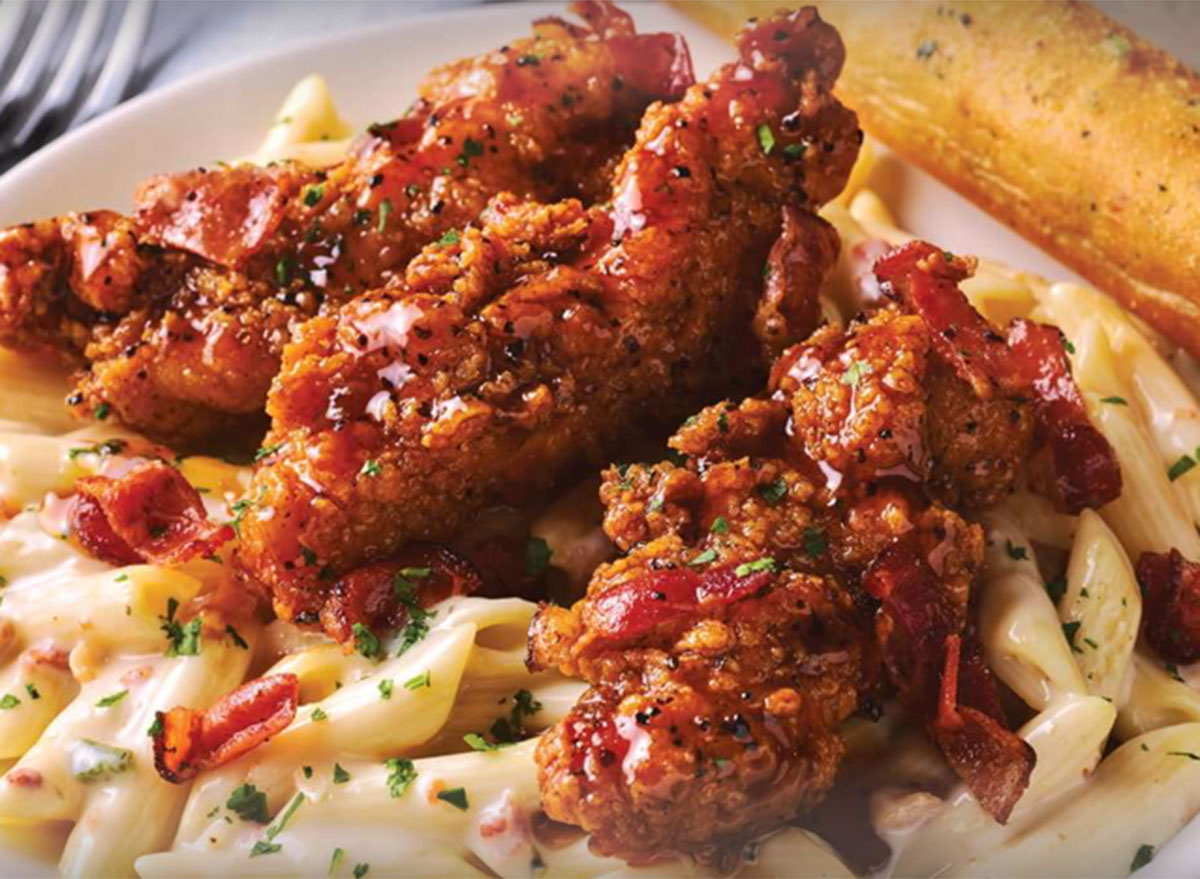 1,420 calories, 61 g fat (23 g saturated fat, 1 g trans fat), 3,060 mg sodium, 153 g carbs (7 g fiber, 41 g sugar), 60 g protein
Macaroni and cheese and fried chicken tenders are typically loaded with tons of empty calories no matter where you order them, so if you opt for this calorie bomb at Applebee's, you know what you're getting into. Loaded with salt, fat, sugar, and carbs, the lack of solid nutrition in this dish is astounding. If the craving strikes, even ordering just the chicken tenders or mac and cheese alone would prove better than this combo of unhealthy options.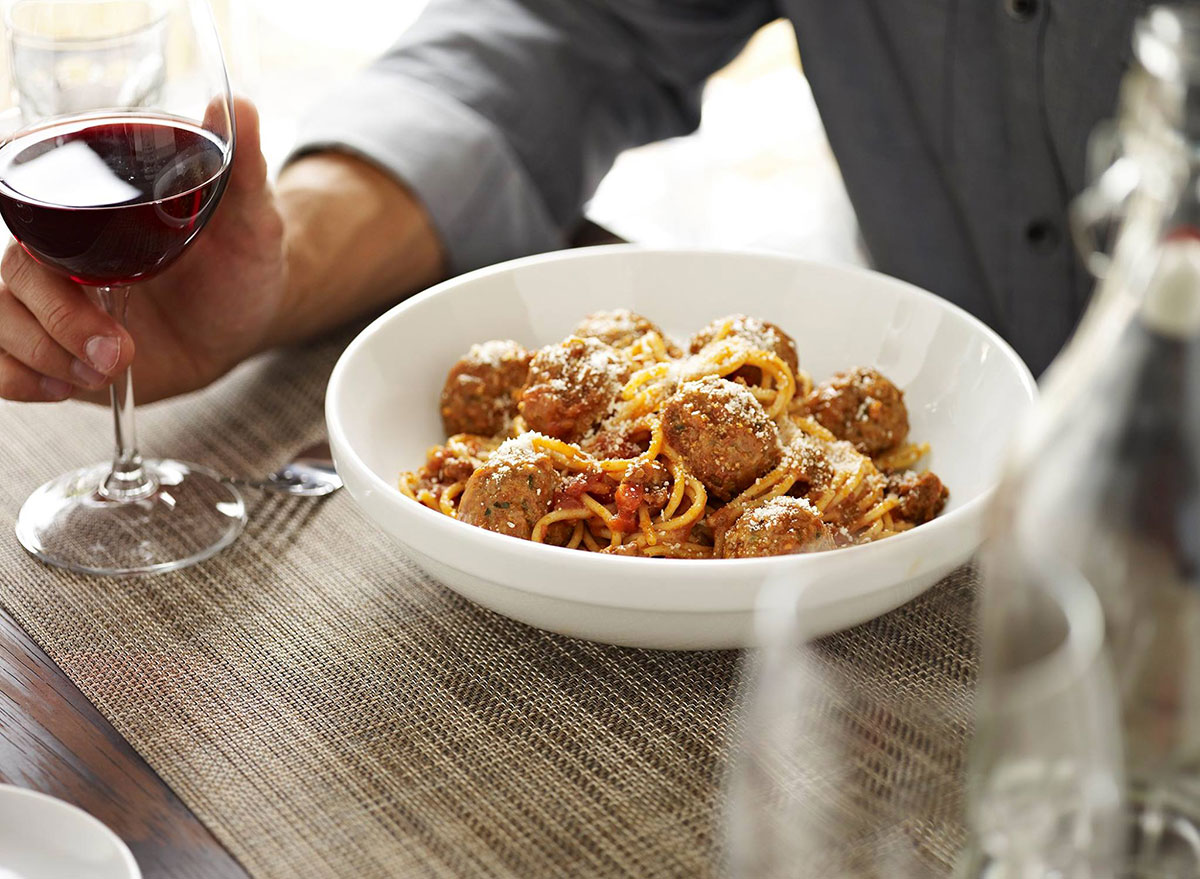 1,460 calories, 105 g fat (36 g saturated fat, 1 g trans fat), 3,320 mg sodium, 111 g carbs (10 g fiber, 10 g sugar), 73 g protein
You likely already know that the saturated fat found in red meat doesn't do your body any favors. When you dig into an order of beef and veal meatballs, ricotta cheese, and spaghetti topped with a tomato-meat sauce, consider the consequences of indulging in all that artery-clogging fat. With 105 grams of fat and almost 3/4 of the calories you need in an entire day, ordering this dish could disrupt your diet for days to come.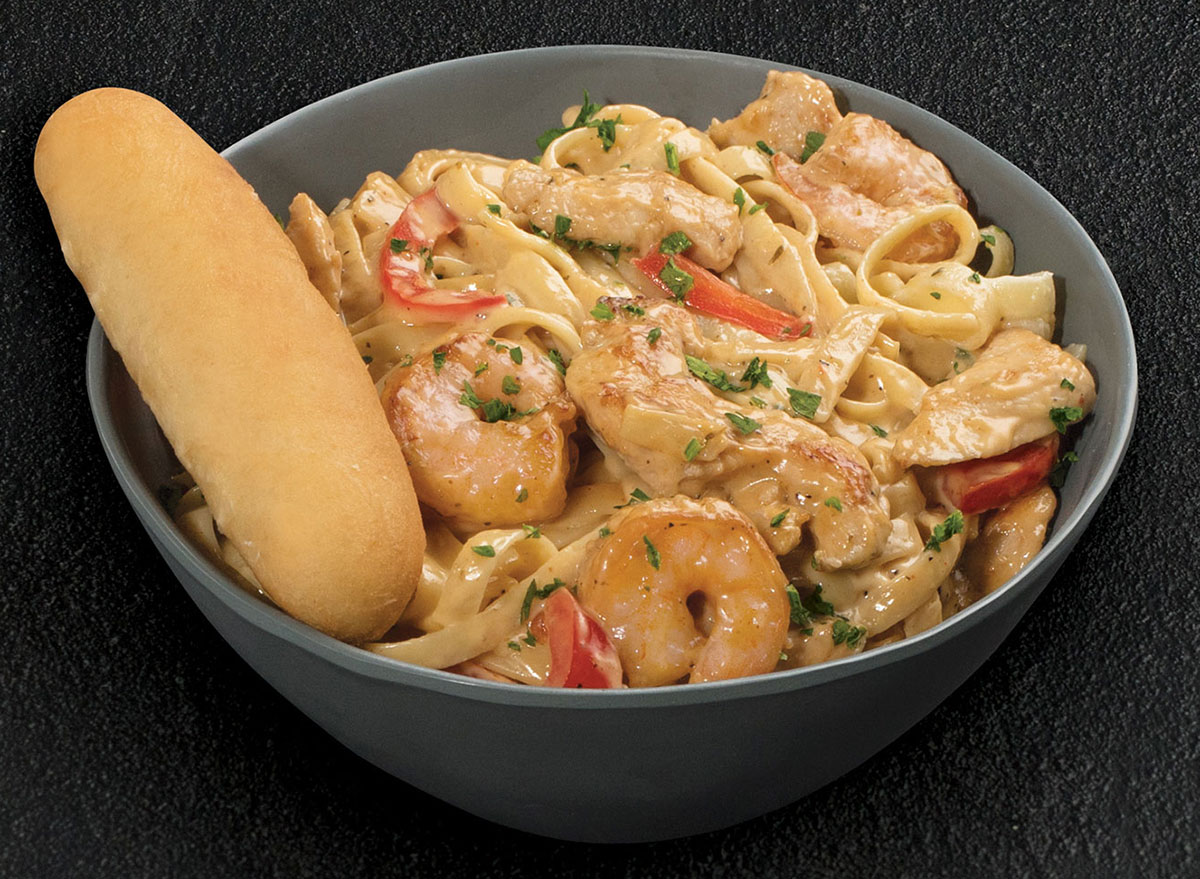 1,600 calories, 83 g fat (41 g saturated fat), 3,040 mg sodium, 132 g carbs (8 g fiber, 12 g sugar), 73 g protein
Salt and heavy cream come together in this perfect storm of cajun alfredo pasta from TGI Fridays. With 132 grams of carbs, partially deriving from the breadstick it's served with, you couldn't possibly stick to any kind of diet if you order this incredibly unhealthy pasta. And with a total of 1600 calories, stay away from this one to save your waistline.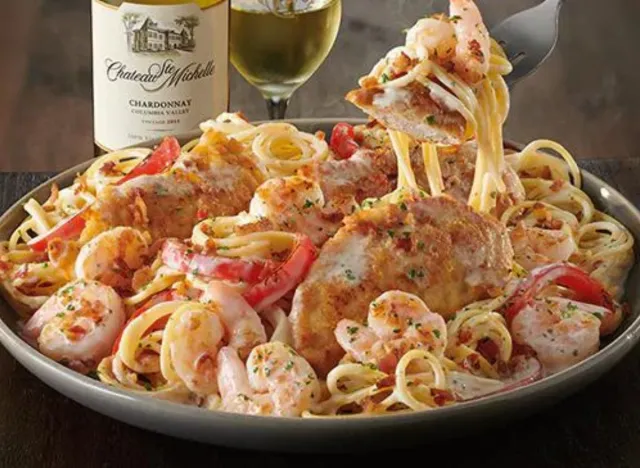 1,390 calories, 94 g fat (50 g saturated fat, 3 g trans fat), 2,050 mg sodium, 75 g carbs (3 g fiber, 10 g sugar), 64 g protein
If you just see this pasta dish on the menu, it might not seem so bad at first glance. Upon closer examination, the addition of bacon and a rich creamy sauce takes its fat content to new hieghts. The massive serving of sodium won't do your blood pressure any favors, and with 94 grams of fat, you'll easily exceed your daily intake by at least 20 grams. Opt to build your own pasta with fewer toppings instead of ordering this diet killer.
1,270 calories, 50 g fat (23 g saturated fat, 1 g trans fat), 3,000 mg sodium, 150 g carbs (20 g fiber, 17 g sugar), 52 g protein
Italian sausage and caprino cheese complement each other in the most unwholesome ways in this pasta, undoing any healthy eating you may have been adhering to. By packing in almost a full day's worth of sodium into one meal, you have to watch your blood pressure levels. Make sure to get some extra exercise if you want to burn off the whopping 150 grams of carbs present in the meal as well. Keep yourself on a healthy eating path and avoid this pasta next time you visit Carrabba's.
2,200 calories, 133 g fat (58 g saturated fat, 1 g trans fat), 4,310 mg sodium, 160 g carbs (6 g fiber, 14 g sugar), 96 g protein
UNO Pizzeria & Grill's Buffalo Chicken Mac & Cheese has more calories than most people should consume in an entire day—not to mention nearly two days' worth of sodium. For the sake of your health, do not order this meal, and if you do, be sure to split it with some friends. If you're interested in cooking up your own version of mac and cheese, this is the easy way to make healthier comfort foods.
1,370 calories, 72 g fat (36 g saturated fat, 1.5 g trans fat), 2,470 mg sodium, 117 g carbs (6 g fiber, 6 g sugar), 66 g protein
Fettuccine Alfredo comes up again as one of the unhealthiest pasta dishes to order if you want to stick to healthy eating options for one very plain and simple reason—the combination of butter, cream, and parmesan cheese that makes up the sauce can clog your arteries. With 72 grams of fat and over 1300 calories, stay far away from this dish. Skip the heavy dairy for a much friendlier pasta experience when a noodle craving strikes.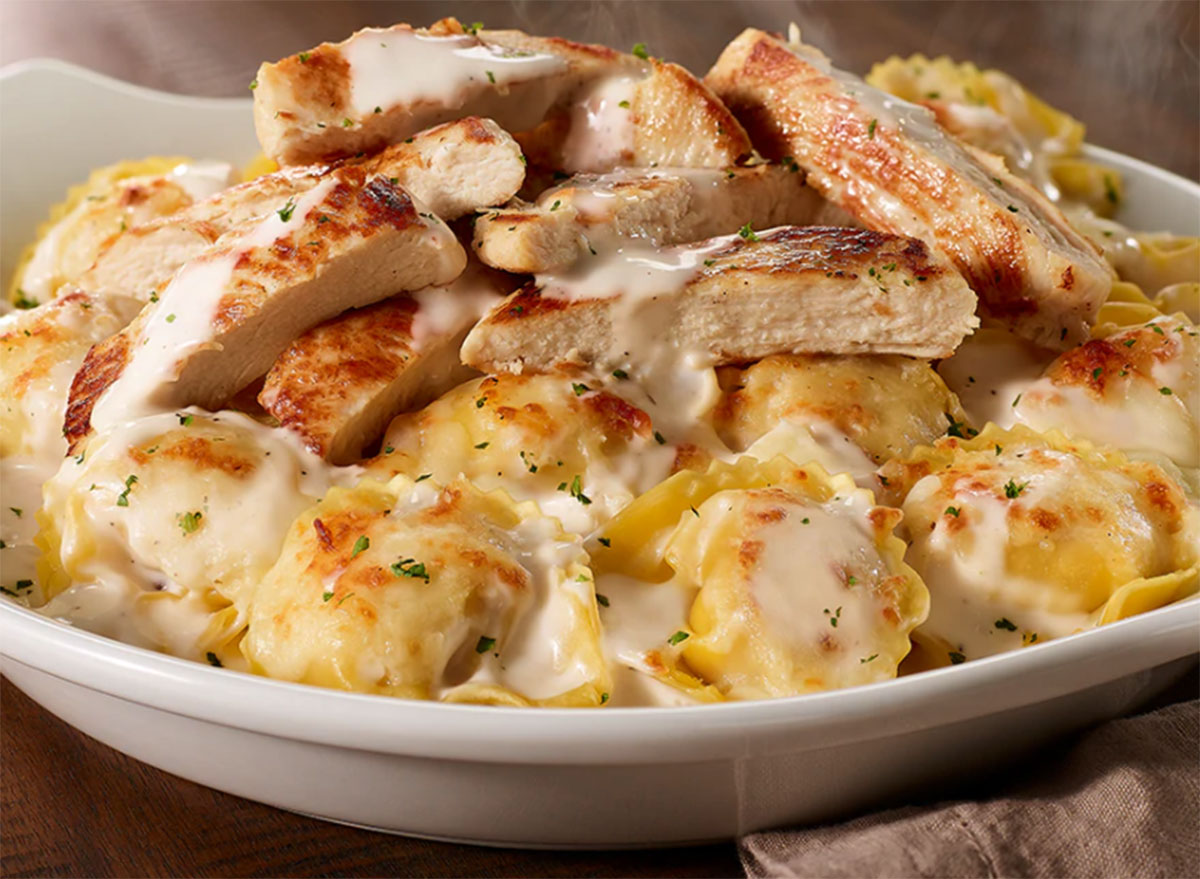 1,980 calories, 131 g fat (76 g saturated fat, 2.5 g trans fat), 3,720 mg sodium, 95 g carbs (5 g fiber, 9 g sugar), 112 g protein
Olive Garden brought back this creamy pasta dish in 2020, but perhaps this was better left as a Ghost of Menu Items Past. With 131 grams of fat, you take in well over the FDA daily recommended 44 to 77 grams. With enough fat for two days, this pasta dish will likely weigh you down all week.
Share this @internewscast.com