Share this @internewscast.com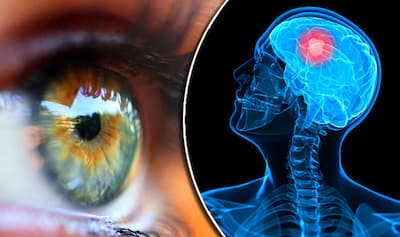 Are you suffering from brain tumour? Here are some unusual symptoms that may appear on your face and eyes.
A brain tumour is a condition that is marked by the unusual growth of cells in the brain or near it. There are mainly two types of cancers — malignant (cancerous) or benign (noncancerous). When it comes to brain tumours, one must know that whether these cells are cancerous or not, tumour formations in the brain can have some severe impact on the way your brain is functioning (this especially happens when these tumours grow large enough to press on surrounding tissues).
According to the studies, there are over 150 different types of brain tumours. While some may just happen to form inside the brain, some of these tumours can also form in your spinal cord or column. This is when the symptoms can become a little tricky to spot or difficult to understand. In this article, we take a close look at some of the unusual or lesser-known symptoms of brain tumours.
Brain Tumour: Are You At Risk?
Who is at risk of a brain tumour? In order to understand the signs and symptoms, let us first take a close look at who is at risk of developing brain tumours. Speaking to TheHealthSite.com, Dr Partha Ranga Swamy said, "Brain tumours can start at any age. But as we get older our risk of developing most cancers, including brain tumours, increases. The risk of brain tumours is greatest in those aged between 85 and 89 years."
As per researchers, brain tumours develop when certain genes on the chromosomes of a cell are damaged due to internal or external causes, leading to a clear reduction in their ability to function properly.
The DNA present in the chromosomes guides the cells of the body to grow and divide or multiply. When this brain cell DNA changes, it gives the brain cells a set of new instructions, wherein the body starts developing abnormal brain cells that grow and multiply faster than normal and sometimes live longer than normal. When that happens, the ever-growing crowd of abnormal cells takes over space in your brain.
Other risk factors for brain tumours include:
Cell phone use
Exposure to certain chemicals
Diet and lifestyle factors (A diet high in saturated fat and low in fruits and vegetables can increase the risk of brain tumours.
Hormonal factors
Age and gender
Unusual Brain Tumour Symptoms On Face And Eyes
Are you not sure if you have been suffering from a brain tumour? Look out for these unusual signs and symptoms on your eyes and face.
Symptoms on the eyes:
Squinting
Worsening vision
Blurred or double vision
The restricted field of vision, loss of peripheral vision, blind spots
Problems with looking upwards or controlling eye movements
Abnormal eye movements such as flickering eyes
Symptoms of brain tumours that can be spotted on the face:
Difficulty swallowing
Facial weakness
Facial numbness
Double vision
Disclaimer: This content including advice provides generic information only. It is in no way a substitute for a qualified medical opinion. Always consult a specialist or your own doctor for more information.
Total Wellness is now just a click away.
Follow us on
Share this @internewscast.com