Share this @internewscast.com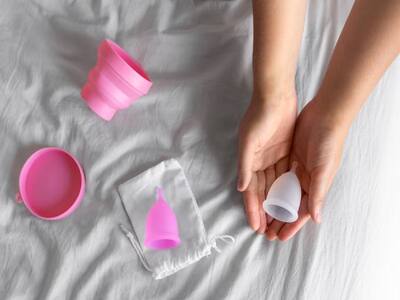 More and more women are switching to menstrual cups. But before deciding to use a menstrual cup, you should check with your gynaecologist, says Dr. Shalini Vijay.
Menstrual cups have been used since the early 1930s, although their popularity has only lately grown. Many women are still unaware of the benefits of using a menstrual cup and others are reluctant to use it. There are also many women, especially in rural areas, who do not have any idea what a menstrual cup is or how it works.
Why women should be encouraged to opt for menstrual cups instead of other period products like tampons and pads? We asked Dr. Shalini Vijay, Senior Consultant Obstetrician & Gynaecologist, Motherhood Hospitals, Lullanagar, and she gave several reasons behind the rising popularity of menstrual cups.
What exactly is a menstrual cup?
A menstrual cup is a tiny, flexible, funnel-shaped cup that women use throughout their menstrual cycle. It is placed into the vaginal canal to collect menstrual blood. Silicone, natural rubber, latex, or thermoplastic elastomers are used to make the cup flexible.
The frequency with which you empty your menstrual cup is determined by the size of the cup and your monthly flow. The cup can store up to three times the amount of fluid as a standard tampon.
With the rising popularity of the menstrual cup, women now have additional alternatives. A range of cup shapes and sizes are available to suit each woman's body type and demands.
What are the advantages of using menstruation cups over other periods products?
Menstruation cups can store more blood than other types of feminine hygiene products, such as sanitary napkins or tampons, and this is prompting many women to switch to eco-friendly menstruation cups. You can even use the menstrual cup for up to 12 hours, depending on your monthly flow. In addition, a menstrual cup is less expensive than tampons and sanitary napkins.
How do menstrual cups promote environmental sustainability?
People frequently associate disposable diapers with landfills, but tampons and pads also collect in landfills. On the other hand, the menstrual cup is reusable and has a low environmental effect.
Although the FDA does not require tampons and pads to list their ingredients on the packaging, you may be concerned about reports of tampons containing bleached cotton, rayon, or viscose fibres, as well as toxic chemicals. The menstrual cup is composed of medical-grade materials, which eliminates the possibility of tampon fibres remaining in the vagina.
Your advice for women considering switching to menstrual cups.
Before deciding to use a menstrual cup, you should check with your gynaecologist. Because many feminine hygiene brands sell menstrual cups in various sizes, you must first determine your size. To do so, you and your gynaecologist must consider the following:
Your age
The size of your cervix
Whether your menstrual cycle is heavy or light,
The cup's holding capacity
The menstruation cup's flexibility and firmness
The strength of your pelvic floor muscles
Menstrual cups are typically sold in two sizes: small and big. If you are under the age of 30, you should use the smaller-sized cups. However, if you are over 30, have heavy periods, or have had a vaginal birth, the larger-sized cups are ideal for you.
Total Wellness is now just a click away.
Follow us on
Share this @internewscast.com