Police say they will not tolerate the "selfish" behaviour.
The "Freedom Day Celebration" is scheduled for Sunday in Melbourne by organisers who reportedly believe a conspiracy that COVID-19 is a "biochemical" weapon.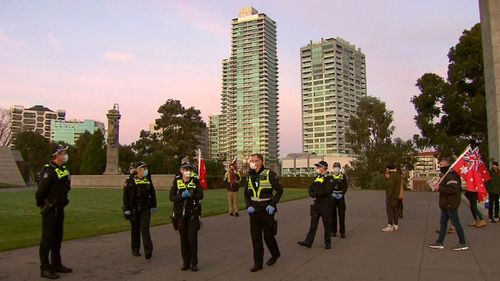 More than 400 people have expressed interest in the so-called freedom rally on the steps of Parliament on Sunday.
They are anti-masker, anti-vaccination and anti-business shutdowns, but police say the planned action is a blatant breach of Victoria's Chief Health Officer's directions.
The latest 9Nation poll exclusive to nine.com.au revealed that 56 per cent of those surveyed think Australian police should be able to penalise those who intentionally induce chaos using misinformation
"This selfish behaviour will absolutely not be tolerated," Victoria Police said in a statement.
"Be assured Victoria Police will be responding and will take appropriate action.
"There will be a highly visible presence in and around the city to ensure the community is complying with stage four restrictions.
"We will have no hesitation in issuing $1,652 fines or making arrests on the day, if necessary.
"Police are also making enquiries into the organisers of this event and we will be holding them to account."
Officers issued a $1600 fine to a Hoppers Crossing woman accused of protesting with her daughter at the weekend.
About 30 people gathered at the city landmark just and held a minute's silence.
The protesters said their motivation was to "exercise their claim to freedom".
Source: 9News