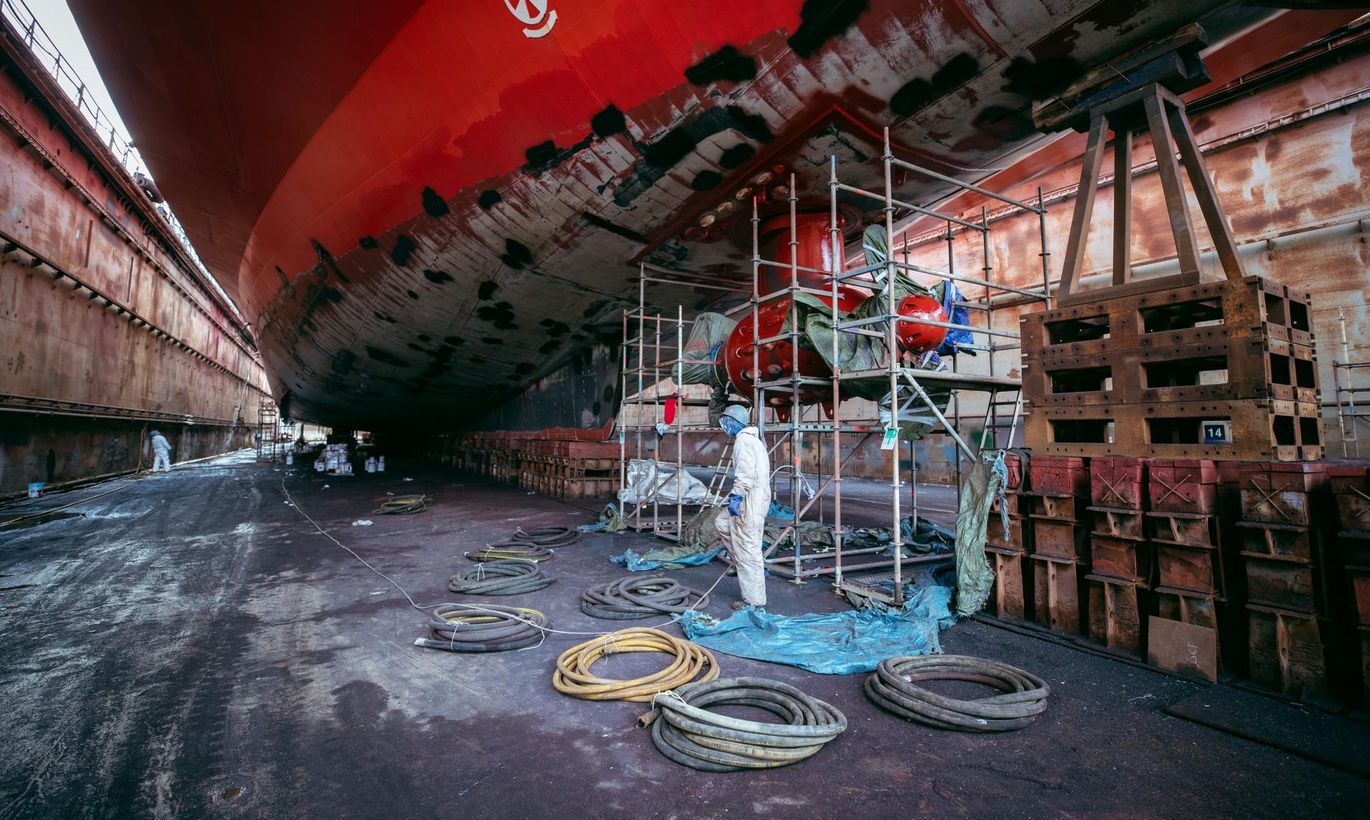 CEO of BLRT Grupp, one of the largest industrial companies in the Baltic Sea region, Veronika Ivanovskaja says that visas and temporary work permits of foreign specialists must be extended. The company risks losing new orders and not being able to finish projects this year and next otherwise.
"I would stress once more that we are talking about specialist the Estonian labor market virtually lacks, nor is it likely to be able to produce them in the near future. There is no use creating for ourselves the illusion that former employees of the service or hotel sector could be retrained, certified and capable of doing the work we need," Ivanovskaja said.
"It takes at least five to ten years to develop and hone these skills, which is why we have always invested a lot in preparing the kind of specialists we need," Ivanovskaja said, adding that a single specialists creates work for three to five other workers.
Ship maintenance has all but ceased
The group and its more than 4,000 employees are also active in the other Baltic countries, Finland, Ukraine, Poland, Russia and Norway, with export serving as BLRT Grupp's main source of income. That is why the emergency situation and Europe-wide restrictions on movement are a serious headache for the international group.
While supply of raw materials from other European countries and both maritime and land delivery problems have now been solved after a brief holdup on the Polish border, some ship repair orders have been canceled or postponed for an unspecified time because specialists cannot freely move between countries.
For BLRT Grupp, the spread of the coronavirus and the emergency situation have hit small shipbuilding, electricity and piping installation work, transport services and scrap metal handling and sale the hardest, with volumes down 50-70 percent.
"Activities have completely ceased in ship maintenance because specialists cannot cross borders. Real estate projects have also been frozen," the group's CEO said.
Ivanovskaja gave the example of a two-year shipbuilding contract with a German company. Employees working in Germany were supposed to return to Estonia in late March but couldn't because the borders were closed, while the company also couldn't send their replacements to Germany.
"Our workers are trapped in Germany. We hope we will be able to relieve them in June at least. Because borders were closed, specialists who were granted a work permit or who left Estonia to vacation in their home countries also couldn't come to Estonia," she said.
Companies manufacturing high-tech equipment for the oil and gas industry and offshore wind farms and executing complicated industrial and infrastructure projects are the best off.
"They have a year's worth of orders to fill. Orders for late 2020 and for 2021 and 2022 are in the preparation phase. The outlook has become bleaker in other areas, with only enough work to last the next few months," Ivanovskaja admitted.
BLRT has invested a lot in these specialties and while the company has new orders, serious labor problems mean it might not be able to sign them.
"We need to have certainty in terms of having enough good specialists. We hope the state will realize the seriousness of the situation and continue to offer support for solving this problem," Ivanovskaja said, adding that BLRT Grupp will be forced to abandon projects for the next few years if foreign workers' permits are not extended.
Layoffs avoided, wages cut
BLRT Grupp is trying to avoid layoffs and is either sending staff on mandatory leave or offering them the chance to go on annual holiday right away.
"Many have been sent to work from home, with communication and discussions taking place over the internet. Some have had their workload and salary reduced," Ivanovskaja said.
Heads of companies belonging to BLRT Group will decided whether to apply for salary benefits from the state based on their particular situation. "If in March, we reacted to falling workload by sending people on annual leave, these reserves will unfortunately be depleted in April and May. Some of our companies are forecasting production to slow or cease completely that will hit people's income hard," Ivanovskaja said. The group is weighing all options for mitigating negative consequences for staff.
No BLRT Grupp employee had tested positive for the coronavirus last week, while the company took all emergency measures to combat the spread of the virus in the very first days. Measures taken include separate catering, separating people in dressing rooms, limited contact, additional cleaning of wardrobes, airing out and cleaning of premises and equipping workers with disinfectant and personal protective gear.
The company also regularly takes its employees' temperature.
The Estonian Chamber of Commerce and Industry has sent a letter to the Riigikogu, asking for an exemption to be added to the Aliens Act that would allow foreign workers whose visas or work permits have expired to continue working in Estonia until the end of the emergency situation.
Source: Postimees News