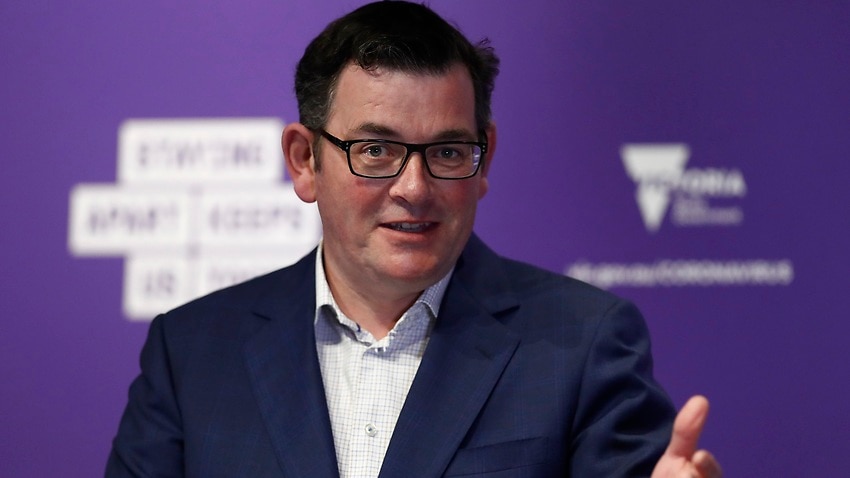 Premier Daniel Andrews has made a series of announcements easing restrictions in Victoria.
Speaking from Melbourne on Sunday morning, Mr Andrews announced changes to the caps on household visitors, patrons at restaurants and bars, gyms, religious ceremonies and several other events and spaces.
The announcement was made as Victoria recorded its 23rd straight day of zero new local coronavirus cases.
The following measures will take effect from 11.59pm on Sunday night:
15 visitors will be allowed in one home across the course of one day. This includes dependants, but not babies under one year.
Outdoor gatherings in public spaces, including beaches and parks, will increase to 50 people.
Masks will be required in all indoor settings, but will not be required outdoors unless you are unable to distance yourself from others.
Hospitality will have a venue cap of 300 patrons, with a maximum of 100 people inside. The one person per four square metres rule will apply indoors for larger venues. Smaller venues will move to one person per two square metres, with a cap of 50 people.
Higher education will return to on-campus learning for some studies over the summer period.
Gyms will open up further, with 150 people in groups of 20, with one person per four square metres.
Indoor physical recreation and sport can resume with 150 people in groups of 20, with one person per four square metres.
Outdoor sport can resume with 500 people in groups of 50, with one person per four square metres.
Indoor pools, skate parks and indoor trampolining centres can host 150 people. Outdoor pools can host 300 people.
Religious ceremonies can take place indoors with 150 people, and outdoors with 300 people. Both settings will have a one person per four square metres density requirement.
Weddings and funerals will be open to 150 people, with density requirements. Home weddings must adhere to the at-home cap of 15 people.
Cinemas and small galleries can open to 150 people per space.
Gaming machine venues will be able to go to 150 people, but every second electronic gaming machine will be turned off to ensure a distance between patrons.
The following measures are expected to take effect at a later date:
From Monday 30 November, 25 per cent of staff will be allowed to return to the office. The other 75 per cent will still need to work from home. Distance requirements of one person per four square metres will remain in place. The public sector will remain working from home to create "additional space and capacity" for the private sector.
From 11.59pm Sunday 13 December, 30 visitors will be allowed to your home across the course of one day. Dependents are counted, unless it is a baby under the age of one year.
Announcing the rules at a press conference in Melbourne on Sunday morning, Mr Andrews stressed that the state must maintain caution.
"This virus is not gone. 23 days of zero cases is not the same as having a vaccine," he said. "We all have to keep playing our part."
Mr Andrews said masks will continue to play a big role in stopping the spread of the virus.
"This thing spreads rapidly. Common sense is very important. Carry the mask, because you never know, even outside, when you might need to wear it," he said. "Masks have played a very important part in these low numbers, and we just have to see this through and part of playing your part is wearing a mask, absolutely when you are inside, so that you are not spreading this virus unbeknownst to you."
New South Wales has announced it will end its border restrictions with Victoria from midnight tonight.
Victoria has just one active COVID-19 case and has gone 22 days without any new cases.
The single case was an immunosuppressed person making a "slow and steady" recovery, Health Minister Martin Foley said on Saturday.
South Australians wanting to enter Victoria can do so again after a brief "hard border" was replaced overnight by a permit system.
SA residents can get a permit via the Services Victoria website.
Communities in a 70km bubble around the interstate border can continue using the SA government-issued permit they used for months previously.
Those receiving or providing emergency medical care or services, or who reside on a property that straddles the border are exempt from the permit requirement.
NSW and the ACT are due to open their borders to Victoria on Monday.
International arrivals into Melbourne will resume from 7 December, initially capped at 160 a day.
Meanwhile, Victorian authorities are concerned about traces of the virus unexpectedly found at a Melbourne wastewater facility, prompting a plea for residents and visitors to Altona in Melbourne's southwest from last Monday to Wednesday to get tested if symptomatic.
The result is unexpected because it has been about eight weeks since someone in the area tested positive.
Suburbs in the catchment include Altona, Altona Meadows, Laverton, Point Cook and Sanctuary Lakes.
NSW and South Australia recorded zero new local cases on Sunday.
– Additional reporting by AAP.
People in Australia must stay at least 1.5 metres away from others. Check your jurisdiction's restrictions on gathering limits.
If you are experiencing cold or flu symptoms, stay home and arrange a test by calling your doctor or contact the Coronavirus Health Information Hotline on 1800 020 080. News and information is available in 63 languages at https://sbs.com.au/coronavirus
Please check the relevant guidelines for your state or territory: NSW,Victoria, Queensland, Western Australia, South Australia, Northern Territory, ACT, Tasmania.