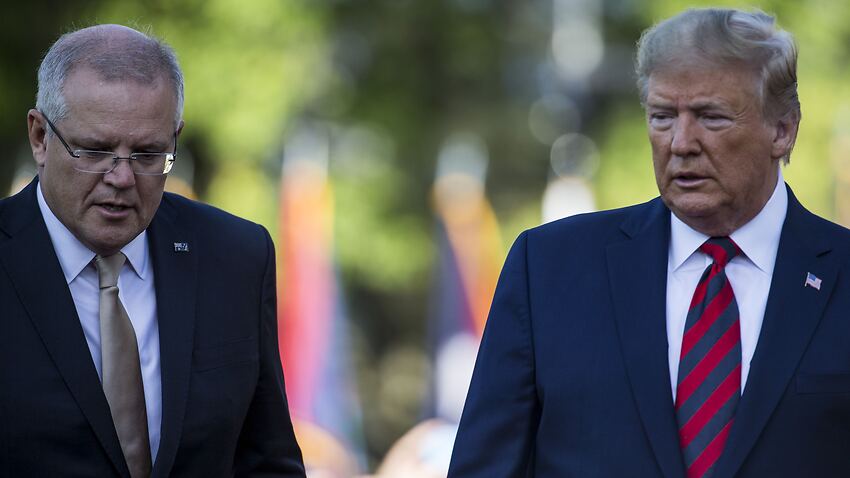 Nine in ten Australians think their home country is doing a good job when it comes to the tackling of the coronavirus pandemic.
That's the finding from a Lowy Institute poll released on Thursday.
Ninety-three per cent of the more than 3,000 Australian adults surveyed during in April said Australia has handled the crisis "very well" or "fairly well" so far. But their opinion of other countries is less favourable.
Only a third (31 per cent) said China has handled the outbreak very or fairly well, with 60 per cent saying China has handled the outbreak badly. Even fewer (10 per cent) said the United States has handled it very or fairly well, with 90 per cent saying it has handled the outbreak badly.
Australia has recorded fewer than 100 deaths from COVID-19 amid more than 6,000 cases, while more than 83,000 people in the US have died amid more than 1.3million cases.
More than 4,000 people have died in China, where the virus originated, with 84,000 cases reported.
Academics say they are not surprised at the findings of the poll.
Author of the study and Lowy Institute research fellow Natasha Kassam said trust in both China and the US has been on the downfall over the past few years and the current pandemic has only exposed that.
"Australian views towards China have been on a downward trajectory for about two years now," she said.
"Last year, only 30 per cent of Australians said that they trusted China, which was a 20 per cent drop from 2018."
In the poll released on Thursday, 68 per cent of respondents said they now feel "less favourable towards China's system of government" when thinking about its handling of the outbreak. Five per cent said they felt "more favourable" towards it.
A third (37 per cent) believed China will now "be more powerful than it was before the crisis".
US tension
Only 10 per cent of Australians surveyed said the US has done a good job in responding to the pandemic.
"The way Australians feel about the United States has shown a decline in trust since 2016 and I think that is very much correlated with the fact that the majority of Australians are not a big fan of President Trump," Ms Kassam said.
"It puts the United States at the bottom of the list of countries. It's very unusual for Australia to view the United States in that way."
Seventy-three per cent of those surveyed said they would prefer Joe Biden to become president at the US election in November, compared with 23 per cent preferring Donald Trump.
Shaun Ratcliff, lecturer of political science at the University of Sydney's United States Study Centre said he does not think that such views will affect the relationship between Australia and the US though.
"I think the ties that bind the two governments at least are very deep. They've been built up over a 70 or so year period and even the ties between Australians and Americans, as individual people, are very deep," he said.
Perception of China
Ms Kassam said a major point of difference in this year's study is the way Australians perceive global powers.
"After the global financial crisis, the vast majority of Australians thought China would come out more powerful. This time around, Australians are mixed about the trajectory of China's power in the world."
"The majority of Australians now think that the United States will be less powerful after the coronavirus pandemic," she said.
Dr Ratcliff says it is hard to predict whether Australians' perception of China will affect the future relationship between the two countries.
"It's raised short term tensions between the federal government and the Chinese government, whether there are long term ramifications, that's difficult to know. But clearly, the Chinese government haven't handled those criticisms particularly well."
"I can't see many countries around the world not accepting any lack of any investigation whatsoever. There's obviously a lot of unanswered questions about where the virus originated, how early the Chinese government or provincial governments knew about it, and how long it took them to provide that information to the rest of the world."
World Health Organisation criticised
The poll also found while Australians hold high levels of confidence in domestic authorities, they were less favourable about the World Health Organization.
Confidence that chief medical officers, state and territory governments and the federal government are doing a good job was extremely high (between 82 and 92 per cent), but only 59 per cent expressed confidence in the World Health Organization.
"That could be in reference to the fact that most countries have been responding in their own way to this crisis. And we haven't seen very much global cooperation in response to this," Ms Kassam said.
"What role did the World Health Organisation play? … Perhaps we need our international institutions to serve us a little bit better."
While COVID-19 has made an impact on the findings of the poll, Australians remain positive about globalisation and want more global cooperation in times of crisis.
Seventy per cent said globalisation is "mostly good for Australia", which was unchanged from 2019, and 53 per cent want "more global cooperation rather than every country putting their own interests first".
A large number of Australians (59 per cent) also remain as willing to travel as they were prior to the outbreak.
"I am somewhat comforted that it seems Australians remain globalist, they remain outward-looking … despite the coronavirus pandemic," Ms Kassam said.
"We've seen borders go up and globalisation grind to a halt … so it hasn't had the effect you would think."
People in Australia must stay at least 1.5 metres away from others. Check your state's restrictions on gathering limits.
Testing for coronavirus is now widely available across Australia. If you are experiencing cold or flu symptoms, arrange a test by calling your doctor or contact the Coronavirus Health Information Hotline on 1800 020 080.
The federal government's coronavirus tracing app COVIDSafe is available for download from your phone's app store.
SBS is committed to informing Australia's diverse communities about the latest COVID-19 developments. News and information is available in 63 languages at sbs.com.au/coronavirus
Source: SBS