Mainland China has reported five new confirmed COVID-19 cases for May 16, down from eight the previous day, the National Health Commission says in a statement.
In Shanghai, students retain the option of continuing to follow classes online rather than facing virus testing and social distancing measures at schools. As in Beijing and other cities, Shanghai has already restarted classes for middle and high school students preparing for exams.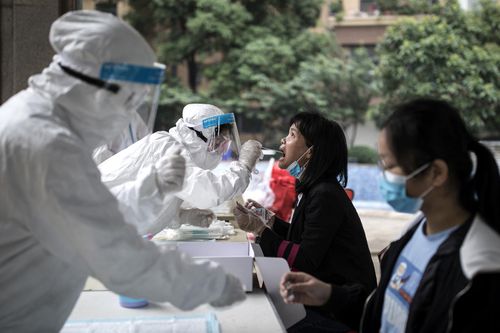 A medical worker takes a swab from a resident for the novel coronavirus test during community in Wuhan, Hubei, China. (Source: Getty)
Meanwhile, the number of domestic flights has returned to 60 per cent of pre-outbreak levels, exceeding 10,000 per day for the first time since February 1, the country's civil aviation regulator reported.
With the summer holidays approaching, numerous tourist sites have reopened, including Beijing's storied Forbidden City palace complex and Shanghai's Disneyland resort, although with strict social distancing measures still in place.
Source: 9News