Share this @internewscast.com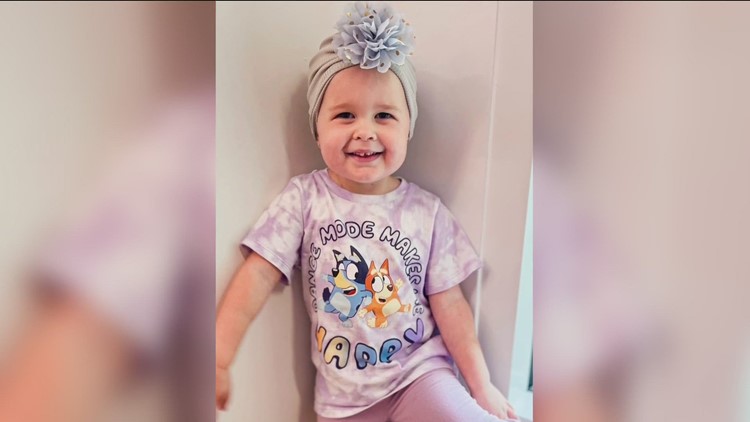 During Friday's football doubleheader at Columbian High School, the Tiffin and Clyde communities will host a fundraiser for an elementary teacher's daughter.
TIFFIN, Ohio — Tiffin's Frost-Kalnow Stadium will host more than just football at Friday night's doubleheader.
Clyde will join Tiffin for "2 Communities – 1 Cause," a fundraiser for 3-year-old Brynlee Cook, who was diagnosed with leukemia in June.
Brynlee is the daughter of Clyde Elementary School teacher Lindsay Cook.
"It's just been a lot for her," said Cook's friend and fellow Clyde elementary teacher Rhonda Hoffman. "It's a great family and I think anyone else would want to help out a family as sweet as she is and her little girl."
Hoffman originally asked friends and coworkers to stand at concession stands with donation jars.
"They are rival schools and I just thought of this opportunity because it was a home game," she said.
But the Tiffin Columbian Athletic department wanted to support Brynlee's fight on a bigger scale.
The fundraiser will have a 50-50 raffle in which the athletic boosters' half will be given to the Brynlee's family. There will also be T-shirt sales available online through the end of next week and a dash for cash in between the first and second quarter.
Additionally, band, cheer and flag students have been asked to donate $1. Private donations at each school and a GoFundMe on "Brynlee's Brigade" Facebook page are also available.
"There's just so many ways to help," Hoffman said. "If you can give 50 cents give 50 cents, if you can give a dollar, anything that you can do to help would be so appreciated."
➡️ Download the WTOL 11 weather app for the latest local 10-day forecast and live radar!
➡️ Download the WTOL 11 news app for Apple here or get it in the Google store here.
➡️ Get a fresh start to your morning and wrap up your day with the latest news and your WTOL 11 Weather forecast delivered right to your inbox!
WTOL 11's Your Morning Blast and Your Evening Blast deliver stories from northwest Ohio, southeast Michigan and beyond to keep you informed.
Click here to get on the list!
Share this @internewscast.com