5.9k Share this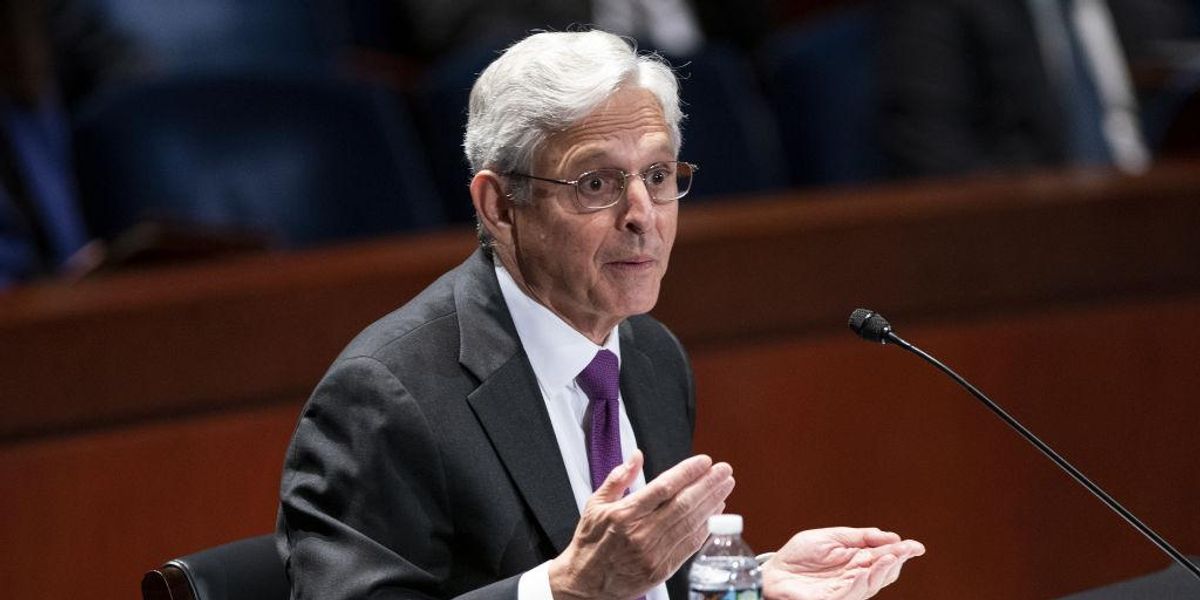 Attorney General Merrick Garland told the House Judiciary Committee on Thursday that he was not aware of the sexual assault allegations in the Loudoun County Public Schools district while facing questions on the Department of Justice's decision to investigate alleged threats of violence against school officials.
Rep. Chip Roy (R-Texas) grilled Garland on the sexual assault allegations, which were first reported by the Daily Wire. A 15-year-old gender-fluid male suspect is accused of sexually assaulting a ninth-grade girl in a restroom at Stone Bridge High School last May and then inappropriately touching another girl in a classroom at Broad Run High School in early October.
The cases are relevant because Scott Smith, the father of one of the alleged victims, was arrested and charged with disorderly conduct at a June 22 LCPS school board meeting during which the schools superintendent said there was no record of any sexual assaults occurring in school bathrooms. Smith's high-profile arrest was cited in a National School Boards Association letter to the Biden administration that asked the DOJ to investigate alleged threats of violence against school officials and likened protesting parents to "domestic terrorists."
Garland's response to that letter, announcing that the DOJ is "committed to using its authority and resources" to do as the NSBA asked, was criticized by Republicans who said the Biden administration was "weaponizing" law enforcement against parents.
During his question time, Roy recounted the facts of the alleged sexual assaults to Garland and asked if Scott Smith's behavior at the June 22 school board meeting, in light of what happened, was equivalent to "domestic terrorism."
[embedded content] Rep Chip Roy Eviserates AG Merrick Garland www.youtube.com
"Attorney General Garland, do you know where Broad Run High School is?" Roy asked, to which Garland shook his head no.
"On October 6, a mere 15 days ago, inside Broad Run High School in Loudoun County, Virginia, a young girl was sexually assaulted," Roy informed the attorney general.
He asked Garland if he was "aware [that] Loudoun County prosecutors confirmed that the boy who assaulted this young girl in Broad Run High School is the same boy who wore a skirt and went into a girl's bathroom, sodomized and raped a 14-year-old-girl in a different Loudoun County High School on May 28? Are you aware of those facts?"
"Are you aware further that the boy was arrested and charged for the first assault in July but released from juvenile detention?" Roy continued.
"It sounds like a state case, and I'm not familiar with it, I'm sorry," Garland said in response. He added that he did not know the facts of the case.
"Is the FBI or the Department of Justice investigating the Loudoun school board for violating civil rights under authority of, say, the Violence Against Women Act?" Roy asked.
"I don't believe so, but I don't know the answer to that," Garland responded.
Roy then described the events of the June 22 school board meeting, including Smith's arrest.
"The superintendent, Scott Ziegler, declared in front of the father of the girl who had been raped that the 'predator transgender student or person simply does not exist,' and that to his knowledge 'we don't have any records of assaults occurring in our restrooms,'" Roy said.
"When this statement bothered the father of the girl — I'm a father of a daughter, I believe you are too sir — the girl who had been raped, sodomized in the bathroom of a high school by a dude wearing a skirt, that father reacted," he continued.
"The victim's mother is heard on a cellphone video telling the crowd what happened," Roy said. "The victim's father is seen being arrested, bloodied, this man, this arrest of a 48-year-old plumber became the poster boy for the new domestic terrorism, the Biden administration, the administration in which you serve, has concocted to destroy anyone who gets in the way."
Roy then brought up the NSBA letter.
"Attorney General, do you believe that a father attending a meeting, exercising his First Amendment rights, and yes, getting angry about whatever lies are being told about his daughter being raped in the school he sent her to be educated in, that this is domestic terrorism, yes or no?" he asked.
"No, I do not think that parents getting angry at school boards for whatever reason constitutes domestic terrorism," Garland answered. "It's not even a close question."
Facing other questions about the case, Garland reiterated that he did not know the facts of what happened.
Source: TheBlaze
5.9k Share this