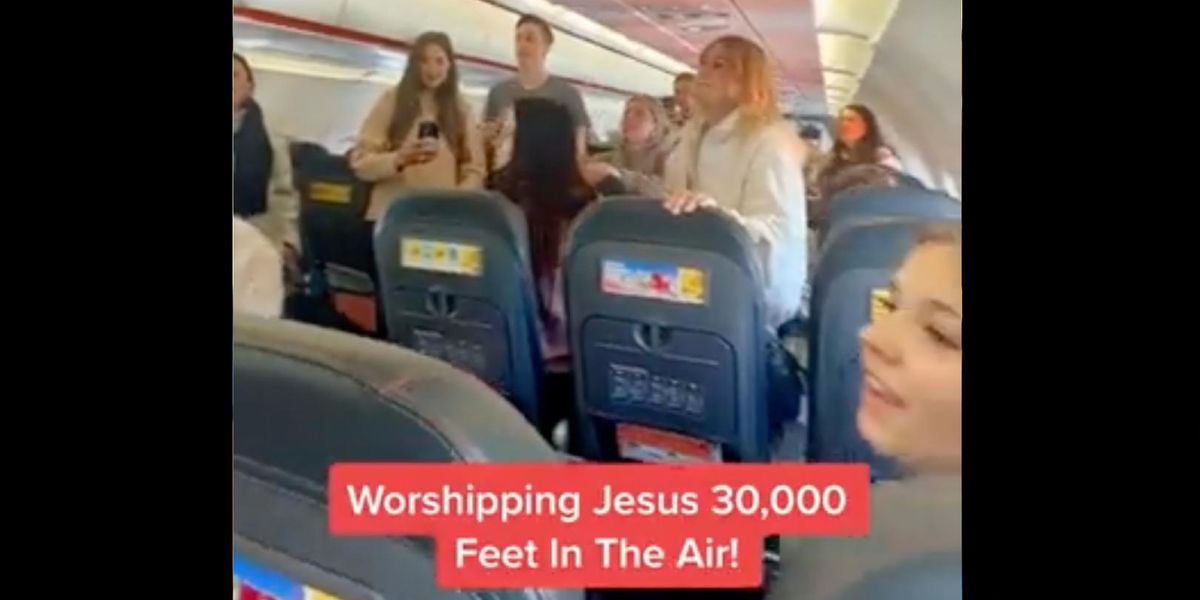 Viral video showed the moment proud Christians began worshipping on a flight from the U.S. to Germany, according to reports.
What are the details?
TMZ reported the video originated from a since-deleted Facebook post by Jack Jensz Jr., who is purported to be a pastor and founder of Kingdom Realm Ministries.
In the video, shared by Rep. Ilhan Omar (D-Minn.), two people can be seen walking the aisle of what is reported to be an EasyJet flight to Europe.
The two can be heard singing while one plays the guitar, leading others in their seats to join in on the worshipping.
According to a report from the Daily Dot, Jensz posted the same video to his Instagram page earlier this month.
"#Jesus is taking over this Flight," he wrote in the video's caption, the outlet reported.
According to TMZ, Jensz and Kingdom Realm Ministries were traveling across Europe to support Ukrainian refugees when the impromptu worship service broke out.
Jensz's wife, Lilly, appeared to corroborate the reports through her Instagram posts.
In one post, the Jenszes can be seen with a vast quantity of groceries. The photo is captioned, "Church, because of your generosity, we were able to supply a van full of medicine, food, hygiene products to two pastors who host refugees in their cities from Eastern Ukraine as well as help their congregation and city as products are impossible to get now in their area. They were overwhelmed with your generosity! We are continuing to pray for Ukraine and doing what we can to help."
What else is there to know about this?
On Saturday, Omar shared the video to Twitter and captioned it, "I think my family and I should have a prayer session next time I am on a plane. How do you think it will end?"
At the time of this reporting, Omar's tweet has received more than 21,000 comments and has been viewed more than 32 million times.
Her remarks drew heavy criticism.
"Why do you hate Christians, Ilhan?" Georgia House candidate Vernon Jones asked. "If the freedom of religion we enjoy here in America disturbs you, feel free to pack your bags and head back to Somalia, Sudan, or wherever you're from. Take your brother with you."
Former congressional candidate Buzz Patterson added, "I spent decades flying in the Middle East. We weren't even allowed to bring Bibles into the countries or worship. This sort of impromptu singing would turn into arrests and imprisonment. I'll celebrate our freedoms here. You do you"
Florida congressional candidate Jose Castillo wrote, "In America, Muslims can & do pray in public. If she wants a country where Christians aren't allowed to do the same @IlhanMN should go back to her own country.
Cicely Davis, who is running against Omar for the Minnesota seat, added, "Qatar — a country you're very familiar with — plays Islamic prayers on the intercom before takeoff on their planes. They have a designated prayer area & coordinates for Mecca are posted on the screens. It's no problem. The issue is you hate Christians & Jews & lots of Muslims."
Twitter user and filmmaker Jonathan Kołodziej Durand chimed in on the conversation and said that he witnessed the group ministering to Ukrainians earlier in the month.
He wrote, "I just spent a week volunteering at the train station in Przemysl, Poland, right across from the Ukrainian border & saw the same people there. They were playing to Ukrainian refugees stuck waiting hours for transportation, who'd just fled from the bombing of Kharkiv & Mariupol."
Source: TheBlaze