Share this @internewscast.com
British Prime Minister Boris Johnson has decided to resign, according to local media, ending an unprecedented political crisis over his future.
Johnson had rebuffed calls by his cabinet to step down in the wake of ethics scandals. He gave in on Thursday after more than 40 ministers quit his government and told him to go.
He is expected to address the nation later on Thursday.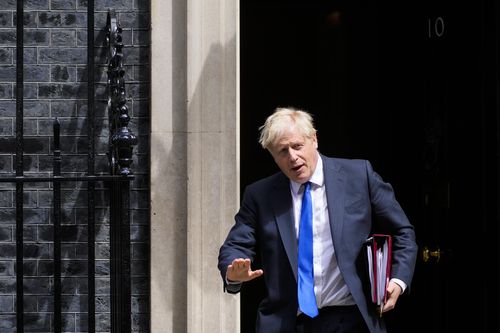 It was not immediately clear whether Johnson would stay in office while the Conservative Party chooses a new leader, who will replace him as prime minister.
Treasury chief Nadhim Zahawi was the latest to call on Johnson to resign on Thursday, just 36 hours after Johnson put him in the job.
Zahawi said Johnson knew "the right thing to do" was to "go now".
Zahawi was appointed late on Tuesday to replace Rishi Sunak, who resigned saying he could no longer support Johnson after a series of ethics scandals.
Education Secretary Michelle Donelan, who was also appointed on Tuesday following the resignation of her predecessor, announced her resignation Thursday morning.
'Desperate, deluded', but dug in his heels
Johnson has previous rejected clamours for his resignation, digging in his heels even as dozens of officials quit and previously loyal allies urged him to go after yet another scandal engulfed his leadership.
In a dramatic move on Wednesday, a group of Johnson's most trusted ministers visited him at his office in Downing Street, telling him to stand down after losing the trust of his party. Even then, Johnson had instead opted to fight for his political career and fired one of the cabinet officials, Michael Gove.
It is rare for a prime minister to cling on to office in the face of so much pressure from his cabinet colleagues. The Guardian's frontpage on Thursday called him "Desperate, deluded".
As of early on Thursday, five cabinet ministers had quit, including Donelan and Northern Ireland Secretary Brandon Lewis who told Johnson in his resignation letter that "we are … past the point of no return. I cannot sacrifice my personal integrity to defend things as they stand now".
Some 40 junior government officials have also left amid a furore over Johnson's handling of sexual misconduct allegations against a senior official that was the latest in a long line of issues that have made Conservative lawmakers uncomfortable.
"He's breached the trust that was put in him. He needs to recognise that he no longer has the moral authority to lead. And for him, it's over," Scottish National Party leader Ian Blackford told The Associated Press.
Johnson could not continue because his government did not even have ministers to attend to regular parliament business after so many resigned, Blackford added.
Share this @internewscast.com