5.9k Share this
Horse-drawn carriages will be prohibited from operating in
Melbourne's
CBD from next month.
Operators will however be permitted to work on the outskirts of the city, including the Royal Botanic Gardens and other park precincts.
Transport Minister Ben Carroll said the decision was driven by safety.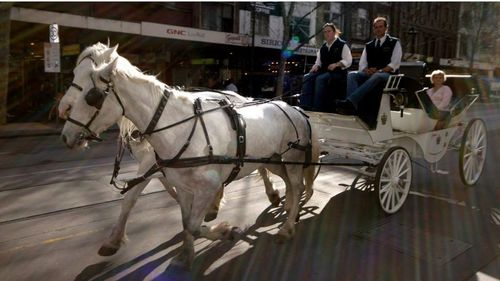 The new changes will mean that carriages will be prohibited from all roads and paths within the area bound by Flinders Street, Spring Street, La Trobe Street and Spencer Street.
"We know that the city is getting busier and busier and there are more trams than ever. We made the difficult the decision but right decision to ban horse-drawn carriages in the CBD," Caroll said.
"We're taking action to increase safety and traffic flow on Melbourne's busiest streets as people increasingly return to our city's roads and footpaths.
"The planned changes will make moving through the busy Hoddle Grid safer and easier for everyone – pedestrians, drivers, cyclists, delivery vans and trams."
The ban will come into effect from June.
5.9k Share this