Share this @internewscast.com
The blast – sparked by a huge undersea volcanic eruption – sent
tsunami
waves crashing across the shore and people rushing to higher ground in the island nation.
Zed Seseliga, Australia's Minister for International Development and the Pacific, said they had not so far heard of any Australians affected, but it was a "difficult situation."
"Given the communications in Tonga being pretty significantly impacted, our assessment of the situation is still rapidly unfolding," he said.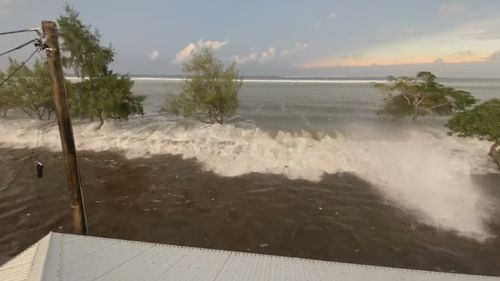 "We're getting a much information as we can from our post. There is some satellite capacity, but the situation remains quite fluid."
He said they are also preparing a humanitarian flight from Brisbane.
Prime Minister Scott Morrison has spoken to New Zealand Prime Minister Jacinda Ardern, and said Australia will send what help is needed.
"DFAT is also working to ensure Australians in Tonga are safe and accounted for," he said.
"Tonga has accepted our offer of an Australian Defence Force P8 aerial surveillance flight to assess the extent of the damage."
Patrol boats from Australia in Tonga are also over there.
The tsunami threat around other parts of the Pacific has started to recede.
Satellite images showed the spectacular eruption that took place on Saturday evening, with a plume of ash, steam and gas rising like a mushroom above the blue Pacific waters.
A sonic boom could be heard as far away as Alaska.
The eruption cut the internet to Tonga, leaving friends and family members around the world anxiously trying to get in touch to figure out if there were any injuries and the extent of the damage.
Even government websites and other official sources remained without updates on Sunday afternoon.
New Zealand Prime Minister Jacinda Ardern said there had not yet been any official reports of injuries or deaths in Tonga, but cautioned that authorities hadn't yet made contact with some coastal areas and smaller islands.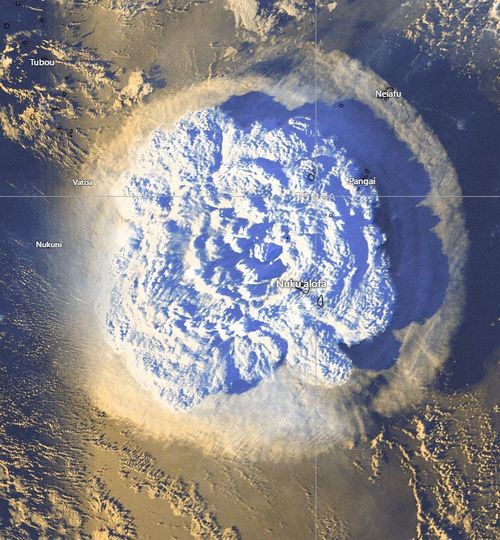 "Communication with Tonga remains very limited. And I know that is causing a huge amount of anxiety for the Tongan community here," Ms Ardern said.
She said there had been significant damage to boats and shops along the Tongan coastline. The capital, Nuku'alofa, was covered in a thick film of volcanic dust, Ms Ardern said, contaminating water supplies and making fresh water a vital need.
Aid agencies said thick ash and smoke had prompted authorities to ask people to wear masks and drink bottled water.
Ms Ardern said New Zealand was unable to send a military surveillance flight over Tonga on Sunday because the ash cloud was 19,000 metres high but they hoped to send the flight on Monday, followed by supply planes and navy ships.
Dave Snider, the tsunami warning coordinator for the National Tsunami Warning Center in Palmer, Alaska, said it was very unusual for a volcanic eruption to affect an entire ocean basin, and the spectacle was both "humbling and scary."
Most Australia alerts cancelled
Several tsunami alerts for Australia's east coast have now been cancelled.
In Australia warnings for Tasmania, Victoria and Queensland are no longer in effect, according to the Bureau of Meteorology. The warning for Macquarie Island is also no longer in effect.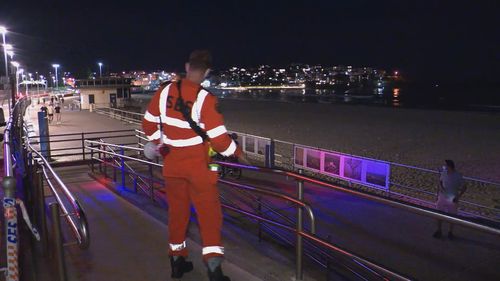 However, warnings continue for the marine environment in New South Wales, Lord Howe Island and Norfolk Island, with a wave of 1.2m recorded on Norfolk Island.
A land threat is when there is believed to be a mainland threat from inundation of the wave pushing through. A marine threat is likely to cause unusual currents and rips and is mainly a danger to anyone in the water or on the foreshore.
Tonga's King Tupou VI was evacuated by a convoy of police and military troops, according local news reports, and tsunami warnings have been issued stretching as far as Australia, including evacuations ordered on Lord Howe Island.
Just before midnight, NSW State Emergency Service ordered the evacuation of low-lying parts of Lord Howe Island.
The BoM said there was a "threat of a major land inundation, flooding, dangerous rips, waves and strong ocean currents".
The Hunga Tonga-Hunga Ha'apai volcano near Tonga erupted at 3.10pm AEDT on Saturday. Tsunami waves have already been observed.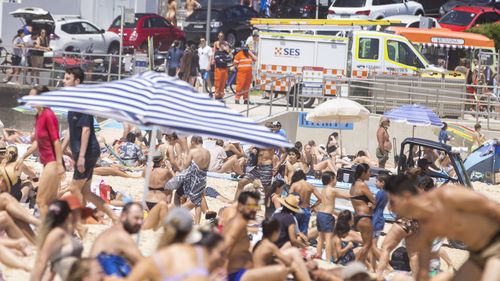 "The size of these waves means the threat is for the marine environment for the east coast of Australia, and for land on Lord Howe Island and Norfolk Island; however the situation will be closely monitored and warnings updated as required," the BoM said.
"People in land warning zones are strongly advised to move 1 kilometre inland or go to high ground at least 10 metres above sea level."
Evacuations are not necessary for marine warning zones, but people are advised to leave the water and move away from the immediate water's edge, the bureau said.
"Tsunami waves are more powerful than the same size beach waves. There will be many waves and the first wave may not be the largest."
Tsunami advisories were earlier issued for Japan, Hawaii, Alaska and the US Pacific coast. The US Geological Survey estimated the eruption caused the equivalent of a magnitude 5.8 earthquake. Scientists said tsunamis generated by volcanoes rather than earthquakes are relatively rare.
Tonga feels first effects
Video posted to social media showed large waves washing ashore in coastal areas, swirling around homes and buildings.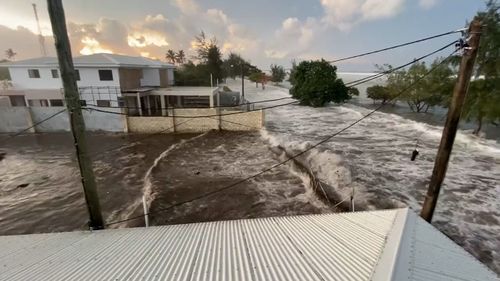 Powerful waves have been seen hitting the shores of the Pacific nation as satellite footage showed the Hunga-Tonga-Hunga-Ha'apai
volcano
erupting.
The Matangi Tonga news site reported scientists had observed massive explosions, thunder and lightning near the volcano after it started erupting.
The site said satellite images showed a five-kilometre plume of ash, steam and gas rising into the air to about 20 kilometres.
Satellite images showed a huge eruption, a plume of ash, steam and gas captured from the space rising like a mushroom above the blue Pacific waters.
The US StormWatch account described the eruption as "one of the most violent" ever captured on satellite.
The Tonga Meteorological Services said a tsunami warning was in effect for all of the archipelago, and data from the Pacific Tsunami Warning Centre showed waves of 80 centimetres had been detected.
Authorities in the nearby island nations of Fiji and Samoa also issued warnings, telling people to avoid the shoreline due to strong currents and dangerous waves. The Japan Meteorological Agency said there may be a slight swelling of the water along the Japanese coasts, but it is not expected to cause any damage.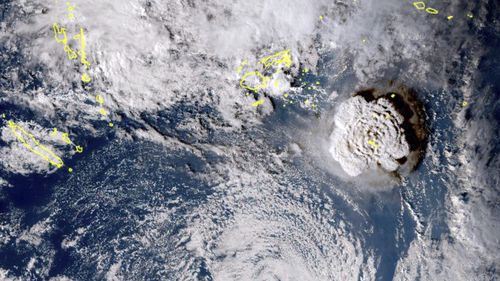 The Islands Business news site reported that a convoy of police and military troops evacuated Tonga's King Tupou VI from his palace near the shore. He was among the many residents who headed for higher ground.
The explosion of the Hunga Tonga Hunga Ha'apai volcano was the latest in a series of spectacular eruptions.
A Twitter user identified as Dr. Faka'iloatonga Taumoefolau posted video showing waves crashing ashore.
"Can literally hear the volcano eruption, sounds pretty violent," he wrote, adding in a later post: "Raining ash and tiny pebbles, darkness blanketing the sky."
Fijian TV reporter Jese Tuisinu said on Twitter at 6.40pm (4.40pm AEDT) that Tonga was "literally dark", sharing a video that showed people trying to reach safe ground.
"Any Australians concerned about people in Tonga should contact DFAT on 1300 555 135 or +61 2 6261 3305."
An emergency warning was also issued in Fiji.
In a statement Fiji's Ministerial Resources Department advised people to stay out of the water and off the shore, particularly residents living in low lying coastal areas.
In New Zealand, officials were warning of storm surges from the eruption.
The National Emergency Management Agency said some parts of New Zealand could expect "strong and unusual currents and unpredictable surges at the shore following a large volcanic eruption."
New Zealand's military has also said it was monitoring the situation and remained on standby, ready to help if asked.
The volcano is located about 64 kilometres north of the capital, Nuku'alofa. Back in late 2014 and early 2015, a series of eruptions in the area created a small new island and disrupted international air travel to the Pacific archipelago for several days.
Tonga is home to about 105,000 people.
Source: 9News
Share this @internewscast.com