Share this @internewscast.com
An explosion has occurred outside Kabul airport, where thousands of people have gathered to try to flee the country on Western airlift since the Taliban seized power earlier this month.
The Pentagon confirmed the blast on Thursday, with no immediate word on casualties.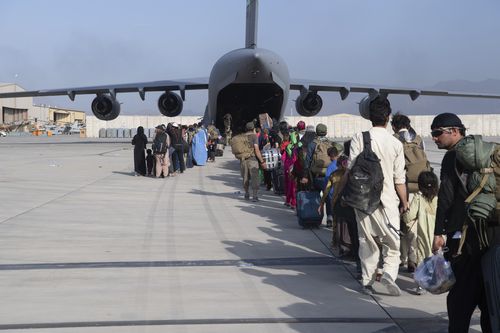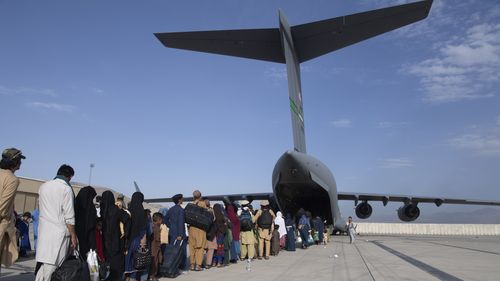 Several countries urged people to avoid the airport, where an official said there was a threat of a suicide bombing. But just days — or even hours for some nations — before the evacuation effort ends, few appeared to heed the call.
Over the last week, the airport has been the scene of some of the most searing images of the chaotic end of America's longest war and the Taliban's takeover, as flight after flight took off carrying those who fear a return to the militants' brutal rule.
Already, some countries have ended their evacuations and begun to withdraw their soldiers and diplomats, signalling the beginning of the end of one of history's largest airlifts.
The Taliban have so far honoured a pledge not to attack Western forces during the evacuation, but insist the foreign troops must be out by America's self-imposed deadline of August 31.
Throughout Thursday warnings emerged from Western capitals about a threat from Afghanistan's Islamic State group affiliate, which likely has seen its ranks boosted by the Taliban's freeing of prisoners during their blitz across the country.
British Armed Forces Minister James Heappey told the BBC early Thursday there was "very, very credible reporting of an imminent attack" at the airport, possibly within "hours".
Belgian Prime Minister Alexander De Croo said his country had received information from the US and other countries about the "threat of suicide attacks on the mass of people".
The acting US ambassador to Kabul, Ross Wilson, said the security threat at the Kabul airport overnight was "clearly regarded as credible, as imminent, as compelling".
But in an interview with ABC News, he would not give details and did not say whether the threat remained.
Shortly after, the blast was reported.
Source: 9News
Share this @internewscast.com