3.9k Share this
More than a thousand remain in Mariupol theater shelter, official says
Some civilians have emerged from the rubble of the Mariupol theater, where hundreds were seeking safety in its bomb shelter when it was leveled by a Russian attack Wednesday.
"I emphasized that 130 people have already been evacuated from the drama theater in Mariupol destroyed by the occupiers, but 1,300 people are still in the basements," Ukraine's human rights ombudswoman, Liudmyla Denisova, said in a televised address, according to a translation by NBC News. The shelter housed mostly women and children.
Around 173,500 people have been evacuated via the humanitarian corridors since the beginning of the invasion, she added.
Russian shelling in Kyiv leaves one dead, 19 injured
KYIV — Russian forces attacked the Ukrainian capital Friday, shelling residential buildings and a school in an assault that left one person dead and another 19 injured, including four children, according to the mayor of this city.
"The enemy continues to attack the capital. In the morning, a residential area in the Podil district was shelled by orcs," Kyiv Mayor Vitaliy Klitschko said in a post on Telegram, using a Ukrainian nickname for Russian troops.
The shelling hit at least six homes, a kindergarten and a school, Klitschko said.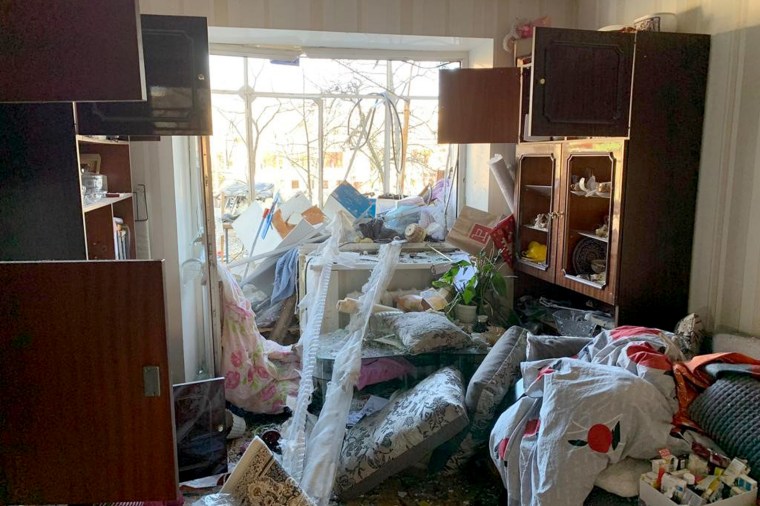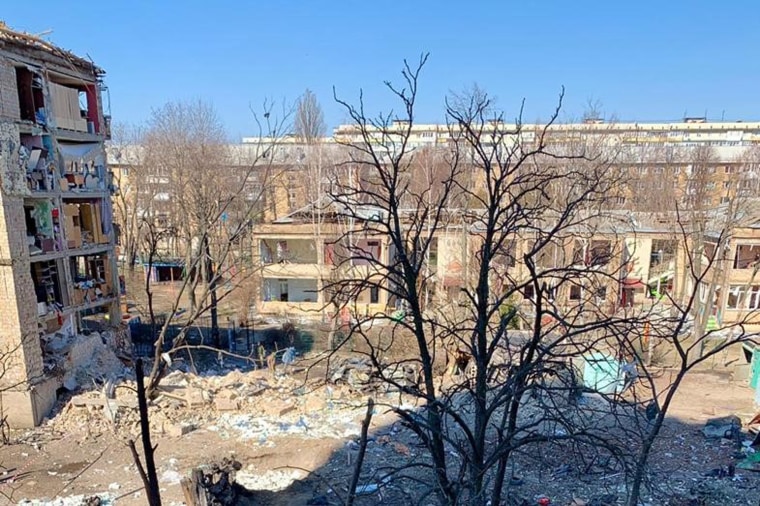 NBC News surveyed the aftermath, encountering dazed civilians whose morning routines were violently interrupted by Russia's latest attack. In one apartment, a sink was covered in blood; more stains by the door were probably left by a person rushing out of the unit.
"I have no home now, and nowhere to live," said a woman named Ala. "Where are we to go?"
Richard Engel reported from Kyiv and Daniel Arkin reported from New York.
3.1 million refugees fled Ukraine, 13 million more affected, U.N. says
More than 3 million refugees have fled Ukraine with around 13 million affected in the hardest hit areas of the country, United Nations High Commissioner for Refugees (UNHCR) said on Friday.
"The pace and magnitude of the internal displacement and refugee exodus from Ukraine, as well as resulting humanitarian needs, will only increase if the situation deteriorates," said UNHCR spokesperson Matthew Saltmarsh in a press briefing in Geneva.
The agency appealed to neighboring countries to keep their borders open for those fleeing the war. In the cities of Mariupol and Sumy, residents are facing "critical and potentially fatal shortages of food, water and medicines," he said.
"Targeted attacks on civilians and civilian infrastructure and lack of safe passage" pose serious threats to the lives of thousands of civilians, he said. Russia has repeatedly denied targeting civilians. NBC News has not been able to independently verify the figures.
More than hundred children killed since the invasion began, Ukrainian officials say
Since the beginning of the Russian invasion, 109 children have died and more than 130 have been injured, Ukraine's Prosecutor General Office said on Friday.
The capital city of Kyiv recorded the death of 55 children while the causalities in the areas of Kharkiv, Donetsk, Chernihiv, Mykolaiv, Zhytomyr, Sumy and Kherson continue to grow.
"In addition, bombings and shelling by Russian troops damaged more than 439 educational institutions, 63 of which were completely destroyed," it said. Russia has repeatedly denied targeting civilians.
NBC News has not independently verified those numbers.
Italy offers to rebuild Mariupol theatre after bombing by Russia
Italy's culture minister said the country is willing to rebuild the theatre in Mariupol after it was destroyed by the Russian military. Hundreds of residents were seeking refuge in the theatre complex when it was hit Wednesday.
Democrats link Ukraine's democracy struggle to one closer to home
WASHINGTON — Top Democrats are drawing parallels between the existential fight for democracy in Ukraine and the struggle to protect American democracy, citing the war to reaffirm their desire for new guardrails around institutions like free and fair elections.
"I'm hoping that seeing the Ukrainians come under attack because they're a democracy and defend their country so bravely because they believe in democracy increases faith in ours here at home," Rep. Colin Allred, D-Texas, said in an interview. "I feel very strongly that we've had, really, an unprecedented period of questioning our own small-d democratic values and, culminating in January 6, an attempt to overthrow a presidential election here.
"The best thing we can do for the world is to present an example of a functioning democracy at a time when, around the world, autocracies are on the rise and are literally attacking democracies like in Ukraine," Allred said, suggesting that the death and destruction inflicted by Russian leader Vladimir Putin will give pause to Americans who may want to "put our faith in a strongman."
Read the full story here.
U.S. soldiers alive, despite Russian 'fake news' report, military says
Three current and former members of the Tennessee National Guard falsely identified in a Russian media report as mercenaries who were killed in Ukraine are in fact alive and well, the Tennessee National Guard has said.
The report published in Russia's Pravda newspaper had identified the Americans by name and gave military ranks for each of them, citing information from pro-Russian militia in Ukraine's Donetsk.
However, the Tennessee Guard said in a statement: "They are accounted for, safe and not, as the article headline erroneously states, U.S. mercenaries killed in Donetsk People's Republic."
Read the full story here.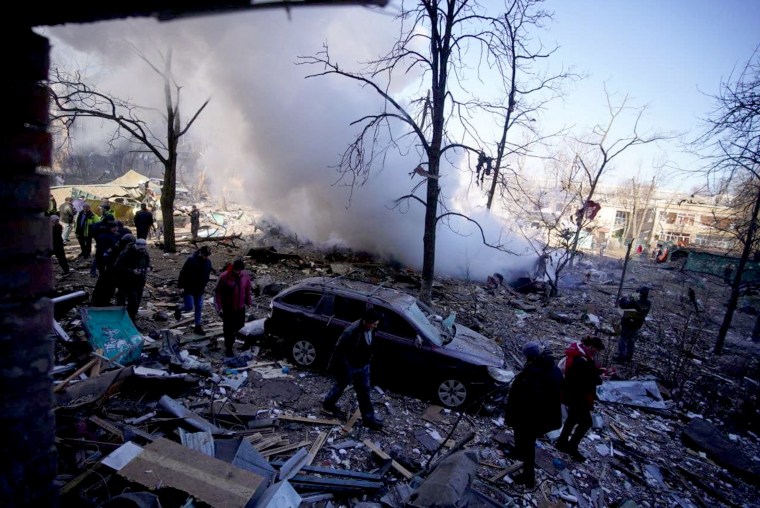 Japan adds to sanctions against Russian individuals and organizations
Japan has announced additional sanctions against 15 Russian individuals and nine organizations, the foreign, trade and finance ministries said in a joint statement on Friday.
That raises the total number of those sanctioned to 76 individuals and 12 organizations in Russia. These include Russia's deputy ministers of defense and foreign affairs spokesperson Maria Zakharova.
Major defense companies such as the Rosneft Aero, the aviation fuel supplier, and United Aircraft Corporation, which created the MiG-35 jet, were among those sanctioned.
U.K. revokes RT's ability to broadcast in the nation
U.K. media regulator Ofcom on Friday revoked the broadcasting license of Russian state-backed news channel RT, effective immediately.
The channel has not been broadcasting in the U.K. due to sanctions placed on Russian entities.
"Today's decision comes amid 29 ongoing investigations by Ofcom into the due impartiality of RT's news and current affairs coverage of Russia's invasion of Ukraine," Ofcom said in a statement.
"We consider the volume and potentially serious nature of the issues raised within such a short period to be of great concern — especially given RT's compliance history, which has seen the channel fined £200,000 for previous due impartiality breaches."
Ofcom also cited a Russian crackdown on "any independent journalism that departs from the Russian state's own news narrative, in particular in relation to the invasion of Ukraine."
RT called Ofcom "nothing more than a tool of government."
Biden and Xi to hold call as U.S. steps up pressure on China
U.S. President Joe Biden will hold a phone call with his Chinese counterpart, Xi Jinping, on Friday as Washington raises concerns over China's growing ties with Russia.
The direct talks, which are the first between the two leaders since November, will be held at 9 a.m. ET. On Thursday, U.S. Secretary of State Antony Blinken said Biden "will make clear that China will bear responsibility for any actions it takes to support Russia's aggression, and we will not hesitate to impose costs."
Beijing has so far avoided direct condemnation of the Russian invasion and has criticized the wide-ranging sanctions imposed on Moscow by the West. Some U.S. lawmakers have raised the idea of sanctioning China as well if it is found to be supporting Russia's war effort.
"China opposes all forms of unilateral sanctions and 'long-arm jurisdiction' by the U.S.," Chinese Foreign Ministry spokesman Zhao Lijian said at a news briefing on Wednesday. "We will resolutely defend the legitimate rights and interests of Chinese companies and individuals."
"If the U.S. insists on having its own way, China will definitely take strong countermeasures," he added.
India reportedly bought 3 million barrels of oil from Russia
India has reportedly bought 3 million barrels of crude oil from Russia, according to the Associated Press.
Eighty-five percent of oil in India is imported, and the country is under strain to meet demand domestically. Russia reportedly offered India a discounted price of 20 percent below global benchmark prices, according to the AP.
"India imports most of its oil requirements. We are exploring all possibilities in the global energy market. I don't think Russia has been a major oil supplier to India," Minister of External Affairs Arindam Bagchi told Associated Press reporters about the sale.
Countries including the U.S. have called on India to suspend trade relations with Moscow and to condemn Russia's invasion of Ukraine. Earlier this month, India abstained from a United Nations vote censuring Russia.
"Think about where you want to stand when history books are written at this moment in time. Support for Russian leadership is support for an invasion which has a devastating impact," White House Press Secretary Jen Psaki said after earlier reports of India buying discounted oil.
Australia imposes new sanctions, targets two Russian oligarchs
The Australian government has imposed sanctions on 11 Russian organizations, as well as two billionaires with business links to the country, officials said.
The Russian National Wealth Fund and the Russian Ministry of Finance join the list of the Russian banks sanctioned by Australia, Minister for Foreign Affairs Marise Payne said in a written statement Friday.
Billionaires Oleg Deripaska and Viktor Vekselberg also join the list of more than 40 oligarchs and their immediate family members targeted by sanctions and travel bans, Payne said. Deripaska, an industrialist, was one of the seven prominent oligarchs whose assets were frozen and movement restricted last week by the U.K. government over the ongoing conflict.
"We will continue to move with partners on coordinated sanctions, and to constrain funds for President Putin's unlawful war," Payne said.
Several missiles hit near Lviv airport, mayor says
Several missiles destroyed buildings at an aircraft repair facility near the airport in the Ukrainian city of Lviv, the mayor said. There were no immediate report of casualties.
The missiles did not strike the airport itself, the mayor said Friday through his Telegram channel.
The information was preliminary, and more details were not immediately clear. NBC News has not independently confirmed the attack.
The mayor said rescuers and other personnel were headed to the site, but that there was no work being done at the repair facility at the time of the attack.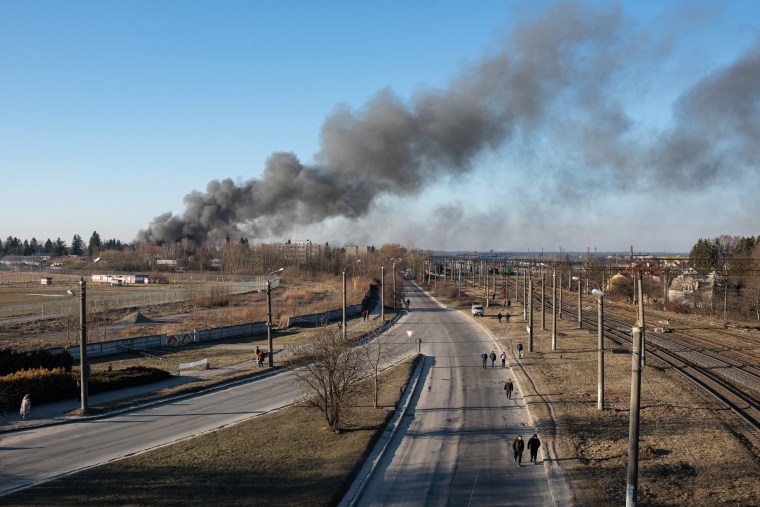 An air alarm was sounded in Lviv at about 6:08 a.m., and at about 6:25 a.m. three explosions were heard on the outskirts of the city.
Lviv is in western Ukraine, around 40 miles from the border with Poland. Russia recently launched a series of strikes in the western part of the country, including a missile attack early Sunday that killed 35 people.
90 percent of Mariupol is destroyed, Ukraine defense ministry says
The southern port city Mariupol has been 90 percent destroyed amid incessant shelling and advances by Russian troops, Ukraine's defense ministry said Friday.
The besieged city is bearing the brunt of Russian strikes with no electricity, gas or heat with temperatures dropping to 22 degrees Fahrenheit.
The ministry has accused Russia of keeping the residents hostage by blocking agreed-upon humanitarian corridors in the city, with people struggling to find safe shelters.
This week, a Mariupol theater where people were seeking shelter was hit by a Russian airstrike. Satellite images from the U.S. government-linked technology firm Maxar appeared to show the word "CHILDREN" written outside the building in large white letters.
It was unclear how many people were in the building, but officials said Thursday that the shelter held up.
Two dead, more than 20 homes destroyed in Luhansk region, officials say
At least two people were killed, four others were injured, and more than 20 homes were destroyed in Russian attacks in the Luhansk region overnight, the local administration said Friday.
The homes were destroyed in attacks against the cities of Severodonetsk and Rubizhne, which are near each other in the eastern region of Luhansk, the Luhansk Regional Administration said.
NBC News has not independently confirmed the attack.
The administration said Russian artillery fire and other weapons were used against civilian areas Thursday night into Friday local time. Russia has denied targeting civilians.
The latest developments on the war between Russia and Ukraine
If you're catching up from yesterday, here are the latest developments:
The House passed legislation Thursday that would suspend normal trade relations with Russia, a move designed to further isolate Moscow's economy in response to President Vladimir Putin's war in Ukraine. The measure passed 424-8, with all opposition coming from Republicans.
American basketball star Brittney Griner, who is being detained in Russia, is doing OK and has regularly seen her legal team, a person close to the situation said. Griner's detention was extended until May 19, Russian state media TASS reported Thursday.
Russia's U.N. ambassador says he is not asking for a vote Friday on its resolution on the humanitarian situation in Ukraine, which has been sharply criticized by Western countries for making no mention of Russia's responsibility for the war against its smaller neighbor.
Source: This post first appeared on NBC News
3.9k Share this