Share this @internewscast.com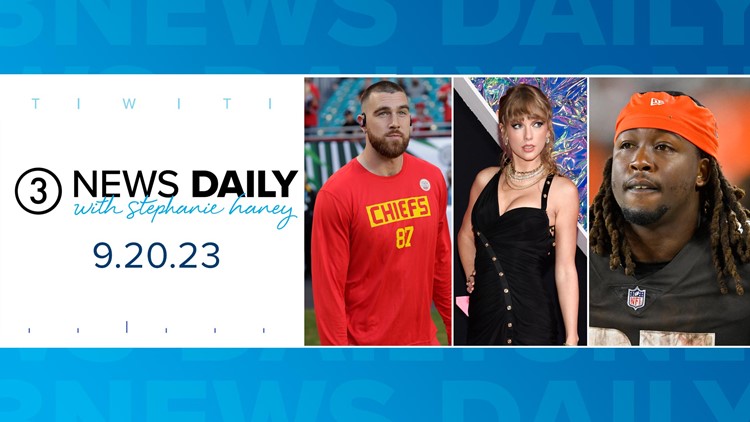 On 3News Daily, Stephanie Haney shares the details from today's most-read stories on WKYC.com and the WKYC app
CLEVELAND —
New on 3, get the latest information on what's happening across Northeast Ohio on Wednesday, September 20, 2023, on 3News Daily with Stephanie Haney.
The Cleveland Browns have signed Kareem Hunt to reported 1-year deal at running back to cover for Nick Chubb after his season-ending injury. 
Plus, Cleveland Heights native NFL player Jason Kelce fuels rumor that his Kansas City Chiefs player brother Travis is dating Taylor Swift. We also share the Cavaliers' statement about Koby Altman's arrest for OVI. 
In other news, we share who was arrested for the death of his former girlfriend, share non-union worker safety concerns at Cleveland Clinic Lutheran Hospital, and fill you in on layoffs in Newburgh Heights. 
Then, we look at new legislation to help cut down on pet surrenders based on landlord rules, tell you when Nighttown will reopen, and more on 3News Daily. 
Get the details on 3News Daily with Stephanie Haney, by watching the video below:


Watch our special on the United Auto Workers strike here:


Watch Stephanie Haney's Legally Speaking specials and segments here:
Catch the highlights from each day's most-read stories on wkyc.com, Monday through Friday, on 3News Daily with Stephanie Haney. 
Watch live on TV on 3, NBC News NOW and Peacock each weekday at 3 pm during NBC News Daily, and stream the extended version of 3News Daily every weekday afternoon on the WKYC+ app, which you can download for free on your Roku and FireTV.
RELATED: Cleveland Browns sign RB Kareem Hunt to 1-year deal following Nick Chubb's season ending injury
RELATED: Cleveland Cavaliers release new statement following Koby Altman's arrest
Share this @internewscast.com