Share this @internewscast.com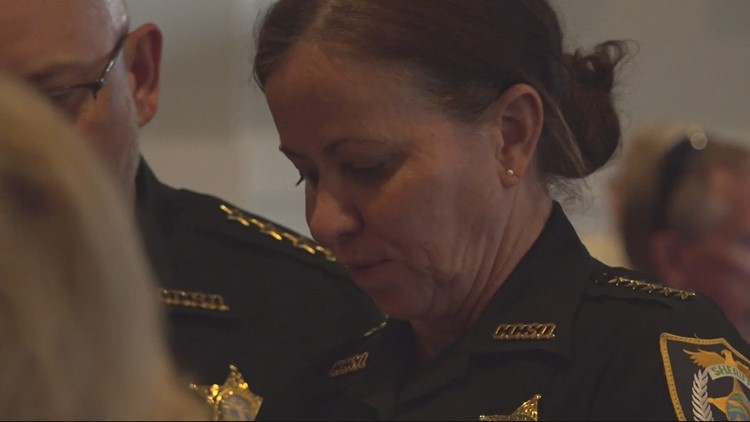 Sheriff Michelle Cook gave crime statistics for 2022 to members of the sheriff's neighborhood engagement team.
CLAY COUNTY, Fla. — Sheriff Michelle Cook says violent crime is trending downward in Clay County. 
She compiled numbers from past years, including sexual batteries.  In 2017 there were 17 sexual battery incidents in Clay County. In 2022 there were 4.
In 2017 there were 3.07 violent crimes per 1,000 citizens. In 2022 there were 2.22, according to Cook. 
"As the community continues to grow as our county continues to grow, I'm committed to keeping those numbers down and I know the men and women that are here in uniform are committed to that. But this was really exciting information because I was for sure our numbers had shot up last year. So super excited," Cook said.
Cook shared the numbers at the Sheriff's Neighborhood Engagement Team's (NET) monthly meeting. 
The Sheriff's NET meets with deputies once a month to discuss crime trends and crime prevention strategies. 
"It's good to know who's patrolling your area and for me it's nice to know what type of crimes we're having in the neighborhood, how they're bring handled and things that I should look out for as a citizen," Middleburg resident, Chuck Bergman, said. 
"It's really nice to see them interact and the population growing and how well they do in control of the violence and crime and what not it's actually pretty amazing to me," Oakleaf resident, Tara Griffith, said.
The next Sheriff's NET meeting is July 13 at the Sacred Heart Catholic Church in Fleming Island. 
More information on the program and meeting schedule can be found here.
Share this @internewscast.com