Share this @internewscast.com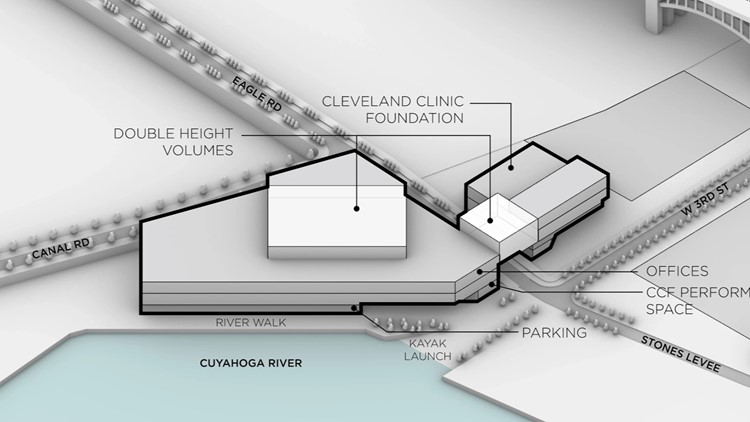 The Cleveland Clinic Global Peak Performance Center will be located on the Cuyahoga Riverfront.
CLEVELAND — The Cleveland Cavaliers, Bedrock and Cleveland Clinic have announced plans for a new performance center in downtown Cleveland. 
Cleveland Clinic Global Peak Performance Center, which is described as a "first-of-its-kind" sports performance center and training facility, will be located on the Cuyahoga Riverfront downtown. 
"This past December, Bedrock unveiled its visionary and ambitious Cuyahoga Riverfront Master Plan that will transform Cleveland's riverfront into one of the world's premier waterfronts," said Dan Gilbert, Cleveland Cavaliers Governor and Bedrock Chairman. "With today's announcement, we are taking the first step in realizing that vision by joining forces with Cleveland Clinic to design an innovative Cleveland Clinic Global Peak Performance Center right in Downtown Cleveland. This center will not only serve our team on and off the court, but it will create an opportunity for the everyday athlete to receive state-of-the-art care in Northeast Ohio." 
The new center aims to be a top-notch landing place for athletes of multiple sports., which will also offer personalized expertise in training, treatment, nutrition and recovery from Cleveland Clinic's professional medical specialists. 
"Our vision for the Cleveland Clinic Global Peak Performance Center is to serve as more than just a practice or training facility. By creating a sustainable hub of resources to serve our players, we have an opportunity to retain and attract the league's top talent, strengthen the life-span of their careers, and help them reach their highest potential. These plans represent a substantial investment in the Cleveland Cavaliers' Championship Culture." said Koby Altman, President of Basketball Operations for the Cleveland Cavaliers. 
"After over 30 years of partnership with Cleveland Clinic, the proposal for the Peak Performance Center represents the most ambitious project our organizations have ever contemplated. We have an opportunity to create an exciting project together that will impact our region for years to come," said Nic Barlage, Cleveland Cavaliers, Rock Entertainment Group, and Rocket Mortgage FieldHouse CEO.
Share this @internewscast.com