Share this @internewscast.com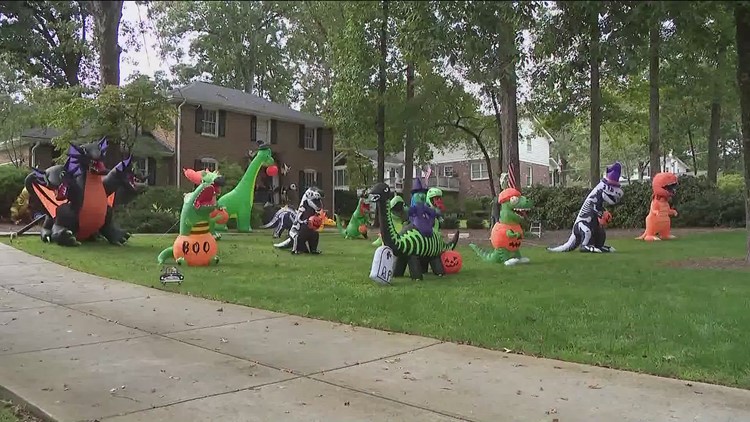 DUNWOODY, Ga. — Drive past the yard of Lisa Torres in Dunwoody and you might feel like you've been transported back 65 million years ago.
Since 2020, her display has been a popular attraction among local residents, changing with the seasons as the prehistoric figures don Santa hats, hold pumpkins, celebrate birthdays and even wave American flags. In 2021, Torres started adding inspirational sayings to the yard in hopes of further spreading the positivity.
Torres estimates she now has more than 100 of the inflatable dinos. 
"They're no longer mine," Torres said. "They're Dunwoody's dinosaurs."
However, a recent complaint almost caused an extinction-level event, with the city of Dunwoody ordering that the dinosaurs come down by Wednesday, Sept. 20 as their presence violated the sign code.
"Today is very symbolic," Torres said as she looked at her newly decorated yard, now with Halloween dinosaurs. "Because today is actually the day we were supposed to take them down."
The City sent a statement saying:
"In response to an email complaint sent to the city on August 31, the homeowner was given a courtesy notice by code enforcement indicating the inflatables in the yard violate Dunwoody's sign code. This was done on September 5. In response to this case, city leaders have asked staff to review the sign code and consider possible modifications. To allow more time for that review, the compliance date has been pushed back from Sept. 20 to Oct. 20.
Dunwoody's sign ordinance remains under staff review. These issues are complex, so we need time to get it right and avoid unintended consequences."
Mayor Lynn Deutsch also spoke about the issue at a recent council meeting, saying she was thrilled to see the level of community engagement and said the City is working on a solution.
Like they say in the movie "Jurassic Park," life finds a way.
Torres soon found support from her own neighbors who didn't want to see her project go the way of the dodo.
"The community wasn't ready. So, they took the reins. They created a movement. They spoke up. They stood up for me, for my family, and for them," Torres. said. "And the City heard them. So they decided to give us an extension, and they're working on a permanent solution to allow us to stay."
Along with reaching out to city officials, residents started a petition on change.org asking for the city to modify the ordinance.
Some of the neighborhood is also showing support for the dinosaurs by putting their own inflatable dinos in their yards.
"We're a lot stronger when we unite, when we work together," Torres said. "Especially for a good cause and for a kind cause that doesn't harm anybody, if anything it's just trying to bring a little free joy."
Torres said, as of now, she is staying hopeful the dinosaurs will be here to stay.
Share this @internewscast.com