5.9k Share this
Good morning, and welcome to our rolling coverage of the world economy, the financial markets, the eurozone and business.
UK firms have missed out on a rebound in trade with Germany last year, as Brexit frictions and the pandemic continue to weigh on the economy.
New data from the Federal Statistical Office shows that imports from the UK into Germany tumbled by 8.5% during 2021, the first year since the Brexit free trade deal was agreed in late December 2020, to €32.1bn.
But other countries did much better. Total goods imports into Germany surged by 17.1% during the year to €1,202bn, as the easing of lockdown restrictions and vaccine rollouts spurred the global economic recovery last year.
That included a 16.8% rise in imports from Germany's fellow European Union members, and a 20.8% rise in imports from China last year.
In December alone, German imports from the UK were down 18.2% year-on-year — as there was a rush of stockpiling in December 2020 as firms prepared for possible Brexit disruption.
The EU introduced checks on goods from Britain entering the bloc as soon as the Brexit deal came into effect, with experts warning that UK firms were losing their competitiveness.
The UK delayed its checks on goods coming in until 2022. But even so, German exports to the UK fell by 2.6% during 2021, to €65.4bn. Total German exports rose by 14% in the year, even as the pandemic continued to cause disruption to global supply chains.
Destatis says:
Compared with the same month last year, exports to the United Kingdom dropped by 7.6% to 5.0 billion euros in December 2021. Imports from the United Kingdom were down 18.2% to 2.6 billion euros.
In contrast, Germany's exports to the US jumped by 18.0% during 2021, as the recovery in America's economy spurred demand for industrial supplies, machinery and consumer goods.
This chart shows the details: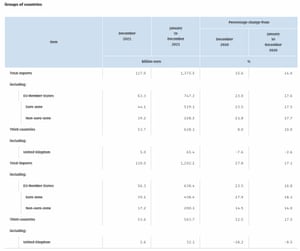 Destatis also reports that overall German exports were up by 0.9% month-on-month in December, with imports rising 4.7% compared with November 2021.
After calendar and seasonal adjustment, exports were 6.8% and imports 23.5% higher than in February 2020, the month before restrictions were imposed due to the Covid-19 pandemic in Germany.

In 2021 as a whole, exports increased by 14.0% and imports by 17.1% compared with the previous year. Exports were 3.6% and imports 8.9% above the level of the pre-Covid year 2019.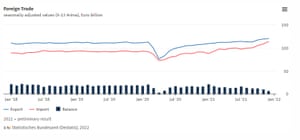 This data rather chimes with the message from a group of MPs this morning, that the main impact of Brexit on UK firms had been "increased costs, paperwork and border delays".
There could be worse to come as new import controls are introduced.
The cross-party Public Accounts Committee (PAC) reported that Brexit red tape has damaged Britain's trade with the EU. The situation could worsen unless the government works with Brussels to reduce hold-ups at UK ports
German factories have also been hit by the supply chain crisis, so will be hoping the EU's new multi-billion chip production plan can help them.
The €43bn scheme aims to overcome Europe's dependency on Asian computer chip makers, as governments and businesses around the world battle shortages that experts believe could persist for much of the year.
We'll hear from Huw Pill, the Bank of England's chief economist, later when he speaks at the Society of Professional Economists annual conference, on the "UK Monetary Policy Outlook."

European markets have open higher, with the FTSE 100 near a two-year high.
Some commodity prices are also under pressure, with aluminium hitting its highest since 2008 on Tuesday.
The agenda
9am GMT: Italian industrial production report for December
Noon GMT: US weekly mortgage applications
1.10pm GMT: Bank of England chief economist Huw Pill speech: 'UK Monetary Policy outlook"
3.30pm GMT: EIA weekly oil inventory figures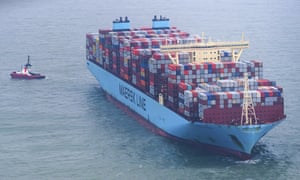 The world's biggest shipping company has reported record profits, thanks to surging demand from a rebounding global economy.
Denmark's A.P. Moeller-Maersk says 2021 was its most profitable year yet. It made pre-tax profits of $18.73bn last year, up from $3.3bn in 2020.
Revenues surging 55% to $61.8bn, with an 'unprecedented' performance at its Ocean, Logistics & Services and Terminals divisions as they battled supply chain bottlenecks.
It benefitted from the jump in freight rates, as customers battled to get goods shipped around the world due to high demand and global supply chain disruption.
Shareholders profited too, with $3bn of share buy-backs and dividends in 2021.
A.P. Moeller- Maersk also predicted that 2022 would be strong, with the shipping situation expected to return to normal early in the second half of this year.
Søren Skou, CEO of A.P. Moller – Maersk, says:
Exceptional market conditions led to record-high growth and profitability in A.P. Moller – Maersk, however it also led to supply chain disruptions and severe challenges for our customers.

We spent tremendous efforts in mitigating bottlenecks by expanding capacity across Ocean, improving productivity in Terminals and growing our global logistics footprint. We will continue these efforts as we see the current market situation persist into Q2.

At the same time, we see conversations with customers change from procurement-led freight rate discussions to more holistic conversations on how we truly partner to keep supply chains running end-to-end. This clearly validates our strategy.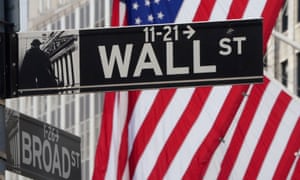 Stocks have opened higher on Wall Street, as investors regain their risk appetite after last month's wobbles.
The Dow Jones industrial average of 30 large US stocks has gained 0.7%, or 271 points, to 35,734. Nike (+2%), Visa (+2%), American Express (+1.5%) and Microsoft (+1.5%) are the top Dow risers.
Both the broader S&P 500 and the tech-focused Nasdaq Composite are both up 1%.
Every sector is higher, led by real estate, materials and firms providing discretionary goods and services to consumers.
Craig Erlam, senior market analyst at OANDA, says confidence is building as investors come to terms with interest rates rising soon.
It's hard to pinpoint exactly what has changed; whether it's earnings that are lifting the mood or the soothing tones of central bankers desperately trying to manage expectations. Perhaps it's simply a case of investors coming to terms with the tightening environment and feeling more comfortable with it.

Whatever the reason, investors certainly appear encouraged by the fact that the falling knife period looks to be in the rear-view mirror and we're now seeing signs of stabilization. In recent week's we've also seen periods of aggressive selling being bought into which has helped create the impression that the worst is behind us.

Of course, that could change quickly if the inflation outlook worsens, as has repeatedly been the case in recent months. And we won't have to wait long for the next hurdle on that front, with the US CPI data being keenly anticipated tomorrow.
Rising borrowing costs are hitting demand for mortgages in the US.
Mortgage applications to purchase a home dropped 10% last week, and were 12% lower than a year ago, according to the Mortgage Bankers Association.
Joel Kan, MBA's associate vice president of economic and industry forecasting, says the increase in borrowing costs is hitting demand.
"Mortgage rates followed the U.S. 10-year yield and other sovereign bonds as the Federal Reserve and other key global central banks responded to growing inflationary pressures and signaled that they will start to remove accommodative policies,
Those higher rates are deterring people from refinancing loans — the MBA's Refinance Index decreased 7 percent from the previous week and was 52 percent lower than the same week one year ago.
Low supply of homes is also hurting mortgage take-up.
Huw Pill is also worried that taking unusually large policy steps (such as large interest rate hikes, or cuts) could validate the narrative that the Bank is either slamming its foot on the accelerator, or the brake.
This narrative was fuelled by the (perhaps necessarily) activist responses to the onset of global financial crisis and pandemic. It is not unique to the UK.
But he then explained that there are occasions when aggressive action is needed.
BoE chief economist Huw Pill also says he is "sceptical of efforts" to return interest rates to a pre-defined neutral rate (where borrowing costs are neither stimulating nor restricting the economy).
Given the inevitable conceptual and empirical uncertainty, he says, it risks mis-calibrating monetary policy by picking the wrong value for r*.
The Bank of England's chief economist says that a 'steady handed' approach to interest rates is the best policy, given uncertainty over inflation, wage growth, and the energy crisis.
In a speech titled "Monetary policy with a steady hand", Huw Pill explain that international energy and goods prices are driving UK headline inflation higher, having "repeatedly surprised to the upside" in the last year.
This has put the Bank's Monetary Policy Committee in the "current, very uncomfortable position" of predicting inflation will peak over 7% in April, he tells the Society of Professional Economists conference.
Those higher prices are also hitting UK real national income. Should they stabilise, then their impact on inflation will dissipate.
Should they fall slowly in line with futures prices, inflation is forecast to fall below the 2% target by a meaningful margin at the policy-relevant horizon.
But, Pill warns, there is considerable uncertainty:
With the pandemic giving way to geopolitics as the driver of international energy prices, they are unlikely to become easier to forecast.
And on wages, Pill says the Bank now sees underlying wage growth approaching 5% this year, as the labour market continues to tighten.
The BoE's 'big call' is that the stronger momentum in domestic wage and cost growth will ease beyond this year, as headline inflation falls and unemployment rises as energy prices hit incomes and economic demand.
On that basis, Pill says, the easing of domestic inflationary pressures is achieved without the UK falling into recession, cautioning:
But, by nature, it is also a call surrounded by uncertainty.
Pill explains that if inflationary pressures ease, interest rates could stay lower for longer. But if there are signs of energy price driving up wage settlements, the Bank could tighten policy faster.
Under our baseline paths for wages and energy prices, our published scenarios suggest that leaving Bank Rate unchanged at 0.5% indefinitely would – unsurprisingly – leave inflation above our 2% target at the policy-relevant horizon, whereas following the market-implied path to 1.2% by the end of this year would have left inflation somewhat below target.

I leave it to you to draw any implications for where the MPC sees the path of Bank Rate headed. But I would emphasise that these scenarios, by nature, embody the underlying assumptions about energy prices and wage developments that I have discussed.

Since the outlook for wages and energy prices is uncertain as I have emphasised, then the prospective path for Bank Rate is also uncertain. Were we to see evidence of second round effects in wage and cost developments, a tighter policy than otherwise might be required.

Were energy prices to fall steadily in line with futures rather than stabilise as we assume, then – other things equal – more policy accommodation could be maintained.
Given all this uncertainty, Pill argues, he voted for a 25-basis point interest rate rise last Thursday, which raised Bank Rate from 0.25% to 0.5%.
But four of the nine MPC members wanted a steeper hike, to 0.75%, and were only narrowly outvoted.
Pill says there may be occasions when monetary policy actions are needed:
Recent history is littered with them: the global financial crisis and onset of the pandemic are cases in point. I would certainly not wish to rule out changes in Bank Rate of more than the usual 25bp in all circumstances.

And given the inflationary pressures we currently face, I can certainly understand why colleagues on the MPC voted for a 50bp hike last week.
But right now, Pill concludes that "a case can be made for a measured rather than activist approach to policy decisions".
On the Amazon news, Reuters points out that the Groceries Supply Code of Practice applies to retailers with an annual turnover of more than £1bn in grocery sales.
Amazon does not break out figures for its UK grocery sales, so its designation under the code publicly confirms for the first time that its sales have crossed the 1 billion pound threshold.

The code ensures grocers treat suppliers fairly. It restricts firms from making changes to supply contracts at short notice and also requires retailers to give an appropriate period of notice if they no longer want to use a supplier and provide reasons for ending the contract.

All of Britain's major supermarket groups, including market leader Tesco, Sainsbury's, Asda and Morrisons, are subject to the code.
The UK's competition watchdog has announced that industry rules setting out how grocery retailers should treat their suppliers will now apply to Amazon.
The Competition and Markets Authority has designated Amazon as a grocery retailer to protect suppliers, due to its increasing activity in the UK groceries' sector, through its Amazon Fresh home delivery service and stores, and Fresh & Wild Limited service.
Adam Land, senior director for remedies, business and financial analysis at the CMA, said:
"Households across the UK are increasingly using Amazon to buy food and other essential items. Today's decision to designate Amazon helps to ensure a level playing field for companies active in the groceries sector as people's buying habits evolve.

"These rules mean that the thousands of companies supplying Amazon with groceries are now protected from potential unfair business practices.

"We'll continue to keep a close eye on the sector to make sure all major grocery retailers are bound by the same rules."
British households' confidence in their financial outlook has fallen to its lowest in eight years, as the cost of living crisis hits.
Polling company YouGov and economic consultancy Cebr have reported that consumer confidence dropped this month to the lowest since last March, as people worry about rising prices, tax increases and their job security.
The index of households' expectations for their financial situation in 12 months' time tumbled by 4.5 points to 79.1, the lowest since October 2013.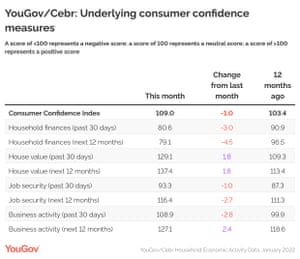 The drop in consumer confidence highlights the impact of the rising cost of living on household sentiment, says Sam Miley, senior economist at Cebr:
Away from the headline indicator, consumers' assessment of their finances over the coming year provides for a particularly stark reading – reaching a near nine-year low. Rising inflation and the planned uplift to National Insurance contributions are just two likely factors behind this weaker outlook.

This sentiment is also mirrored in Cebr's latest forecasts, with real disposable incomes expected to fall year-on-year and the household savings ratio set to narrow significantly."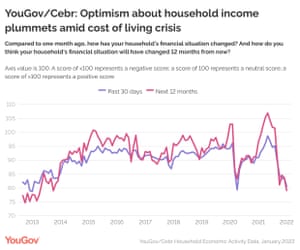 Source: This post first appeared on The Guardian
5.9k Share this