Share this @internewscast.com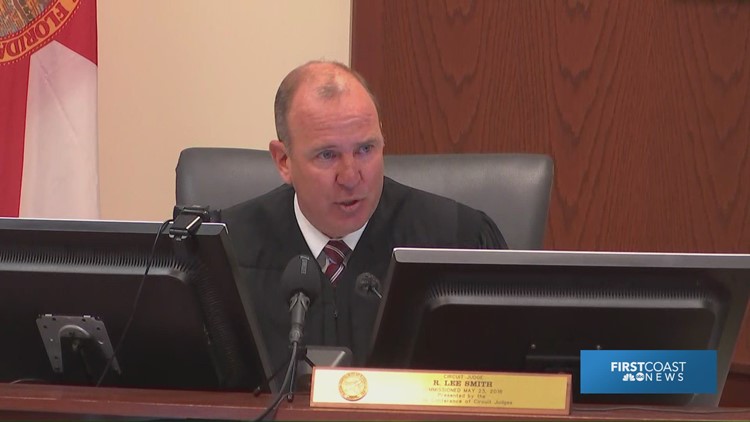 "He was going to kill someone … There was going to be a victim," St. Johns County Judge R. Lee Smith said before sentencing Aiden Fucci.
JACKSONVILLE, Fla. — "One hundred and fourteen stab wounds, forty-nine defensive wounds, thirty-five wounds to the head and neck, twenty-nine to the back and shoulder and six fatal wounds."
St. Johns County Judge R. Lee Smith began his sentencing verdict by recounting what Tristyn Bailey suffered when she was stabbed to death by Aiden Fucci. 
The judge took a pause, visibly emotional, before he continued. He started with the autopsy photos. 
"Forty-nine defensive wounds indicate that Tristyn Bailey was conscious, she was aware and she was doing everything she could to fend off this attack … She suffered a painful, horrifying death from someone she trusted." 
Smith went on to explain to the court the level of pre-meditation he felt was present based on the evidence presented during the sentencing hearing. 
Fucci previously told his girlfriend and best friend that he wanted to murder someone to see what it felt like. He even explained to them how he planned to do it.
"He was going to kill someone …There was going to be a victim," Smith said. The grisly act required an "up close and personal kind of murder that is rare and unique." 
Fucci's attempt to hide evidence, his Snapchats about Tristyn after the murder and his fake story all lead to the judge's decision. 
Possibly the most troubling factor is that Fucci had no motive. The St. Johns community was rocked by this killing in part because it was senseless. 
"This was not done out of greed, it was not done out of retaliation, retribution or revenge. It was not a crime of passion …There was no reason, there was no purpose," Smith said. 
As the quiet courtroom listened, Smith explained that Fucci killed only to satisfy "an internal desire to feel what it was like to kill someone." 
"It was heinous, atrocious and cruel."
Smith told the courtroom there was only one appropriate sentence in this case before asking Fucci to stand.
The confessed teenage killer was sentenced to life in prison. Due to his age, his sentence will be eligible for review in 25 years.  
Fucci will be taken back to the Duval County Jail before he is transported to the Florida State Prison system. He pled guilty to first-degree murder in February before jury selection was set to begin.
"The Bailey Family has suffered tremendously for the last 22 months while experiencing our criminal justice process – a process that is not victim and family-friendly. Our system focuses on the defendant – many times at the expense of the victim/victim's family," State Attorney R.J. Larizza said of the case. "I am grateful for the life sentence handed down today, and I truly believe that had Fucci avoided arrest and prosecution, he would have killed again. Please keep the Bailey Family in your thoughts and prayers."
Photos | Remembering the life of Tristyn Bailey
Photos: Remembering Tristyn Bailey, St. Johns County teen killed over the weekend
Share this @internewscast.com