Share this @internewscast.com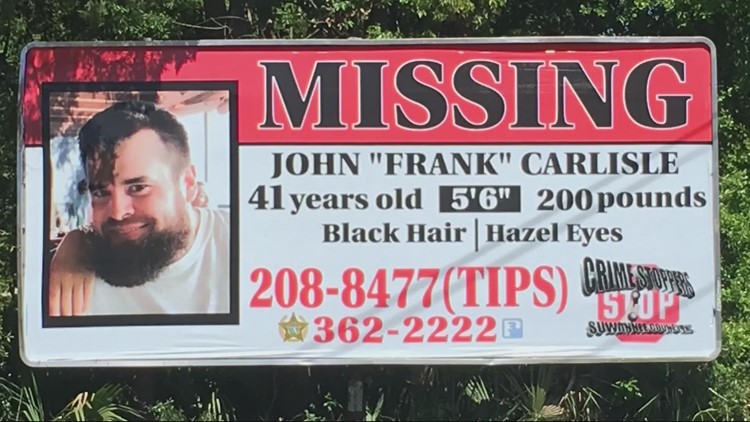 John Frank Carlisle, 40, went missing on April 24, 2018.
JACKSONVILLE, Fla. — The Suwannee County Sheriff's Office says John Frank Carlisle was last seen in the Ranchettes area of Suwannee County on April 24, 2018. 
He was possibly spotted at the Keg Room on SR-247 two nights later, but that has not been confirmed by officials. Investigator Chris Frost says Carlisle went to the Keg Room bar frequently.
The investigator says Carlisle wasn't your typical man. He had a small world and wasn't active on social media, which gave detectives minimal information to go off of during the search. 
"We were kind of striking out for a long periods of time with Mr. Carlisle there wasn't a whole lot to go on," said Frost. 
Frost says Carlisle didn't bring his wallet or phone with him the day he went missing, so there were no financial records the sheriff's office could trace. 
"I wish we could have located him sooner we put in all the efforts we were able to and followed up with any bit of information we could along the way over the years and unfortunately it never panned out," said Frost. 
Frost says they knew he left on foot but didn't have specific direction where he landed, if somebody picked him up or if he hitchhiked. 
Investigators searched and canvassed the area where he was last found for months but still no luck. Frost says they interviewed family, Carlisle's roommate, and ex-girlfriends. 
As time went on, SCSO gathered DNA from Carlisle's mother and submitted it to a national database for missing persons.
Frost says Carlisle's remains were found on Dec. 3, 2022 by two neighbors in the Ranchettes area. So far there is no evidence of foul play or trauma to Carlisle's body.
"I'm grateful that we were able to find him and were able to bring closure to the family," said Frost. 
Frost says the sheriff's office is still working closely with the Medical Examiner's Office to try and figure out Carlisle's cause of death.
Share this @internewscast.com