Share this @internewscast.com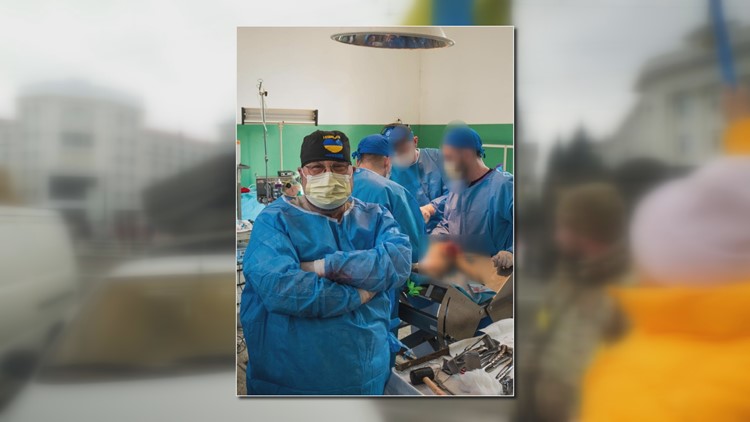 Through MedGlobal, a Jacksonville trauma surgeon is using his skills to help Ukraine in their fight against Russia.
JACKSONVILLE, Fla. — It's been more than a year since Russia declared war on Ukraine. Ukrainians have fled the country when they can, but millions are displaced or trapped in war torn areas. 
Dr. Michael Samotowka is back in the US for now, but the dates and times of his travels are secret for safety reasons. When he goes there every couple months, he trains Ukrainian doctors on trauma surgery and how to treat patients. 
"I am the lead trauma surgeon for training Ukrainian soldiers doctors for critical care," Samotowka explained. 
He is humble and reserved as he describes heading into the front lines of the war. He's not a soldier. He's an American volunteer.
"Our mission at MedGlobal is to train surgeons going to front line hospitals. So we'll do a 6 or 8 day course, a pig lab…" said Samotowka. 
He explained that it is a 2 week mission, in and out with MedGlobal, an NGO that sends doctors to vulnerable areas across the world. 
He and his team of doctors are targets when they are there.  They arrive in another country and then travel into Ukraine, which can take up to a day. 
He can only share so many photos out of safety, but he's seen across the country.
"In western Ukraine where there has not been as much bombing, life seems fairly normal other than the air raid sirens when people go into the shelters or whatever," said Samotowka. "As you go farther east, things are worse. I've been as far east as Kramatorsk and other cities close to the front line. Those are red zone hot areas where there has been bombings."
He says he feels fairly safe in Ukraine, but they've had missiles hit close to where they were.
His mission goes beyond service. This is his parent's home country and where friends and family still live.
"Oh it's horrible. It's very stressful and depressing to see people that were really moving towards the west. Their quality of life was improving from the fall of the Soviet Union. They were working for a better life and then things like this just shattered completely," he said.
He is no longer working in Jacksonville. He's been working at temporary spots at hospitals in the US in between his trips to Ukraine, but he will soon start as the Trauma Medical Director at Navant Health in Charlotte. 
Share this @internewscast.com