Share this @internewscast.com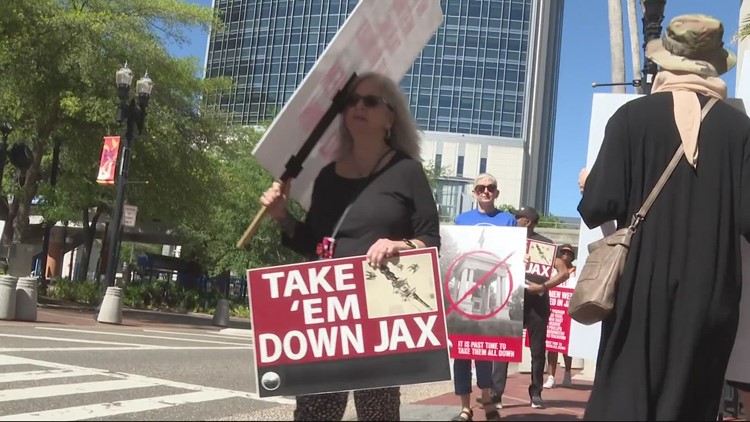 The group "Take 'Em Down Jax" says that City Council President Terrance Freeman has cancelled multiple scheduled meetings with the group.
JACKSONVILLE, Fla. — Are they honoring the past or preserving a racist history?
Right now there are two bills in the Florida Legislature that would keep confederate monuments in place throughout the state. Senate Bill 1096 can be read here.
A group in Jacksonville has been working for years to remove confederate monuments and hopes these bills won't affect their efforts. They say that City Council President Terrance Freeman refuses to even meet with them and has been cancelling scheduled meetings.
Back and forth they march, a small group, but one with a loud message.
"We continue to demand the removal of confederate statues that represent and celebrate white supremacy," said Wells Todd of the group Take 'Em Down Jax during a protest outside city hall.
Todd and Take 'Em Down Jax want confederate monuments like A Tribute to the Women of the Southern Confederacy taken down. But they say they receive roadblocks in the form of cancelled meetings from city leaders. A meeting with council president Terrance Freeman in February was cancelled at the last minute.
But Freeman was at City Hall that day. In fact, an hour after the meeting with Take 'Em Down Jax would have taken place, he was sitting in the front row at the city's press conference to announce the new UF grad school in Jacksonville.
"We had been trying to get a meeting with councilman Freeman for quite some time," said Todd.
The group was supposed to have another meeting on March 23, which was two days after Jacksonville's city elections, but once again that meeting was cancelled.
The group decided to record their phone call with Freeman's secretary to ask for clarification on the latest cancelled meeting.
"Can you tell me why he cancelled the meeting yesterday?" asked Todd.
"Because of a conflict," responded Freeman's secretary. "He was double booked yesterday."
So back they march as they have for years, meeting or no meeting.
"The lack of concern for the needs of people," said Todd referring to his efforts to speak with Freeman, "these statues affect our kids, and they have for a long time."
Terrance Freeman was re-elected earlier this week after receiving 65% of the vote for City Council At-Large Group 1.
Calls from First Coast News to his office on Friday were not immediately returned.
Share this @internewscast.com