Share this @internewscast.com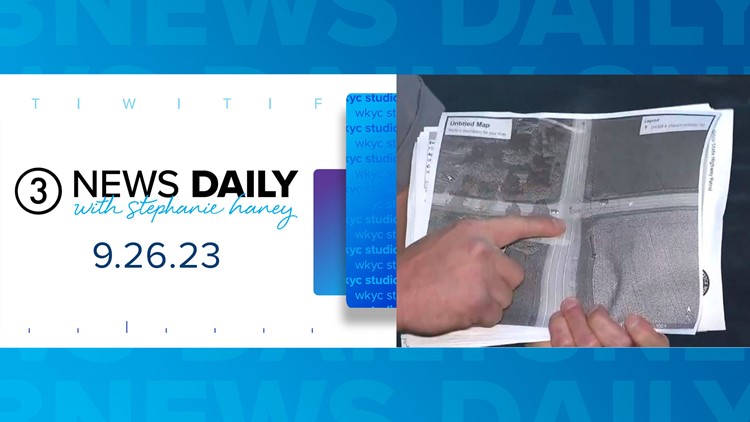 On 3News Daily, Stephanie Haney shares the details from today's most-read stories on WKYC.com and the WKYC app
CLEVELAND —
New on 3, get the latest information on what's happening across Northeast Ohio on Tuesday, September 26, 2023, on 3News Daily with Stephanie Haney.
Alcohol is suspected as a factor in a Jeep driver crashing into an ambulance and killing a man waiting to be taken to a hospital and injuring EMS workers. Plus, a 4-year-old child is recovering after being hit by a driver in a hit-and-run in Lexington Township.
In Brunswick, officials have put a pause on new tobacco sales permits to try to cut down on teen tobacco use. We also share an updated on school bus drivers being hired in Ravenna, as students have had to miss school because of canceled bus routes, and more on 3News Daily.
Get the details on 3News Daily with Stephanie Haney, by watching the video below:
Watch Stephanie Haney's Legally Speaking specials and segments here: 
Catch the highlights from each day's most-read stories on wkyc.com, Monday through Friday, on 3News Daily with Stephanie Haney. 
Watch live on TV on 3, NBC News NOW and Peacock each weekday at 3 pm during NBC News Daily, and stream the extended version of 3News Daily every weekday afternoon on the WKYC+ app, which you can download for free on your Roku and FireTV.
RELATED: Man dies, 2 EMTs seriously hurt after overnight crash involving ambulance in Geauga County
RELATED: Brunswick looks to put brakes on new cigarette and vaping sales
Share this @internewscast.com