Share this @internewscast.com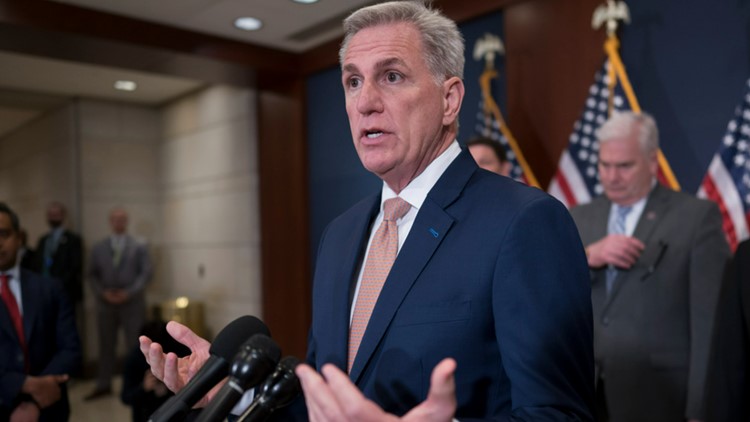 Several Republicans, including the former president's son, lashed out at the indictment on Thursday.
WASHINGTON — Republicans from the former president's son to GOP senators lashed out at Donald Trump's indictment on Thursday. 
A grand jury in Manhattan voted to indict the former U.S. president on charges involving payments made during the 2016 presidential campaign to silence claims of an extramarital sexual encounter. It's the first criminal case against a former U.S. president and a jolt to Trump's bid to retake the White House.
Trump, who has denied any wrongdoing and has repeatedly attacked the investigation, called the indictment "political persecution" and predicted it would damage Democrats in 2024.
Reactions
Mike Pence
Donald Trump's former vice president called the indictment an "outrage" in an interview with CNN's Wolf Blitzer Thursday.
"It appears to millions of Americans to be nothing more than a political prosecution," he added.
Rep. Jim Jordan
Ohio Rep. Jim Jordan, the conservative chairman of the House Judiciary Committee, sent a one-word reaction: "Outrageous."
Rep. Marjorie Taylor Green
One of Trump's most loyal supporters in Congress, Rep. Marjorie Taylor Greene of Georgia, said, without citing evidence, that Trump was innocent and "the only one standing in the way of these modern day tyrants."
Eric Trump
Eric Trump, the former president's son, said: "This is third-world prosecutorial misconduct." In a text to The Associated Press, he called the indictment an opportunistic targeting of a political opponent in a campaign year.
"New York is being overrun by violence, children are being been shot in Time Square, homelessness is through the roof yet the only focus of the New York DA is to get Trump," Eric Trump said.
Florida Gov. Ron DeSantis
Gov. Ron DeSantis said "Florida will not assist in an extradition request given the questionable circumstances," in regards to Trump's indictment in New York. DeSantis added that "it is un-American."
Arkansas Gov. Sarah Huckabee Sanders
Arkansas Gov. Sarah Huckabee Sanders, who served as Trump's press secretary at the White House, said Bragg should resign.
Texas Senator Ted Cruz
Senator Ted Cruz took to Twitter shortly after Trump's indictment and said it is "completely unprecedented" and a " catastrophic escalation in the weaponization of the justice system."
Speaker of the House Kevin McCarthy
Speaker of the House Kevin McCarthy said "Alvin Bragg has irreparably damaged our country in an attempt to interfere in our Presidential election." 
"As he routinely frees violent criminals to terrorize the public, he weaponized our sacred system of justice against President Donald Trump. The American people will not tolerate this injustice, and the House of Representatives will hold Alvin Bragg and his unprecedented abuse of power to account," McCarthy added. 
Virginia Gov. Glenn Youngkin
Virginia Republican Gov. Glenn Youngkin described the indictment as "beyond belief." 
"Arresting a presidential candidate on a manufactured basis should not happen in America," he wrote.
Share this @internewscast.com